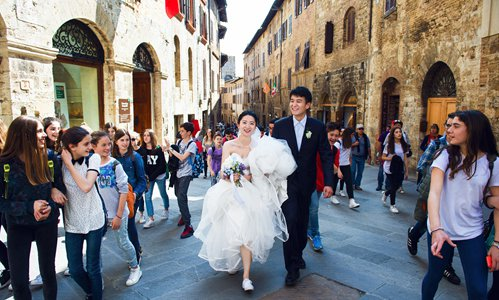 Li Wen and her husband took wedding pictures in Italy while the local passerby applauded and gave them their best wishes. [Photo/Courtesy of Bianca Cao]
Fancy wedding dresses, beautiful flowers, cheerful music, wishes and applause from beloved family members and friends. These are the visions that dance through many people's minds when they are planning their wedding. For many, a perfect wedding is having all these dreams come together on a beautiful and perfect day that will bring them unforgettable memories that will last a lifetime. However, for some, the traditional wedding scenario could not be farther from their idea of a perfect way to tie the knot.
Planning a wedding can consume a lot of time and energy, and the workload doubles when you need to cater to specific traditional marriage customs and etiquette. Booking the venue, arranging all the details of the event and making the invitation list can be a huge challenge for the couple.
Therefore, a growing number of young people in China are choosing to go a simpler route or skip the event altogether. For them, skipping a formal wedding or a simplified marriage relieves pressure and allows the couple to commemorate their big day in a more personalized and private way, which sometimes goes against traditional values and causes tension.
Freedom in tying the knot
"I think the best way to get married is the way that makes the couple feel relaxed and comfortable. I don't really fancy a formal wedding," said Wendy Liang, in her 30s, who works in Beijing.
When she got married four years ago, there was no wedding, no diamond ring and no family members present.
Liang and her husband Homa Chen's love story began when the two travelled abroad during a gap year. After visiting nine counties in four months, the couple built a close and deep relationship and Chen proposed to Liang in South Africa, the last destination of their trip.
"It was at the southernmost point of the African continent. He bent some grass and made a ring. Everything just happened spontaneously," said Liang. The couple soon decided to continue their journey to celebrate their happiness.
They bought a wedding dress in Malaysia and travelled to six Asian countries over the course of three months. Each time they went to a new place, Liang put on the wedding dress and the couple took a photo together. From the ancient sites of Myanmar to the peaceful lakeside in Laos and the elephant protection zone in Thailand, each picture carries memories that the couple experienced together.
For them, the pictures and videos they shot along the journey are more of a treasure than a traditional wedding. As soon as the couple returned to Beijing they registered for their marriage certificate.
"I thought we were lucky to have this journey full of adventures and surprises. We documented everything from the moment we fell in love until we were married. How could we have a wedding better than this?" said Liang.
The couple edited the videos and made it into a documentary and a book called Wedding Dress in the Packsack, which was well received by the public. "We are going to pass them to our children so that they will know our love story. I think it's meaningful," said Liang.
A personal experience
Li Wen, in her 20s, and her husband skipped the wedding as well two years ago.
For Li, getting married is a private matter, and simplifying their marriage was a way to skip certain traditions and aspects of the ceremony they do not like and focus more time and attention on what they care about.
"What I cannot bear with the traditional wedding is that you have to deal with many people at the banquet table whom you are not familiar with at all. In addition, it is tricky making the invitation list, because you have to think of everyone in your social circle and try to make everyone happy," Li said. "Skipping the wedding is for everyone's convenience."
All Li wanted was to take some nice pictures wearing her wedding dress and have a lovely honeymoon with her husband in Europe. Li has been a fan of a Chinese photographer for years who lives in Italy and always wanted to ask her to take photos. Then Li's dreams came true.
The couple went to Italy and found the photographer. For Li, the experience in Italy was the best way to celebrate their union.
"The photo shoot was full of pleasant surprises. When we were walking along the street to the town center in San Gimignano, the passersby voluntarily made a way for us, applauding and giving us their blessings. It was like a grand ceremony," Li said.
She thinks a proper sense of a ritual is good, but that it does not have to be a wedding.
"We didn't have a wedding, but whenever I recall the days in Italy, I can feel the joy and sweetness."
Li thinks getting married is a private matter and as long as you formally inform your parents, it is fine to do it on your own terms. The only public notice of her marriage was a post on her WeChat.
Balancing tradition and personal preference
However, not everyone can be that rational. In traditional Chinese culture, a formal ceremony is important, especially for the couple's parents and the older generations. For some couples, to try to find a balance between traditional values and their personal preferences is a win-win solution.
For Luo Jing, who got married last year, this was the case.
"To hold a formal wedding is kind of exhausting, but I still wanted to spend the big day with my family. The key is to find balance," said Luo.
The couple organized a simple ceremony in Santoni Island, Greece, with the company of only their parents, two relatives and three close friends. To them, the wedding arrangement was more like a happy family holiday, and they enjoyed themselves travelling through Europe.
Moreover, celebrating their big day overseas allowed them to skip the complicated local customs and etiquette and brought them more freedom.
The couple also arranged a simple banquet for their relatives and friends later in their hometown to express their thanks and respect for them, which created a balance between a traditional and modern wedding.
"I think simplifying the marriage ceremony can help you return to the nature of a wedding. After all, it is a distillation of the relationship between two people. A simpler arrangement is becoming trendy," said Luo.
Sticking to tradition
Not everyone agrees on skipping the traditions and customs that go along with a marriage. To follow the customs and traditional practices is still the opinion of the majority of people, and for many, this type of wedding has a lot of value.
"It takes just five minutes to get a marriage registration, and you don't even need to pay for it nowadays in China. The procedure is quite simple compared with many other countries. Therefore, the wedding ceremony creates a strong sense of ritual to make you take the matter seriously," said Ding Chen, who held her wedding three years ago in Beijing.
"Some customs and activities help you realize that you are entering the next stage of life and are gaining more responsibilities."
For example, one of the customs for the bride and groom is to bow to Heaven and Earth and to their parents. It is a divine moment which shows that the couple is making their vows known to the family and to the gods in the universe, reminding them to be responsible for and respectful to their relationship, according to Ding.
A formal wedding is also a great comfort for the parents since most of the post-80s and post-90s generation children are the only child in the family. For the parents, to have their friends and family surrounding them while seeing their only child getting married in a memorable ceremony is a proud and happy moment for them, Ding said.
Fallon Wang, in her 50s, who is planning a wedding for her only daughter, agrees.
"In our generation, getting married was very simple, or a bit shabby, because the living standards were relatively low at the time."
Wang recalled the time when there were no fancy dresses or splendid venues for the common couples, which she thinks is a pity. "So when it's our child's turn to get married, I want to make the event really good."
Moreover, a wedding can be the first big event the couple plans together, and it will help them know each other better and have a taste of married life.
"We put a lot of effort for the common purpose and made all the arrangements by helping each other, which further deepens our feelings for each other," said Zhang Mingyue, who will hold her wedding ceremony this year. "It also can be fun to have all your friends get together and enjoy a big party. This opportunity is precious, and we set our wedding one day ahead of the National Day holidays so that everyone can have a prolonged holiday," she laughed.
(Source: Ecns.cn)