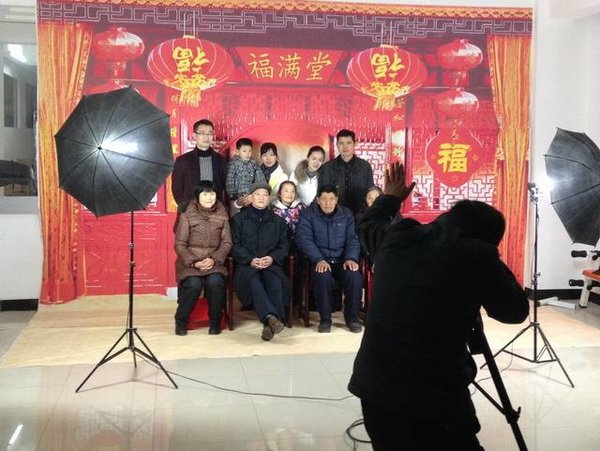 A cameraman shoots a family photo in the studio during the Spring Festival holiday. [czwhcb.gov.cn]
Family members in households all across Beijing have recently been flocking to local photo studios to renew their cherished family-gathering moments during the Spring Festival holiday.
As far as brand recognition goes, China Photo Studio qualifies as a stand-out name among those who provide the service. Its fame can perhaps be attributed to its location on one of the busiest, renowned, and lucrative streets in the capital: Wangfujing Pedestrian Street.
Upon entering the studio decorated with portrait shots lining the walls, visitors are welcome to browse the many captured moments showing off the charisma and charming features of everyday patrons and even of some celebrities as well. Prominent figures whose portrait can be found there include the likes of Chairman Mao, Zhou Enlai—the first Premier of the People's Republic of China—and Arnold Schwarzenegger, a manager said.
Awaiting his turn patiently in the long queue, a native Beijinger surnamed Sun recalled that his first birthday photo was shot in that very studio 40 years ago. "My family has been accustomed to visiting the studio for pictures at every big event, like graduations, anniversaries, and birthdays. Such photo rituals make important life celebrations more meaningful and unforgettable," Sun said.
A middle-aged woman surnamed Wang smiled when her name was called, after she had been queuing up for over an hour. "I am really impressed by the staggering number of people waiting for photos here," she said.
According to the studio's receptionist, around 10 professional photographers have been fully booked over this particular holiday photo rush. It has been estimated that during the rush period, they shoot photos for over 300 families a day—almost double their regular workload.
Even though the work appears to be hectic and time-consuming, the studio's staff still maintains that nothing can outweigh the sense of gratification that comes with capturing such an abundance of family happiness.
(Source: Beijing Morning Post/Translated and edited by Women of China)