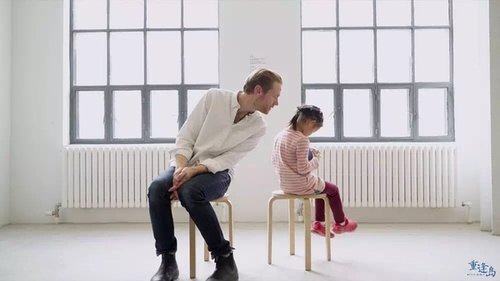 A picture of John Baughman during the interview [Lens Magazine]
Swedish dads have nine months' parental leave, which has been written as a must-have for Swedish dads in policies introduced by the government.
"For me, a father is a lifelong character," said John Baughman, a Swedish dad who claims he has a different interpretation of men.
Four years ago, Baughman's friends were astonished when he announced that he was going to take nine months off for parental leave.
This shock had some explanation behind it: Baughman has always been a free guy with a strong sense of masculinity and a robust physique. He has been to many foreign and dangerous places in Tanzania, Ecuador and Uganda. Now this steel-willed man wanted to nurse a newborn child.
In fact, Sweden is one of the most gender-equal countries in the world, which has been a result of the government's policy.
During the 20 years since Sweden founded their parental leave system in 1974, there have been only 0.5 percent of Swedish dads who have chosen to take it. Moreover, the nickname "velvet dad" was prevalent then indicating a loss of masculinity of dads who chose to take parental leave.
Hence, in 1995, the Swedish government proposed a concept named the "father's share" standard, which required dads to have at least one month's parental leave. Otherwise, a certain quantity of holidays would be shortened from the family's total amount.
In 2002, the "father's share" standard was prolonged to two months; in 2016, it was adjusted to three months.
This policy has led to a change to the definition of "father" and "man" in Swedish society. Rude and rough male characteristics were gradually replaced by "tenderness" and "thoughtfulness" in the top lists in female magazines.
More "happy moments with dad" were written into kids' growing memories.
Actually, Baughman's father was already a pioneer of parental leave. "He spent a great deal of time with me. I especially remembered the time when we went canoeing; it was like a little adventure for us…" said Baughman.
"It's natural for me to see my dad showing his emotions, even to see him crying," Baughman reminisced.
Naturally, Baughman wanted to establish this kind of relationship with his kids and to speak a language of their own. "Vego likes these three songs very much. He likes being caught by me when jumping on the bed too," said Baughman.
"We like doing experiments together, we try new things every day and his experience changes day by day. I need to keep finding ways to comfort him and when our experiment succeeds; it brings lots of joy, which helps us to move forward again."
Things were not this easy at the start. Baughman still remembered the days when his wife shifted from maternity leave to work. "Then I was in a rush and a muddle all day. I was either changing a diaper or cooking dinner. In the evening, when my child went to sleep, I started doing the laundry. I thought I could find some time for reading but it turned out that my butt never touched the sofa once during those nine months."
The leave includes taking on all the household chores in addition to taking care of the child. "Fatigue would be accompanied by emotions. Therefore," Baughman said, "one of the most important things is to learn to be patient. Though, stress, anger, sadness and boring moments would still show up sometimes."
Many dads had romantic images of nursing their child, until they put it into practice. This clumsiness means many moms don't actually trust the dads. "She (my wife) would rush in as soon as the child made some noise, and I was then left out," complained a father.
Many fathers confessed that even though they have stayed at home; it doesn't really mean they play the dominant role in raising the child. Many moms would take charge of everything whether important or trivial. Some moms even sneer at their partners that "you just had a leisurely holiday". "It is such a relief when he returned to work," said a mom.
Baughman thinks this is arbitrary in domestic lives. "Except for breastfeeding, I don't think there are any differences to parenting ability," he said. "It is totally up to how much time you have spent on your child."
Some socialists hold the opinion that saying 'men are adept in external affairs whilst women excel in domestic ones' is stereotype. Sociology professor at the University of Oregon, U.S., Scott Coltrane put forward that "Fathers will become more sensitive through communication with their children; in this way, the boundaries of genders will gradually break down."
Just like Baughman, many fathers refuse to be left out of the family. Distinct from the elder generations who acquire most of their achievements in their life at work, they are eager to complete the lost part of their manliness by constructing intimate family relations.
Perhaps the words said by a father called Jonas represent many people's inner aspirations: "My work makes it very easy for me to be self-oriented. People believe that life is nothing more than our good or bad performance at work. Many of my colleagues who don't have children would worry about their work when coming home whilst for me I have a crowd of kids rushing towards me as soon as I get home sharing their daily news. I really feel myself happier, richer and more complete."
John Baughman and his child Vego. [Lens Magazine]
Murat Saglamoglu, 34, an art project principal, took an eight months leave to take care of his child Oskar. [Lens Magazine]
Johan Ekengard, 38, a product designer, has shared the parental leaves with his wife looking after their three children. [Lens Magazine]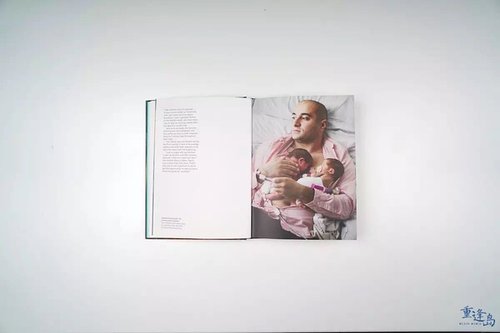 A book introducing lives of the dads who took parental leaves. [Lens Magazine]
(Source: Lens Magazine/Translated and edited by Women of China)