Living in another country can sometimes leave one at the cultural crossroads of his or her home and adoptive countries. In such a situation, does one stick to his or her traditions, or does he or she take on the mores of his or her new country? What about when it comes to raising children? How should Chinese mothers raise and educate their children when they are living in a different culture? What differences in childrearing exist between China and other countries? Women of China recently interviewed four Chinese mothers, who talked about the methods people used to raise and educate children in countries other than China. They also shared their experiences in raising their children in other countries.
Hua Heying, living in Switzerland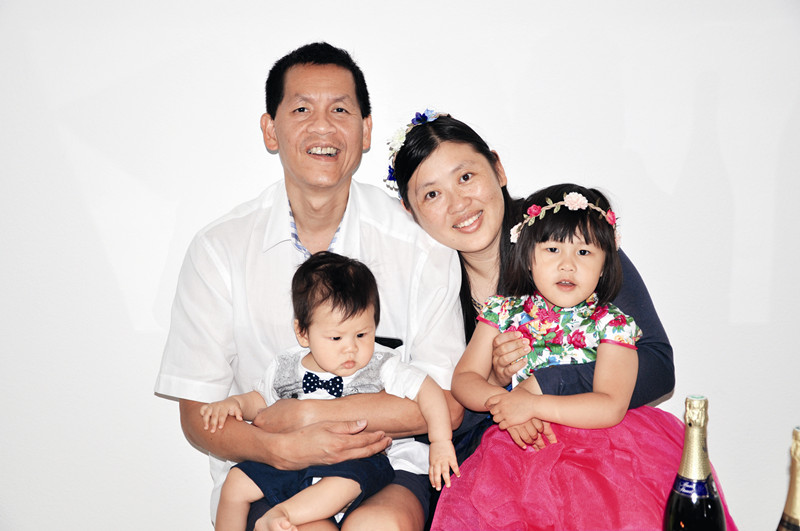 Hua Heying, her husband and their children [Women of China English Monthly]
My husband, Truc Nguyen, is from Vietnam. We settled down in Switzerland in 2012. My daughter, Xiaolan, is four years old, and my son, Dangdang, is one and a half years old.
I think there are big differences between China and Switzerland in raising and educating children. In Switzerland, children sleep in their own beds as soon as they are born. However, in China, many children sleep with their parents, and they begin to sleep alone after they grow older.
In my daughter's kindergarten, the teachers cut the food into small pieces, and they teach the children how to eat by themselves. The children also help the teachers put toys in the right places.
The Swiss love outdoor activities, including skiing and swimming. They often take their children to enjoy holidays with them. The teachers often take the children to go to parks, lakes, zoos and public squares. I also take my two kids to play outside during weekends, as long as the weather is good.
Teachers and parents in Switzerland like praising and encouraging children. "You are great." "You are so nice." "Your dress is beautiful." You can hear such comments frequently. Swiss children are glad to help adults, and they like to participate in various activities. Of course, they also know how to praise other people.
Unlike Chinese parents, who seldom directly express their love to their children, Swiss parents often hug and kiss their children and tell them "I love you." Swiss children also like to say, "I love mom/dad."
Swiss teachers and parents enjoy themselves when they accompany children to play. However, when they notice that children do something wrong, they will let the children understand their mistakes, and they will also ask the children to avoid making the same mistakes again.
Switzerland has four official languages, German, French, Italian and Romansh. Swiss children usually speak at least two languages. It is normal for family members to speak different languages at home. Most parents speak their native language to their children. It is like Chinese speaking different dialects at home.
In my family, I speak French to my husband and Chinese to our kids, and my husband speaks Vietnamese to our kids. When my daughter first learned to speak, she sometimes mixed words in different languages. Now, she speaks French, Chinese and Vietnamese fluently. She will learn English and German in primary school.
Xiao Fan, living in Germany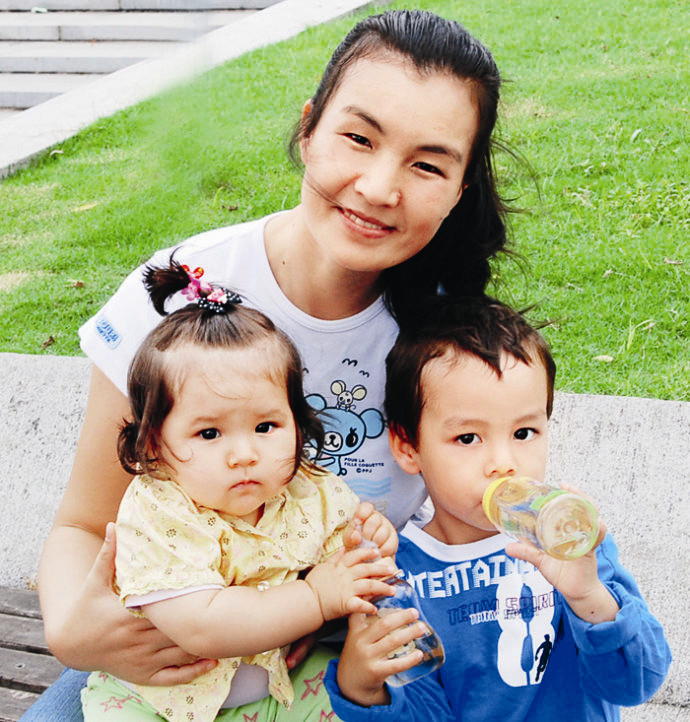 Xiao Fan and her children [Women of China English Monthly]
My husband, Johannes Honke, is from Germany. We have a 10-year-old son, Tongyi, and an eight-year-old daughter, Tongxin. German parents respect the natural development of their kids, and they are not anxious or nervous about when their kids will crawl, walk, have their first tooth or eat by themselves. They are confident.
German parents and teachers pay attention to the development of children's ability to concentrate. Parents usually don't rudely interrupt or intervene in what their children are doing. For example, they let their kids feed themselves, dress themselves, clean their rooms and play by themselves.
In kindergartens, children not only learn how to get along with other kids, they also learn how to stay alone, such as playing by themselves without disturbing others or being affected by others. The teachers teach children basic living skills, such as feeding themselves, putting on or taking off their clothes and classifying garbage. They also take children to visit post offices, fire stations and police stations.
During the first two years of primary school, teachers focus on helping children develop good learning habits. Teachers tell children to write the numbers and letters in a standard way, and do their homework carefully. Children are also required to finish their homework first after they return home from school. If children do not concentrate on their homework, their parents and teachers will correct them.
German parents encourage their children to be self-reliant. Children earn their pocket money by doing housework for their parents, by serving as a babysitter for their neighbors or by helping neighbors collect their newspapers. They deposit their money in the bank if they accumulate enough money.
In China, parents give children a lot of money as a Lunar New Year's gift, and children also receive gift money from relatives during the Spring Festival holiday. Parents usually help their children look after their money.
In Germany, parents tell their children how to use the money properly. For example, the children use the money to buy their family members or friends gifts, or to buy things for themselves. I often see children pay for their snacks using their pocket money at supermarkets before their mother pays the bill for other products.