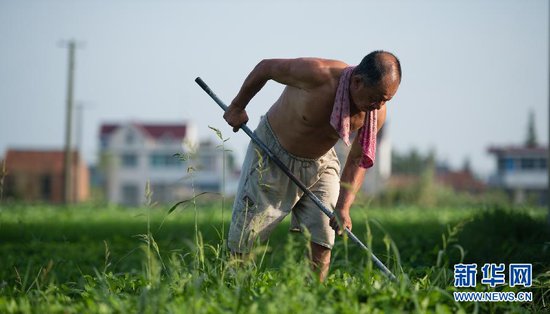 An elderly man works in his farm in Rudong County. [Xinhua/Li Xiang]

If you get a taxi in Rudong county the driver will tell you "We don't have nightlife here," to let you know what kind of area you are visiting.
It's true. While weekend evenings usually mean heavy traffic, people are seldom seen on the streets after 8 pm on Saturday even in the busiest parts of downtown Rudong.
As the Chinese society continues to age, there are worries that in future many more places will resemble Rudong county.
Rudong used to be a leader in carrying out the one-child policy. The county started to implement the policy 10 years before the rest of China, in the 1960s, and reached the target low fertility rate just 10 years later.
Today, however, the consequences are becoming a major headache for the county.
By the end of 2014, of Rudong's 1.04 million registered residents, 30 percent were above 60 and 20 percent were above 65, much higher than the national average.
Rudong is not alone, it is just ahead of its time. Rudong reflects a reality that all of society will soon have to face.
Policy Problem
As early as 1982, Rudong, which is under the city of Nantong, east China's Jiangsu Province, was already an ageing society. Since 1997, the county has seen negative population growth.
In 2012, Shen Xiufen, then head of Rudong's bureau of civil affairs, warned that Rudong is ageing so quickly that "if there is no significant change in the policy, by 2035, 50 percent of Rudong residents will be seniors."
After 40 years, the one-child policy is deep-rooted. If the two-child policy brought in on January 1 aims to alleviate the ageing crisis, it will have a harder time succeeding in Rudong than anywhere else.
In 2013, a survey of the 28,000 couples in the county then eligible for the two-child policy showed only 11.6 percent were willing to have a second child.
"Development is the best contraceptive. People have changed their minds. Having fewer and better births became a conscious action. This partly explains the ageing population," said Chen Youhua, a professor at Nanjing University.
A Rudong native himself, Chen once proposed to the relevant local departments that they loosen their implementation of the one-child policy as early as 1993, but was ignored.
According to statistics issued by China's National Bureau of Statistics on Tuesday, 16.55 million people were born in China in 2015, 320,000 fewer than 2014, in spite of the policy released in 2013 that allowed couples in which at least one member is an only child to have two children.
As scholar Yao Meixiong pointed out, the figure shows people are reluctant to have multiple children. Combined with the dwindling number of women of child-bearing age, these factors mean that by 2025, China will see nationwide negative population growth.
In Rudong, while it was policy that shaped families in previous generations, for this generation the cost of living is the main reason families are staying small.
Xu Fei, a Rudong local born in the 1970s, is an only child and felt lonely growing up. Now he worries his teen daughter feels the same way. He wants to have a second child but the cost of raising a child has been holding him back.
As Xu's friend Chen Pengzhou observed, Rudong people are used to "four grandparents, two parents, and one child" families in which everyone works to give the child the best. His 3-year-old son costs over 1,000 yuan (U.S. $152) a month plus school fees, no trifling sum for a county in which the average monthly wage is 3,000 yuan.
Chen worries that people will forget about traditions, and will never know "maternal uncles (jiujiu), paternal aunts (gugu)," and so on.
Old people in particular are worried about the vanishing chances of their family line being carried on. When two families have only one child, there are often disputes over which family name the child should take - disputes that sometimes cause divorce. Many children in Rudong are given two family names as a compromise.
Wrinkly Workers
As Chen Youhua observes, besides deaths and migration, the family-planning policy is the largest factor behind Rudong's ageing problem. Rising education standards and longevity are also often cited as causes.
Aside from their scarcity, the reason young people are a rare sight on Rudong's streets is that they are mostly too busy studying to go outside. Locals stress education and every year the county exports a large number of students, but few come back. Pan Jinhuan, a former county official, has long been tracking Rudong's ageing problem.
"In the past decade, 59,355 students from Rudong enrolled in colleges across the country, and more than 40,000 have chosen to work elsewhere," said Pan. This further shrinks the number of young people living in the county. Several schools have merged, and from 2000 to 2010, the number of middle and primary schools in Rudong halved.
It is hard for local business to hire enough young employees. The people who work in the fields are all seniors, and tricycle drivers waiting outside the bus station are all over 60. Even the nurses at a local nursing home are often only a few years from retirement themselves.
Most of the shops on the streets of Rudong sell funeral shrouds and electric mobility scooters for those whose legs cannot carry them as far as they used to.
Other elderly industries are less prosperous. Su Xiaobing, general manager of Nantong Baoheng Real Estate Company, told the media that locally there isn't yet much of a real estate industry that caters to the elderly. "In Rudong, most old people are not conscious of products that target the elderly. They mostly choose to live with their children and grandchildren."
The Nantong government proposed in 2012 that by 2015 around 90 percent of the elderly would be taken care of by their families, 7 percent would be dealt with via community nursing, and 3 percent would rely on institutional care.
"The 90 percent part (family care) is the most traditional way, which we advocate most," said Kan Jianbin, a Rudong publicity official. But to some this sounds like an excuse to escape their duty of care, given the large number of old people in the county that are now living alone.
Two years ago, the corpse of 75-year-old Zhu Caigang lay in his rented flat for a week because "his children are not around." In Rudong, it is not rare to hear of an elderly person being discovered days after their death.
The Grey Dollar
In 2001, Xia Jianrong opened a hotel in Rudong, hoping to attract tourists and young people who migrate to the county for work. After a predictable failure, the space that Xia built for young people turned into a home for the aged.
Xia's facility has been home to hundreds of elderly people in the past decade. In 2011, she moved the nursing home to her own three-floor home, where she and her husband work full time looking after people aged from 75 to 102.
"Some [elderly people] don't get along well with their daughters-in-law, and some come here because their children are too busy," Xia said.
Xia was one of the first to open a private nursing home in Rudong. In spite of that, she still lacks official documents like an operation license and a fire safety license. She receives no help or subsidies from the government despite her good reputation, but they haven't shut her down yet either.
In 2010, Wang Yuxin, a Rudong native, built Binshan Nursing Home, the first nursing home in Jiangsu Province that combines nursing and medical care. The first and second floors function as a public hospital while the third to fifth floors provide care for the aged, boasting 320 beds.
"Nursing the aged does not yield a lot, but you won't lose money. But medical services make money. As long as the nursing home stays open, there will be a stable number of patients," said Liu Jianhong, director of Binshan Nursing Home.
But many private nursing homes in Rudong are not doing well. The Binshan Nursing Home enjoys support and subsidies from the local government, but its situation is not optimistic either.
In Rudong, sending old people to nursing homes is still regarded as socially improper. An 80-year-old local man wanted to live in Binshan Nursing Home after his wife passed away, because none of his three sons live in Rudong. But his son-in-law reacted angrily at his suggestion: "Have we done something wrong to you? Why do you want to make a spectacle of us?"
Liu Jianhong thinks it is not necessary any more for people to stress traditional "filial piety," as long as the elderly are content. Besides, she thinks "family care" is unrealistic, particularly in rural areas, as no-one wants to force their children to stay at home.
Born in the 1980s, Chen Pengzhou admits that he and his wife face great pressure taking care of their parents and bringing up the next generation. Talking about the future, he hopes his son will not face the same pressure.
"I won't let my son worry about me when I get old," Chen said, "I hope the country will develop, and can solve the problem."
(Source: Nandu Weekly and Global Times)