A girl speaks out her wishes on the TV show 'Teenager Said.' [mgtv.com]
Viewers have praised the broadcast of a TV show called Teenager Said 2018 which aims to provide a fresh platform for young people to speak out about topics that matter to them.
In the program, produced by Hunan TV of central China's Hunan Province, teenagers are encouraged to express themselves by talking on a so-called "Courage Stage".
For example, at a middle school in Changsha, capital city of Hunan, a junior high school girl stepped onto the stage and shouted to her mother, "Do not always compare me and children of other families! Please see my efforts!"
However, in the face of her daughter's tears, the mother, who was listening from below, insisted that all she was doing was trying to offer her best for her daughter.
The show reflects different problems surrounding Chinese families and education. This includes topics such as parents' common issue of making comparison between their children with others', the stress of study and the lack of parental accompaniment.
For many urban students, for instance, specialist cram schools have become a source of widespread aggravation.
A primary school boy said, "My parents have signed me up to 12 interest classes: writing, math, and several others that I can't even remember their name!"
In addition, many students, whether in large cities or small towns, took the opportunity to ask for more love and care from their parents.
In cities, there are many families where both parents work full-time, while in rural area, there are many so-called "left-behind children" whose parents have moved away to find work elsewhere. Therefore, for many children, lack of parental companionship has become a norm.
One schoolgirl said her mother is always busy with work. Even at home, her mother continuously makes work calls. "I don't understand why she has so much time to spend talking to other people but spare no time to speak to me," complained the daughter.
Apart from heavyweight topics, the show also displays the lively side of Chinese-style youth.
A boy in 6th grade stepped onto the Courage Stage to show off a special sound he had invented himself; and, a junior high school boy did a routine on the stage to tell everyone that "Boys can also perform aerobics!"
A junior high school girl shouted to her PE teacher that "We really like playing basketball! Let's form a women's basketball team."
In the show, the recurrent theme of harmony between parents and children, teachers and student is strongly reflected upon.
The show featured one junior high school girl who liked to dance, but due to a slight decline in her grades, her mother cancelled her performing arts class.
To pursue her wish of continuing to learn dancing, the mother agreed, but on the condition that she must make it into the top 100 in her school.
A teacher called Chen, with years of experience, said, "According to many educational theories, this kind of situation could make children lose their motivation to learn spontaneously."
"However, in reality, if the child is too young, it is feasible to properly use exchange conditions to help children learn," the teacher added. "Children all want to be understood and appreciated by adults."
She also warned that parents should avoid being too aggressive: "If parents are too aggressive, yes, they will win, but education needs mutual understanding."
Kong Xiaoyi, the producer, said her original intention of the show was that nowadays, teenagers have much they want to express but no place or platform offered to them.
Before shooting, Kong's team conducted a preliminary survey for two months in primary and secondary schools in Hunan.
She hopes that Teenager Said will build a bridge for children and their parents to listen to each other.
"In the face of their children's innermost feelings, many parents are initially silent and shocked. Through this opportunity, they can know what their children are thinking," Kong concluded.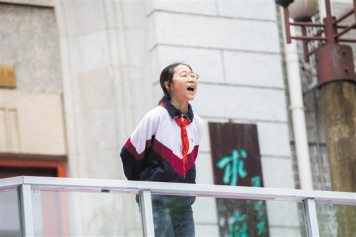 A girl on the TV show 'Teenager Said' [mgtv.com]
A boy on the TV show 'Teenager Said' [mgtv.com]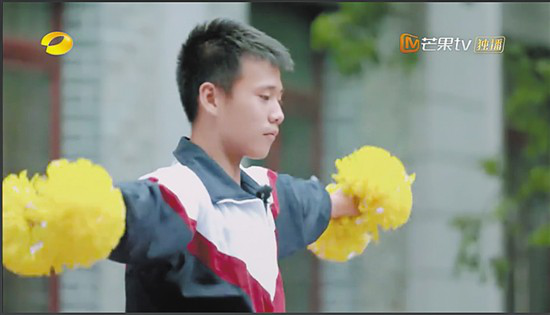 A junior high school boy performs aerobics on the stage. [mgtv.com]
(Source: ycwb.com/Translated and edited by Women of China)