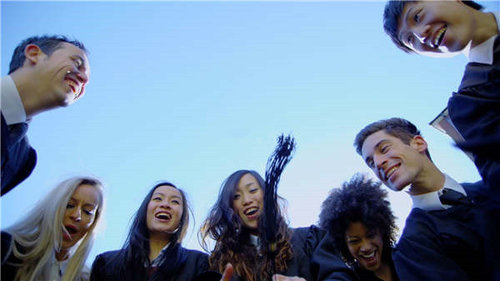 Young people take art courses offered by L-Art University, a new online-education institute, taught by lecturers from across the world. [China Daily]
Living in a digital and globalized world means one can learn things at any time and any place. The recent launch of an online-education institute aims to offer courses taught by lecturers from across the world.
L-Art University started operating on May 20 to provide training to China's professionals in the field of art and culture. It also caters to art lovers and collectors, who visit museums.
Those interested can take the courses by visiting the university's website at lart.org or download its app.
On offer now are 10 courses, including 3-D animation, filmmaking, exhibition design, 20th-century European art and museum management.
Each course takes seven to 14 classes, each of which is a 30-minute film uploaded once a week, and the course prices start at a few hundred yuan.
The lecturers are from Hong Kong, Paris, London and Los Angeles and are experienced teachers at art schools. Some are also artists.
Meanwhile, the curriculum is set to be enriched as more courses on design, architecture and the art market are composed, filmed and produced. About 180 courses will be available by the end of 2018, according to Lyu Peng, the Chinese art historian who heads L-Art University.
Lyu does a 12-session course on the history of modern Chinese art.
He says that more lecturers teaching in art schools in Germany, Italy, Spain and Russia are expected to join the online institute's faculty soon.
"The university's curriculum zooms in on various elements of the art world-how an artwork is produced, consumed, marketed and collected," says Lyu.
"We are trying to build a knowledge repository of how the art world operates."
The courses are filmed in cities where the lecturers are based and feature the city's scenes to give students a holistic learning experience.
Paul Gladston, one of the lecturers and a professor at the University of Nottingham, filmed his courses on contemporary visual cultures and critical theory earlier this year.
The filming took place in London to show students the city's visual culture, such as street art and architecture.
"What I teach is theoretically difficult. So, I hope to encourage students to think about interesting ideas and how one film connects to another," says Gladston.
"Therefore, we try to make it cool and visually engaging, also because London is an extraordinary place."
This is Gladston's first time teaching online, and he finds the filming process "very hard" but "very rewarding".
Not only does it force him to think about how to say things in a way that people can understand, but it also makes him reflect on his teaching methods.
"Young students today are so used to consuming things online," he says.
"So, the filming process makes me think about how to restructure the information and communicate."
Frank Vigneron, who lectures on Western art theory and philosophy, says a truly globalized education is to spread the voice of art to every corner of the world and make it louder.
(Source: China Daily)