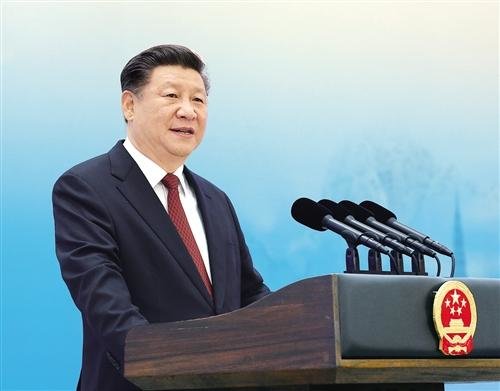 Chinese President Xi Jinping delivers a keynote speech on September 3, at the Business 20 (B20) summit in Hangzhou, east China's Zhejiang Province. [Xinhua / Ma Zhancheng]
As a part of the G20 summit, the Business 20 (B20) forum was held on August 3 in the city of Hangzhou, east China's Zhejiang Province. One of its focuses was women's employment issues among member countries.
The forum comprised five working groups, including over 500 representatives from international business communities and think tanks. Their discussions were recorded into a report, which was later brought to the G20 meeting.
Chinese President Xi Jinping said in the opening address of the B20 summit, "When added up, these small changes have become a powerful force, driving China's development and progress."
Hopefully, women could achieve success from sustainable, inclusive economic growth, reported the B20 organizers.
At the session on "Promoting Inclusivity and Collaborative Development" during the gathering, experts pointed out that it will benefit women to improve their occupational skills whilst strengthening capacity building, further adding to their employment possibilities.
Yang Zengwei, president of the B20 summit and chairperson of the China Council for the Promotion of International Trade (CCPIT), said at a conference that the business and industrial circles support the issue of inclusive growth put forward in the forum. It is expected that such efforts could help spread economic dividends to people around the globe, especially benefiting women in protecting their legal rights and interests, added Yang.
Gender Equality and Economic Growth
The issue of gender inequality has been spotted amid the economic growth among G20 member countries, said an official from the summit.
Specifically, women's potential and involvement in business is often underestimated due to their lack of voice in global affairs, explained the official.
Wu Fan, professor from Nankai University in north China's Tianjin, introduced that, for the first time, improving women's employment rates became one of the major issues in the B20 meeting.
The professor analyzed that this shifting focus could be attributed to greater globalization, which attaches importance to women's involvement in various fields. However, the current situation may hinder development, too, as women are still under restrictions on conditions of gender bias, traditional stereotypes about women, economically institutional vacancy, and work-life conflicts.
Women's Labor Force Participation Rate Needs Improvement
Speakers at the B20 summit sought to describe women's employment with a specific economic term – labor force participation rate. This refers to the number of working-age persons (aged 16-64) in an economy, including those who are employed or unemployed but looking for a job, said an official.
Taking the host country as an example, according to a census report in 2010, China's male labor force participation rate was 78.2 percent, while women accounted less than 64 percent. Even though women's average rate was 56 percent among G20 member countries, China still remains to improve the figure in the future, the authority claimed.
Qiao Fengjie, professor from Tsinghua University in Beijing, said in an interview during the summit that women should be encouraged to play an active role in social governance.
Meanwhile, in order to increase such participation rates, the nation could narrow down the salary gap between genders, suggested the professor. Moreover, it is noted that fostering life-long education campaigns among women could support them to improve both their academic studies and vocational skills.
Social Support and Protection for Women's Employment and Start-up Ventures
As a report from the Women 20 (W20) meeting in May shows, the proportion of women in small enterprises or informal economy groups is high. However, it was hard to safeguard women's rights in those corporations.
Professor Wu suggested that women's employment could be further boosted with strengthened family protection and improved public services.
Additionally, the balance between work and life could help create a stable and sustainable environment for women to contribute more efforts in society, said Wu.
Meanwhile, female entrepreneurs should receive more public assistance in achieving inclusive growth around the world, said the professor.
As the China Human Development Report in 2016 indicates, the country's three major driving forces to boost inclusive development include: economic growth, fair opportunities, and social cohesion. Specifically, the B20 attendees recommended that women's improvement should focus on the eradication of inequalities between genders.
(Source: China Women's News /Translated and edited by Women of China)