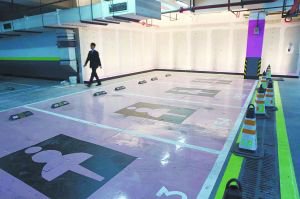 Painted bright pink and marked with a sign of woman in a dress, four women-only parking spaces in Shanghai have recently sparked widespread public discussion. [Oriental Morning Post]
Recently, some parking spaces in Shanghai have aroused widespread public discussion. Painted bright pink and marked with a familiar sign of a woman in a dress, the four parking spaces are otherwise conspicuous among the rest of the green spaces, highlighting their women-only purpose.
"Located close to the doors, the lift and the tool booth, the four parking spaces set aside will be very convenient for women drivers. Also, with wider spaces, the female drivers will feel more at ease when parking or taking their car," said Zhou Yuanqing, a worker at the parking lot. Currently the four parking spaces are still "under construction", but they are due to come into use in mid-May this year.
Most of the women drivers that heard about the scheme welcomed the news. "I'm not a skillful driver. Wider spaces would help me park more quickly, or I may block other cars," said one. "Very considerate! I would park in the spaces as soon as they are ready," said another, Miss Wang, while passing by the women-only designated spaces.
On the other hand, some people argued that these parking spaces constituted discrimination against women drivers. "While convenience has been offered for women drivers, it implies that they are less competent in driving than males," said one. "I refuse such parking spaces. Most women are good enough at driving that they have no need for 'privileges'!" commented another.
What is more, some male drivers have voiced their discontent for being unfairly treated. "In bustling shopping malls there are never enough parking spaces anyway, and women-only spaces are discriminating against men," said one of the commentators.
Supporters have risen against these "discrimination" arguments. They hold that these women-only parking spaces are provided with the same good intention as is found behind initiatives such as seats for the needy on public transportation and nursing rooms for mothers in public.
In fact, special parking spaces have been set aside for women around the world to meet their needs. For example, in the small town of Triberg in Germany, parking spaces are specially designated as being for men or women according to the different level of effort involved in parking. The municipal government of Seoul, in South Korea, allocated U.S. $100 million for women-only parking spaces marked with a sign saying "Her Space", mostly nearby the city's shopping centers. Cities in China such as Dalian, Changsha and Chongqi have also provided women drivers with exclusive parking spaces that are wider and longer than normal ones.
"If these parking spaces are well-received by the public, more will be built for women drivers in the other parking lots of our company," revealed Zhou.
(Source: mt.sohu.com/Translated and edited by Women of China)