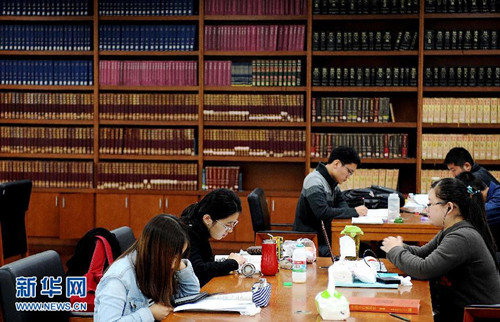 Students are studying in library of Nanjing University. [Xinhua]
Nanjing University, in the capital of east China's Jiangsu Province, trialed a new system last week so that users of the library must reserve seats via the smartphone messaging app WeChat, sparking much public discussion among staff and students.
Regulations say that during the trial students who want to reserve a seat need to book it online first, and book breaks, too. If they are away for more than 15 minutes, they will receive a penalty – even if they simply go to the restroom, get a drink or search for information elsewhere in the facility.
Students who violate the rules more than three times will be blocked from using the system for 15 days.
The university also conducted an online questionnaire and received feedback from over 1,100 students, among whom 612 students were in support of the trial, while 496 were against.
Zhang Peng, a sophomore, said his first reaction was, "Are you kidding me?"
Some online users complained that the university's new trial is dogmatic without considering the actual needs of students, as the library should be a place for everyone to study. Also, it is quite unreasonable for students to be forced to use the software, some say.
Luo Jun, deputy-director of the library, remarked that students' responses toward the new trial were beyond his expectation.
Luo mentioned that the major problem in library is that some students mark seats as occupied when they are not actually using them, especially during exam weeks.
Luo added that the regulations are still in the trial stages and librarians appreciate advice and opinion from staff and students for further improvement. Some vacant seats will also be reserved for people who are not using the WeChat app.
(Source: China Youth Daily/ Translated and edited by Women of China)