Colleges have seen an increase in pregnancy rates among postgraduate students who are seeking an advantage in their job hunt amid a sluggish labor market. [Beijing Youth Daily]
Some 58.5 percent of female graduates have reported being asked about their marital status or plans to start a family when applying for jobs, according to research conducted by the Women's Study Institute of China.
Graduates from Beijing, north China's Hebei Province and east China's Shandong Province reported such experiences, showing just how commonplace it is for female undergraduates and postgraduates in China to be posed questions such as "Are you married?" or "When are you going to have a baby?" in job interviews.
Liu Zhimin, a senior employment trainer, is asked time and again how to answer questions such as these during almost every one of his lectures at universities. "Repeated consultations around this matter have actually reflected the common anxiety among female graduates about the issue," he said.
Preference and priority for married women with children has become a "hidden rule" in the job market, particularly within some private and small businesses, revealed the Beijing Youth Daily. Women of such status tend to highlight these "favored traits" when looking for a job and most of the time it seems to prove useful.
"Economically speaking, paid maternity leave and health insurance will cost us a lot. Female postgraduates are mainly in their mid-20s, soon to be married and have children. The expense of this per person stands at tens of thousands of yuan, at least," said a recruiter.
Stressful Childbirth on Campus for Absolute Advantages in the Job Hunt
Given the gloomy job market, quite a few women have chosen to give childbirth whilst at university, a practice gaining increasing popularity in recent years.
Colleges have seen an increase in pregnancy rates among postgraduate students who are seeking an advantage in their job hunt amid a sluggish labor market, the Beijing Youth Daily reports.
A teacher at the School of Marxism of a key university in Beijing told the newspaper that each grade has one or two pregnant post grads and that there are even more this year. The trend has even started to spread among some undergraduates.
The number of "postgraduate mothers" is rising steadily, a doctor at Beijing Normal University's school hospital said.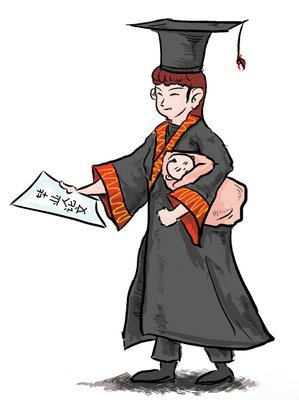 Female university students face both financial and academic pressures when pregnant and raising a child. [eladies.sina.com.cn]
For these women looking for an advantage in their job search, the financial and academic pressures that come with being pregnant whilst studying are nevertheless a huge challenge.
Currently, maternity insurance is not included in the package of free medical services offered to university students in Beijing, imposing a heavy economic burden on these student parents. For non-natives, this also leads to further obstacles in applying for birth certificates and relevant subsidies in their hometowns, whilst maintaining their studies in another place.
"It absolutely won't work if you want to have a baby without money, especially in big cities like Beijing," said an expectant mother, seven months into her pregnancy during her master's program. "I will give birth in my hometown, so my family members can help to share the burden."
Xiao Bin (a pseudonym) finally got her doctorate degree after six years of hard work. "I gave birth to my daughter during the program. She was weak and often sick and my husband was busy at work. I had to take care of her whilst studying. It really was extremely difficult." Distracted and unable to concentrate on her thesis, she was forced to postpone her graduation.
A respondent said her university tutor "flew into a great rage" upon hearing about her pregnancy, but she understands well such rage. "The teacher hopes that I can focus on studying and do more research. Pregnancy and childbirth will take up nearly a whole year, posing a challenge to the research program and student management."
Alarming Problems Revealed
As more and more female students join the trend to become postgraduate mothers, and even undergraduate mothers, scholars in China have been looking into the serious problems behind this. "Look what gender discrimination has done to women in the job market," some experts have said.
Female university students have adapted to the fierce job market by trying to wrap up such an important life issue as childbirth along with their education so as to "fight like a man in employment" upon graduation. These seemingly courageous acts are, actually, an outcome of profit-chasing employers and inadequate legal protection, revealed Zhou Zi, an expert in the field.
Generally, Chinese female university students are at a disadvantage compared to their male counterparts. Employers go even further, dividing them into several subgroups and taking married women with children as their first choice. Facing stiff market competition and the high costs and "hassle" brought about by pregnant employees, businesses find it hard to provide women with equal employment opportunities. In pursuit of profits as high as possible, some businesses choose, or are forced, to inquire about such private matters as marital status and childbirth with their potential employees.
Without adequate and forceful laws in this respect, it is unlikely for any businesses to take the lead in "doing good." The Law of the People's Republic of China on Promotion of Employment emphasizes the equal right of employment, yet fails to put forward stipulations effective enough to halt the current trend.
In the United States, employers may be charged and fined heavily should they impose upon potential employees such conditions as age, gender, health and religion. Similarly, employers in Germany are prohibited from inquiring about pregnancy.
Some in China have called for regulations against employment discrimination and experts have proposed to list the various discriminative acts women suffer and strengthen countering efforts.
In addition to restrictive stipulations, it is also suggested that incentives should be introduced to reward those abiding by the regulations. Moreover, the current maternity insurance system should be improved as regards legal registration issues and benefit distribution, by including men in the process of raising children and sharing the costs of childbirth between men and women. If such efforts are made, employers won't take childbirth as the sole responsibility of women but as a common issue for men, women, families, and employers, experts pointed out.
(Source: China Women's News/Translated and edited by Women of China)