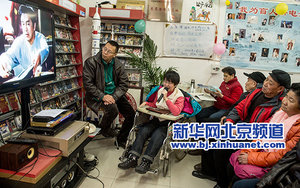 A group of the visually impaired get together to enjoy a movie at China's first cinema for the blind. [Xinhua/Zhang Yu]
Each Saturday, a group of the visually impaired get together to enjoy a free movie at China's first cinema for the blind, in Beijing.
Visually impaired, Wang Xiuting, 80, is a big fan of the cinema. Accompanied by her younger brother, she goes to "see" a movie in a courtyard screening room in Beijing's Xicheng District each Saturday. For Wang Xiuting, the event is not only a feast for the mind but also meets her rightful need to be recognized and included by society.
Twenty years ago Wang Xiuting, who lost her sight in an accident, felt abandoned by society and as a result became depressed and would often opt not to leave her home. When her husband died some time later, she began to feel even more lonely and helpless, passing the time each day at home in the company of her radio.
When she came to hear of the Xinmu Cinema, Wang Xiuting made the trip to visit and ended up enjoying her time there very much. Since then, Wang Xiuting has felt a renewed willingness to integrate with the outside world and has even picked back up her decades-old habit of singing Peking Opera.
The cinema has provided a fresh and engaging means of interaction and has painted a new sensory landscape for the visually impaired.
Covering less than 30 square meters, the cinema was established in 2005 by Wang Weili — founder of the Beijing Hongdandan Cultural Exchange Center — to help the blind understand society through movies.
Wang Weili is not only a movie commentator but also a meticulous cinematographer: When shooting a movie, he always works hard to edit the film into a version that can be understood by the blind. He will often produce additional dialogue in order to transmit visual images — such as movie scenes, characters' clothes and movements — into sound images for the visually impaired audience. He then records the commentary synchronized to the movie.
In an effort to maximize effect, Wang Weili will often blindfold himself in order to emulate the way in which a blind person would experience the movie. "I must make our visually impaired friends feel real warmth rather than cold commentary. What they need is not simply a courtesy service but rather a soulful experience in communication," said Wang Weili.
Wang Weili not only weighs every word in the commentary but also organizes touching activities for visually impaired people, getting them to perceive the world in different ways, through different perspectives.
Wang Weili has led them to the Great Wall, a spaceship, a sculpture-laden garden, and has no end in sight for the group's realm of possibility.
(Source: Guangming Daily/Translated and edited by Women of China)