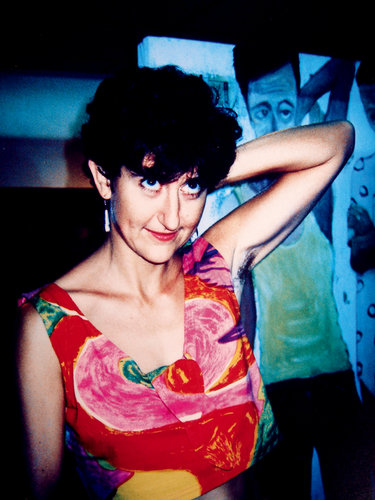 Monica Dematte [Mo Space]
Il Sogno Di Mo, which literally means "Dream to Be Monica," is a documentary by Italian director Francesco dal Bosco. The documentary, shown during an exhibition with the same title and held in Central China's Henan Province since October 2017, reviews Italian artist and curator Monica Dematte's communications with Chinese artists, and her devotion to promoting contemporary Chinese art to the world. Dematte, who emphasizes independent and free art expression, has been a witness to the great changes that have taken place in the development of contemporary art in China during the past 30 years. She is one of the earliest curators who have introduced Chinese artists to Western countries, and who have brought Chinese artists' works to the world-famous La Biennale di Venezia (the biennale held in Venice, Italy).
Il Sogno Di Mo, which kicked off on October 5, 2017, at Mo Art Space, lasted until January 31, 2018. Dematte is the art director of Mo Art Space, located in Micun Town, in a suburb of Xinmi, a city in the central part of Henan Province.
Dematte (C), Chen Yanyin (L) and Zhang Enli (R) [Mo Space]
Dematte was born on October 7, 1962, in Trento, in northern Italy. She has a bachelor's degree in art history from the School of Drama, Art and Music Studies, under the University of Bologna. She also has an art-teacher certificate issued by Italy. Dematte moved to China in 1986. She studied Chinese art history and commentary at the Guangzhou Academy of Fine Arts, in South China's Guangdong Province, from 1988-1989. She wrote a dissertation, "Contemporary Chinese Art from 1989-1994," while she was a Ph.D. student at the University of Genova.
In 1990, 1991 and 1992, she produced three documentaries that highlighted the development of contemporary Chinese art. When she participated in biennales held in Venice, in 1999 and 2001, she wrote articles about contemporary Chinese art and her articles were included in albums of the exhibitions. Since 1994, she has independently planned many exhibitions to highlight works of art created by Chinese and/or foreign artists.
Dematte (R) and Luo Yongjin (R) [Mo Space]
"I first came to China when I was 22. At that time, I was fascinated by the art style of leaving a blank space in traditional Chinese paintings. I came to China to study the art of this country. However, soon after I relocated to China, I noticed many Chinese artists, of my age, were more interested in Western art. They probably believed the styles and expressions of Western art were more suitable for them to create works of art. So, I started to pay attention to the Chinese artists' needs," Dematte recalls.
During the past three decades, Dematte has dedicated herself to promoting contemporary Chinese artists to the world. Before she took a Chinese artist's works to other countries, she normally spent at least three years communicating with the artist, so she could well understand the artist's style in creating works of art.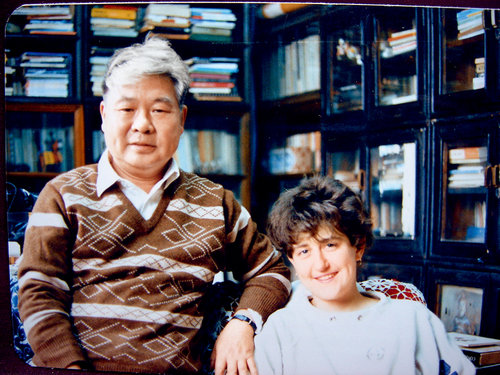 Dematte (R) and Chi Ke [Mo Space]
Dematte says it is important to consider art as something people truly need, but not something that simply brings people money. "I work in the field of art because I need art, but not because I want to make money from it," she says.
In 2014, Dematte established Mo Art Space in Micun. The purpose of opening such an institution was to create an enabling environment to enhance art and cultural communications. It was not until Mo Art Space opened that people from other provinces across China, or from other countries, came to know the town, Micun. "It's good to open an art space deep in the mountain, so people who visit the art space will be close to nature. It is not enough for an exhibition to meet simply popular aesthetic tastes. Artists should walk ahead of the public, so they will be able to improve the public's artistic tastes," Dematte explains.
Dematte (C) [Mo Space]
Through the exhibition, Il Sogno Di Mo, Dematte tries to answer the following questions: "After 30 years of traveling across China, and between China and other countries, I have become today's Monica. So what kind of person is Monica? What have I done over the past three decades? Have I changed? What kind of changes have I experienced? What changes have taken place in China, and which changes have particularly impressed me?"
Dematte is keen to witness the changes taking place in China. Her memories of China, from a few decades ago, contain a large amount of bicycles, local people's curiosity about and hospitality toward foreigners, simple foods, slow trains and crowded buses … In recent years, rapidly developing urbanization has turned cities into places filled with modernized construction.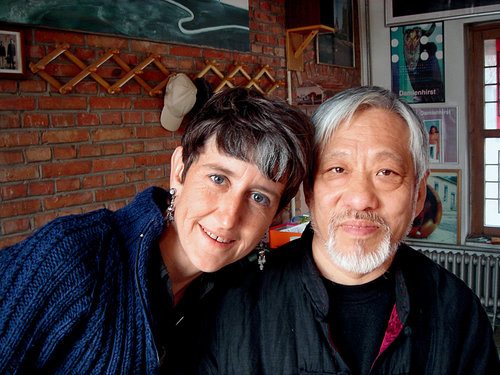 Dematte (L) and Li Xianting (R) [Mo Space]
Dematte attributes her emotional bond with China to her Chinese friends, especially artists. As long as her Chinese friends support and encourage her to keep working in the field of art, she is willing to travel to China, time and time again, to promote contemporary Chinese art to more places around the world.
Now that Mo Art Space is open, Dematte has a more stable work schedule, and it is easier for her to meet her Chinese friends at this place. She has a place, in which she can host exhibitions and communication events for Chinese and foreign artists, and where spectators can discuss the development of contemporary art. She chose Mo Art Space to be the place where Il Sogno Di Mo and the other two documentaries that feature young artists would be shown. She produced the other two documentaries in collaboration with artist Luo Yongjin.
"Il Sogno Di Mo collects precious memories about my life in China. It makes me see clearer the significance of what I have done. I don't think there is an end to my exploration of the development of contemporary Chinese art," Dematte says.
Dematte (L) and Zhuang Hui [Mo Space]
(Source: Women of China English Monthly January 2018 Issue)