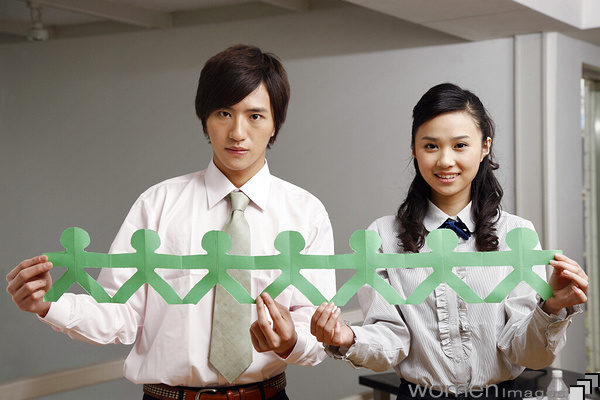 Chinese women still face disguised gender discrimination in the job market and/or workforce. [Women Images]
Due in part to China's rapid economic and social development during the past several years, an increasing number of women have achieved great success in their respective careers.
Despite Chinese women's rising social status and the Chinese Government's tremendous efforts to improve women's legal rights and interests, many Chinese women still face gender discrimination — in disguised forms — in the job market and/or workforce. For example, women continue to suffer from the stigma of the traditional Chinese belief that they are inferior to men. With such issues in mind, educators and researchers have been exploring ways to eliminate the inequality and discrimination "hidden" in the workforce.
Disguised Forms
'Second Generation of Gender Discrimination'
Many women feel tremendous stress in the workplace, and that stress is often the result of various factors, such as inadequate resources, long work hours, increasing work demands and the need to find work-family balance. But other factors are also at work; gender bias exists in many workplaces, but unlike the sources of stress mentioned above, gender bias is difficult to recognize — and therefore combat — because for the most part it is invisible.
Han Qing, Executive Director of the Department of Healthcare and Seniors at Sodexo (a French food services and facilities management multinational corporation headquartered in Paris) China, coined a new term — the "second generation of gender discrimination" — during the 2013 Annual Meeting of the Chinese Women's Research Society (CWRS) and the Seminar on Building China into a Moderately Prosperous Society and Achieving Gender Equality. The meeting was held from September 16-18, 2013, in East China's Shanghai Municipality."Unlike the 'first generation of gender discrimination,' which involved intentional acts of prejudice against women, many women, especially those who work in traditionally male-dominated fields, face the 'second generation of gender discrimination,' in disguised forms," Han said, as she explained the phrase during the seminar.
"When it comes to sending employees on a business trip, employers often ask women employees whether or not their families can be taken care of while they are away," she continued. "However, men seldom get asked the same (question). In fact, such 'special care' of women may be regarded as prejudice against women. Women who miss out on business trips because their employers believe they will not be able to strike a balance between family and work will probably also miss out on promotion opportunities."
Employment and Treatment
"China in recent years has promulgated and implemented State policies to eliminate and prevent gender discrimination, to promote social justice," says Li Dun, professor with the Contemporary China Research Center of Tsinghua University. "However, we should pay special attention to gender discrimination in disguised forms."
Li gives some examples of such discrimination; for example, some employers collect women's resumes, but they never follow up with job interviews. Some employers, Li adds, appoint pregnant women to positions with harsh work conditions in an effort to get them to resign. Li notes some employers forbid employees from discussing their salaries to conceal the fact they pay women less than they pay the men.
Li suggests prohibiting unreasonable acts, such as raising the standards for employing women, is the best way to end gender discrimination in the job market. "Some employers attach additional conditions on women's appearance, age and/or marital status to the original standards when recruiting employees," says Li.
Baby or Position?
Nowadays, many young Chinese women are in a predicament when they are forced to decide whether they should have a baby or pursue a promotion.
"My decision to have a baby 'killed' my career," says Wang Jing, director of the department of scientific and technological management of a privately run scientific and technological corporation in Beijing. "As the saying goes, 'you can't have your cake and eat it too.' Likewise, a woman cannot develop her career while she gives birth to a baby. If she decides to have a baby, she has to give up the opportunity to be promoted, if there is any. She understands that full well, although her employer might not tell her directly."
Difficult Job
Eliminating gender discrimination in the job market is by no means an easy task. It is even more difficult to eliminate discrimination that exists in disguise.
Reluctance
Chen Xiang, chairwoman of an advertising company in Beijing, says she has a hard time recruiting young women. "As a woman, I understand women employees' demands for economic and social security," says Chen. "However, as an employer, I hope they will be dedicated to their work … I felt regret when one of our accountants, who got pregnant, quit her job three years ago. We (put a lot of effort into offering) training to improve her professional skills, but she left within a year, and she left our company to bear all the losses … Since then, I have made it a rule that our company shall not recruit women who plan to give birth … within five years."
Lacking Supervision
Cai Dingjian, professor with China University of Political Science and Law, believes gender discrimination is the result of the lack of supervision, by the Chinese Government, in the workforce (including the hiring process).
"Gender discrimination will only be eliminated when the Chinese Government enforces supervision of the job market," says Cai. "Also, the government needs to establish a special organ to deal with cases that involve such discrimination; otherwise, victims of discrimination can do nothing but accept the bad luck with resignation."
'Magic Weapons'
More Job Opportunities for Women
Wang Wenzhen, a researcher with the Research Center of Labor Law and Social Security Law of the Institute of Labor Science, believes offering more jobs to women is the best way to eliminate workplace inequality and disguised forms of discrimination.
"Female university graduates face a grim situation in the job market, which, as a result, gives rise to workplace gender equality," he says. "Therefore, only by changing the relationship between demand and supply in the job market will we be able to gradually eliminate gender inequality in the workplace."
Promulgating Laws Against Workplace Discrimination
Cai says the increasing number of workplace-discrimination cases in recent years indicates people have a better understanding of how to protect their legal rights and interests. Also, Cai adds, it indicates that China's laws and legal regulations fall short of the people's needs.
"Given the situation, it is high time that China promulgate laws against workplace discrimination," he says. "Moreover, State organs should set an example in promoting the laws, to shoulder their responsibility to safeguard social justice."
(Source: Women of China English Monthly February 2014 Issue)