British Ambassador to China, Barbara Woodward [Provided by British Council]
Inspiring Women China, a British Council program based on a successful initiative in the UK, officially launched its online platform on December 4 in Beijing. The platform will enable the initiative to grow across China — using it, schools and college teachers are able to connect with volunteers and professionals in different fields and set up talks between them and their students.
Inspiring Women China aims to inspire young people, girls and young women in particular, about the world of work, to raise their confidence and aspirations and enable them to make better informed choices about their career options. At the heart of this program is a network of successful women — from a broad range of backgrounds — who volunteer their time to talk to students about their jobs, careers and the paths they have taken to get there.
During the launch event held at the British ambassador's residence in Beijing, ambassador Barbara Woodward addressed the guests, including Rio Paralympics gold medal winner Susie Rodgers, and Ma Feng, a graduate from Educating Girls of Rural China, who described her path from a student in northwest China's Gansu Province to studying at Liverpool University in the UK.
Woodward said at the event: "I have made a personal pledge, as the first female British Ambassador to China, to be a convener of successful women during my tenure. I am excited to be the patron of Inspiring Women China; and that successful Chinese women are lining up to volunteer a small amount of time to talk to young people about their education and professional experiences. Together let's support women and girls to aim high and climb far."
Ciarán Devane, Chief Executive of the British Council, considered Inspiring Women China as "an initiative that is close to my heart, as it so clearly represents the British Council's values and it demonstrates the UK's commitment to young people."
The British Council China encourages professional women from all backgrounds and sectors, from artists to scientists to CEOs, to sign up. Whatever their job they can make a difference and help inspire young women across China.
Before the launch event, Women of China interviewed Rio Paralympics gold medal winner Rodgers, who said she was inspired by all the Paralympics athletes who participated in competitions all around the world. "I have met people with various disabilities. I am always inspired by those athletes I have met, because they work so hard to achieve what they are achieving and they make me to be a better athlete and a better person. For me personally, my mom has been my strongest supporter, who has encouraged me to come over my disabilities and to be the woman I have become today," she added.
The corresponding UK national initiative was launched by the Education and Employers Taskforce charity in 2013. It encourages girls, in particular, to give consideration to occupations outside of those based on traditional gender roles. Despite the fact that women today are employed in greater numbers and in a wider range of roles and occupations than ever before, research shows that young people still tend to think of particular careers as more suitable for "male" or "female." Helping young people understand the amazing breadth of careers and possibilities that are within their reach and what they are actually like, is critical to tackling misconceptions.
Carma Elliot, Director China of British Council [Provided by British Council]
Rio Paralympics gold medal winner Susie Rodgers [Provided by British Council]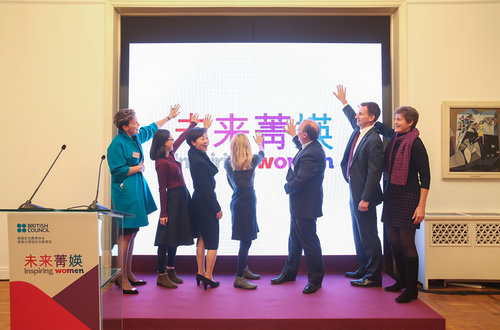 Distinguished guests touch the screen to launch the online platform of Inspiring Women China. [Provided by British Council]