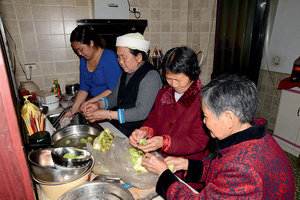 Fu Chunzhen cooks with the "three mothers" [Women of China English Monthly]
Fu Chunzhen, 40, lives in a rural area of Southwest China's Sichuan Province. Her first husband, Xiang Shaorong, died in 2006. Two years later, Fu married Guo Xingmao, and the couple moved in with Xiang's parents. For the past six years, Fu has taken care of six elderly people — her parents, Guo's parents and Xiang's parents. Her love for and filial piety toward the six elderly people have touched Chinese, across the country. In May 2014, Fu's family was selected one of China's most beautiful families.
Still Their Daughter-in-law
Fu Chunzhen was born in Jianshe, a village in Xuanhan, a county in Sichuan Province, in 1974. Fu's father died when she was young. Luo Zhangyu, Fu's mother, remarried when Fu was 9. Fu's stepfather, Peng Xingren, was a kind and gentle man, and he treated Fu as if she were his own daughter. Fu felt the love of a father from Peng, and that was how she learned about the value of love between family members.
Fu met Xiang Shaorong, a man in her village, when she was 20. After Fu married Xiang (in 1994), the couple moved to Dalian, a city in Northeast China's Liaoning Province. There, they ran a small seafood processing factory, and they had a happy family life. Their happiness, though, was shattered in 2006, when Xiang was diagnosed with brain cancer.
Fu closed the factory and she and Xiang returned to their hometown, so Xiang could receive treatments. Fu took care of her husband. Despite the treatments, Xiang died later that year.
"I still remember the day when he passed away. Our daughter, son and I cried beside him. We told him that he could not leave us behind, but he finally died," says Fu. "Before Xiang died, he held my hands tightly. He said to me, 'You must take care of my parents.' Even though I was young at that time, and I could not predict the difficulties in my life in the future, I still decided to take care of them, and be a good daughter-in-law."
Xiang had been an only child, and his parents felt great sorrow when he died. Fu told her parents-in-law, "I promise that I will not leave you behind. I will stay with you forever."
Fu supported the family after Xiang died; at first, she sold vegetables at the morning market, but she did not make enough money to cover the family's daily expenses.
Fu pondered ways she could make a better living. At that time, many of the villagers hired tricycles (and the drivers) to take them to other communities. The drivers earned a reasonable amount of money each day.
Fu wanted to learn how to drive a tricycle, but she did not want the drivers to know she was learning from them. Each day when she returned home from the morning market, she hired a tricycle, and she observed the driver as he handled the machine.
After a few days, and after having discussed the issue with her family, Fu bought a tricycle. She sold vegetables during the day and she practiced driving the tricycle at night. After she was able to operate the tricycle well, she began taxiing passengers around the area. She worked from 5 a.m. to 11 p.m. every day. Fu was exhausted at the end of each day. Deng Benxiu, Fu's mother-in-law, felt sorry for Fu. She told Fu, "Find a good man, and marry him. We are a heavy burden."
Many men wanted to marry Fu, because she was a beautiful woman who worked hard. Matchmakers, who represented men, often went to her house to propose marriage. However, all of the men were scared away by Fu's commitment to Xiang's parents. She made it clear to each man that he would have to live with Xiang's parents, so she could honor the promise she had made to her dying husband.
Special Family
In 2008, Fu met Guo Xingmao, a divorced man. After Guo learned about the promise Fu had made to Xiang, he was touched by her filial piety. He thought Fu was a kind woman, and he believed he would be fortunate to marry her.
Guo accepted — and appreciated — that Fu maintained good relations with Xiang's parents. So, Guo decided to do nice things for Xiang's parents; for example, he often bought delicious foods for Deng, and he often drank white liquor with Xiang Renjiang, Fu's father-in-law, when he visited the family. The elderly couple was touched by Guo's kindness and honesty. Guo promised Fu that he would help her take care of her children and parents-in-law. He told her, "I will share your burdens from now on. If we work hard together, we will live a good life in the future."
Fu's family is special, as it includes three elderly couples. In addition to Zhang and Peng, Fu's mother and stepfather, the other couples are Deng and Xiang Renjiang, Xiang Shaorong's parents, and Guo Jiaren and Lv Yingxiu, Guo Xingmao's parents. Also, there are five children in the family. In addition to Xiang Tingting and Xiang Nanfeng, Fu and Xiang Shaorong's children, there is Guo Qingyu and Guo Xiaomei, Guo Xingmao and his former wife's children, and Guo Honglian, Fu and Guo Xingmao's daughter. "Only if we treat all of the children and the elderly family members equally will we solve any problems that arise," says Fu.
Fu and Guo Xingmao take good care of the six elderly people, who get along with every member of the family. Guo Xingmao's parents are older than the others. Deng, the youngest of the six elderly people, is responsible for looking after the children and doing the household chores. Every night during the winter, Deng prepares hot-water bottles, which she places under the quilt used by Guo Xingmao's parents. Xiang Renjiang sometimes becomes jealous when his wife is looking after the others. When that happens, Guo Xingmao tells his father, "Do not be jealous! I will help you with the hot-water bottle."
Father Xiang and Father Peng both suffer from hypertension. They remind each other not to smoke, and they keep each other from drinking too much liquor. Father Xiang often tells the others, "I lost a son, but my daughter-in- law' became' a good daughter. Now, I have a son-in-law."
Helping Villagers Earn Money
In 2012, Fu and Guo Xingmao leased more than 200 mu (33 acres) of land from the Jianshe village committee. They used that land to establish Zhenmao Vegetable Specialized Cooperative. The cooperative owns more than 100 vegetable greenhouses, in which Fu and her husband grow tomatoes, cucumbers and peppers. The cooperative has helped more than 20 women in the village find work.
Fu and Guo Xingmao were short of money when they started their business. Father Xiang gave the couple tens of thousands of yuan, which he had saved over several years. Since the cooperative was established, Father Peng and Father Xiang have helped Fu and Guo Xingmao with the chores, such as pulling weeds and applying the fertilizer.
In 2013, Fu and Guo Xingmao established a tree farm. They employed residents of Jianshe, and other nearby villages, to plant the trees.
When asked about being selected one of China's most beautiful families, Fu said, "Family is important to me. It is as important as my life. I think that if relations between family members are good, the family members will live happy lives. No matter what kind of work you do, you should first manage your family well. If you cannot deal with … children or the elderly… you cannot do your business well. As for conjugalrelations, a husband and wife cannot complain about each other, no matter what kind of troubles they meet. The couple should work hard together," says Fu.
(Source: Women of China English Monthly December 2014 Issue)