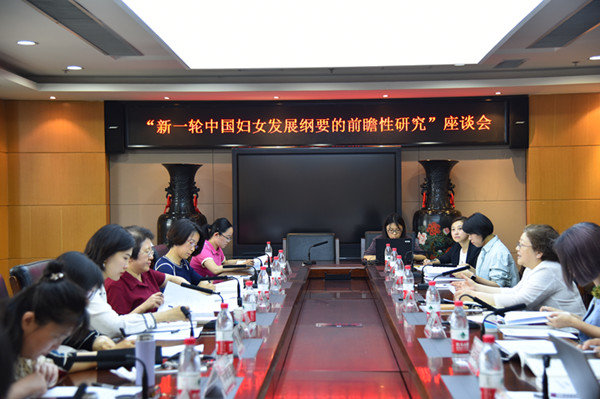 Participants hold a discussion at the symposium at China Women's University on May 17. [China Women's University]
China Women's University (CWU) held a symposium on May 17 stressing the importance of writing social needs, public expectations and new problems related to the work on family affairs into the drafted National Program for Women's Development (2021-2030).
Sixteen professionals and academicians from the CWU, Beijing Normal University (BNU) and Beijing Huatong Eran Education Technology Center, attended the gathering. They participated in the compilation of A Concise Textbook on the Guidance of Family Education (Hereafter, the Textbook).
Sun Xiaomei, Executive Principal of the Family Building Academy at the CWU, gave her thanks to the attendees for their contributions to the completion of the Textbook, emphasized the importance of the program to their growth, and urged participants to come up with their proposals concerning the inclusion of the building of family affairs into the new national program.
Liu Wenli, a professor with China Collaborative Innovation Center on Monitoring the Quality of Basic Education at the BNU, said that it was an extraordinary progress to include the concept of family into the program since the past national programs of this kind have failed to provide a comprehensive and systematic description and to pay enough attention to the functions of family.
Liu continued to state that more attention should be given to husband's functions in family and that relevant sides should work out effective indicators to evaluate the operation of sex education in a family.
Wang Lianxin, a professor from the CWU's Department of Finance, said that domestic families should increase their awareness and abilities in coping with the risks from home-based nursing service and asset management. He proposed that the concepts such as the distribution of family asset and the education on children's financial management competence should be written into the program since a family's consumption has a significant effect on the building of family affairs.
Wang Manzhi, Director of Beijing Huatong Eran Education Technology Center, said that Chinese parents should learn more about safety skills, especially first-aid techniques, and urged relevant sides to provide them with professional teaching personnel, instruction materials and other facilities.
Liang Yan, a teacher from the CWU's Department of Sport, called for more efforts to encourage husbands to participate in the management of family affairs along with their wives and strengthen the guidance and service concerning women's needs for physical exercises during their pregnancy.
In addition, other attending experts also shared their views at the symposium.
A group photo of attendees at China Women's University on May 17 [China Women's University]
(Source: China's University/Translated and edited by Women of China)