CWU Watches Live Broadcast of Gathering Marking Centenary of May 4th Movement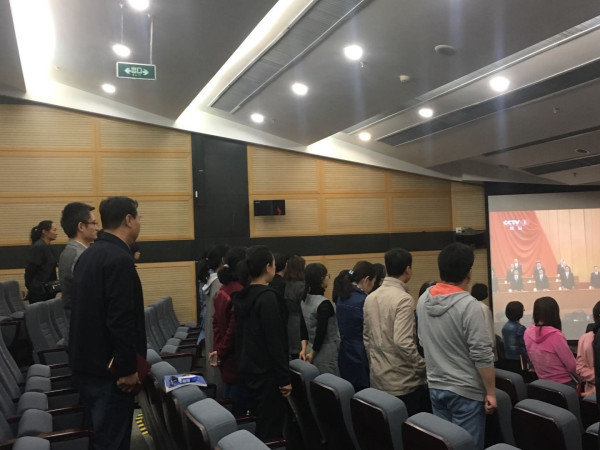 A group of faculty members and students at China Women's University watch the live broadcast of a gathering marking centenary of the May 4th Movement at the Great Hall of the People in Beijing on April 30. [China Women's University]
Over 300 teachers and students from China Women's University (CWU) gathered together at its library on the morning of April 30 to watch a live broadcast of the grand event marking the centenary of the May 4th Movement at the Great Hall of the People in Beijing.
Addressing the event, General Secretary Xi Jinping urged the country's youth to uphold Marxist beliefs, follow the Party's leadership and devote themselves to the nation and the people.
After the live broadcast, attendees held group discussions about Xi's keynote speech.
CPC members at the CWU said that the address provided them with a correct direction and fundamental guidance in understanding the May 4th Movement's historical significance and contemporary values of the May 4th Movement in a further way.
They confirmed that they would go ahead to study Xi's address; maintain political integrity, think in big-picture terms, follow and keep in alignment with the leadership core, have full confidence in the path, theory, system and culture of socialism with Chinese characteristics, uphold General Secretary Xi's core position on the Party Central Committee and in the Party as a whole, and uphold the Party Central Committee's authority and its centralized, unified leadership. They would inherit and carry forward the spirit of the May 4th Movement.
Young students emphasized that they would learn Xi's speech by heart, strive after lofty ideals, show intense love for the nation, undertake personal missions, hone individual competence and abilities, become capable and well-prepared to join the socialist cause and make their contributions to reach the two centenary goals and realize the Chinese Dream of national rejuvenation.
In addition, faculty members and students from other campuses also watched the live broadcast.
Teachers and students gather together on April 30 at CWU to watch the live broadcast of the grand event marking centenary of the May 4th Movement at the Great Hall of the People in Beijing. [China Women's University]
(Source: China Women's University/ Translated and edited by Women of China)
Please understand that womenofchina.cn,a non-profit, information-communication website, cannot reach every writer before using articles and images. For copyright issues, please contact us by emailing: website@womenofchina.cn. The articles published and opinions expressed on this website represent the opinions of writers and are not necessarily shared by womenofchina.cn.

Comments