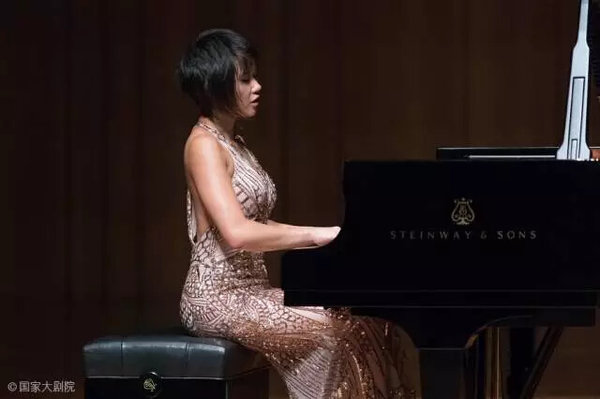 Wang Yujia plays piano on the stage. [chncpa.org]
Beijing-born pianist Wang Yujia is set to present the final performances of a concert series named "Perspectives" at the Carnegie Hall in New York City (NYC) on Wednesday and Thursday, offering music lovers more orchestral feasts.
Conducted by Michael Thomas, the upcoming concert on Wednesday night highlights three distinctive concertos: Piano Concerto No. 5 written by renowned Russian composer Sergei Prokofiev, Fountain of Youth by American composer Julia Wolfe, and Symphonie fantastique by French composer Hector Berlioz.
Among them, Fountain of Youth will make its premiere in NYC, which Wolfe aims to depict a "different picture of youth" in her new work focusing on "serious fun," according to an official concert introduction.
Concluding the program is Berlioz's Symphonie fantastique, which tells "a phantasmagoric tale of obsessive passion painted in kaleidoscopic orchestral colors."
Thursday's concert features Thomas as a conductor and a composer. Wang will perform Thomas' Sunset Soliloquy and You Come Here Often? — both for solo piano and making their debut in NYC.
Born in the late 1980s, the female pianist is featured as an Artist-in-Residence at three of the world's premiere venues: New York's Carnegie Hall with a season-long "Perspectives" series, the Wiener Konzerthaus with a "Portrait" series, and at the Luxembourg Philharmonie.
During the 2018-2019 season, Wang has gained high exposure among global concert hall goers, offering various performances that cover recitals, concert series, and extensive tours with some of the world's most venerated ensembles and conductors.
The talented music performer was named Musical America's Artist of the Year in 2017 and awarded the Avery Fisher Career Grant in the same year, an honor given to up to five outstanding instrumentalists each year.
(Source: Xinhua)
Please understand that womenofchina.cn,a non-profit, information-communication website, cannot reach every writer before using articles and images. For copyright issues, please contact us by emailing: website@womenofchina.cn. The articles published and opinions expressed on this website represent the opinions of writers and are not necessarily shared by womenofchina.cn.