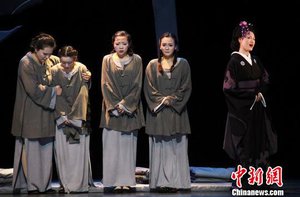 A live-performance shot of the first drama on "comfort women" [chinanews.com/Li Ke]
The first "comfort women" -themed drama made its debut in Nanjing, capital of east China's Jiangsu Province, on December 9, 2014. "Comfort women" were women and girls forced into sexual slavery by the Imperial Japanese Army before and during World War II (1939–1945).
The drama, entitled Er Yue Lan, reveals the life that "comfort women" were forced to lead during the war and exposes the unfathomably cruel sexual slavery to which the Japanese military subjected the women of its enemy countries back in December 1937.
Previous dramas set in 1937 focused mainly on the overall mass murder and mass rape committed by Japanese troops against the Nanjing residents in what is known as the Nanjing Massacre, while Er Yue Lan marks the first theatrical performance to focus specifically on "comfort women."
"The sexual slavery was part of the savage acts of the Japanese military. As a descendant of survivors of the Nanjing Massacre, I think I have the due responsibility to reproduce that piece of history, to show the public just what had occurred at that time," said scriptwriter Xie Tao, who won the Golden Lion Screenplay Award of Chinese Drama in 2012.
In March 2014, to ensure the highest degree of accuracy and realism for the drama, Qie began compiling historical materials, including The Diary of Azuma Shiro (1999) by Japanese soldier Shiro Azuma (1912–2006), who openly admitted to his participation in the 1937 Nanjing Massacre and who helped Chinese scholars acquire more evidence of the Japanese soldiers' brutality.
In the drama, the heroine named Lan Xin is a 20-year-old university student who serves as a doctor during the Battle of Nanjing (1937), an engagement fought between the Chinese army and the Japanese Army.
Lan is captured and forced into the life of a "comfort woman" by the Japanese military. In spite of the cruelty and torture to which she is subjected, the strong-willed young woman courageously fights to protect a Japanese woman and a Korean woman, both of whom are suffering from the same "comfort woman" plight as she.
"The drama is named after the Corychophramus Violaceua, a species of wild flower that blooms in February in the Chinese lunar calendar, as Lan — who is born in February — is full of the same vitality and vivacity as the flower. Unfortunately, such a promising life is tarnished by war, presenting viewers with a thought-provoking, tragic story," said director Li Lihong, who won the Golden Lion Director Award of Chinese Drama in 2004.
(Source: Nanjing Daily/Translated and edited by Women of China)