Vogues in the modern era of Chinese women's dress reflect the domestic political and economic base and technological progress of each epoch.

Late Qing Dynasty
Qing Dynasty Manchu costumes [culture.hebei.com.cn]


Women's garments of the late Qing Dynasty (1644-1911) conformed to the ancient Chinese Crown Clothing System, in force for millennia, which set the standard styles and colors of women's costumes.

The garments women wore during the Qing Dynasty reflected their social class and hence how they expected to be treated. The cheongsam was originally a long robe worn during the Eight-banner system of administrative regions into which all Manchu noble families were placed. It has since been modified into the classic gown synonymous with feminine Oriental grace and beauty.
The original cheongsam of the Manchu Qing Dynasty [culture.hebei.com.cn]
A woman courtier in official robes [culture.hebei.com.cn]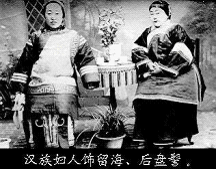 Han nationality costumes of the Qing Dynasty [culture.hebei.com.cn]


Manchu noble women of the Eight-banner system wore different robes on different occasions. Their wardrobes included court dress for formal meetings, auspicious suits for ceremonies, walking suits for outdoor activities such as hunting, and casual robes for daily wear.
The phoenix skirt, inspired by the tail of the mythical phoenix. [wenku.baidu.com]
The horse-face skirt, pleated on either side. [wenku.baidu.com]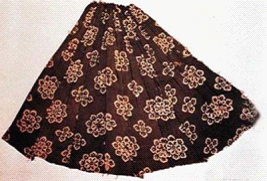 A pleated skirt. [baike.baidu.com]
Rather than robes, women of the Han ethnicity wore tunics and various styles of skirt— including pleated, phoenix-tailed, and horse-face—over trousers.
Please understand that womenofchina.cn,a non-profit, information-communication website, cannot reach every writer before using articles and images. For copyright issues, please contact us by emailing: website@womenofchina.cn. The articles published and opinions expressed on this website represent the opinions of writers and are not necessarily shared by womenofchina.cn.