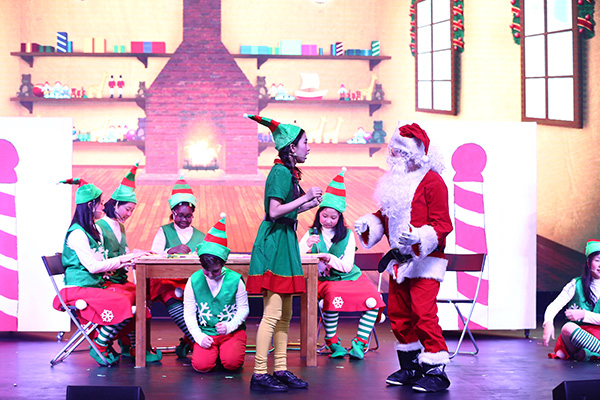 Liu Lesi (front left) and her schoolmates from the Canadian International School of Beijing perform a junior version of the musical Elf in Beijing on November 23.[China Daily]
In the best possible sense, the 9-year-old was caught in a trap-a Von Trapp to be precise. For Ai Liya, now a stage veteran, it all started when the hills came alive with The Sound of Music.
She went to see the premiere of the famous Broadway musical's Chinese remake at Beijing's Poly Theatre in 2016. On stage, the strict Maria Rainer was teaching the music scale to a couple of children of the Von Trapp family. The rest, as they say, is history and known the world over—When you read you begin with "A-B-C", when you sing you begin with "Do-Re-Mi"…
At that moment, the idea of joining the cast grabbed Liya and didn't let go.
She turned to her father and said: "I want to play a part in the show one day."
The story of how Rainer becomes a governess in the home of a widowed naval captain with seven children had captured her heart.
After attending intensive sessions of singing, dancing and acting-and enduring several failed auditions in the following three years-she finally got to star as one of the Von Trapps. She has performed in the show around 20 times.
Liya's father, Ai Changjiu, found out that immersion in the musical world has not only allowed his daughter to sparkle onstage, but also boosted her personality and given her a confident and optimistic outlook on life.
To give more youngsters a creative immersive experience, a winter camp centered around musicals is to be held for nine days in Beijing. It is organized by Seven Ages Investment, a company specializing in the production of Chinese remakes of top musicals.
Some 120 children have applied to take part in the camp, according to Fan Weijian, the education department director of the company.
Musicals are a team effort that require particular individual skills and a large dose of determination. Liya's father recalls that one day, after she failed an audition, instead of seeking comfort from others and wallowing in self-pity, she told her family with steely resolve that she wouldn't give up. She was convinced that no matter how old she was, she could always find a suitable role to play in the musical as it involves characters from varied age groups.
A group of kids stage a musical at Shanghai Culture Square in September 2019.[China Daily]
"I suppose some of the credit for her persistence and positive attitude to life should go to the values of honesty, kindness and decency upheld by the musicals she learns from and enjoys, including Les Choristes and Man of La Mancha," says her father.
Ai himself is also a frequent theatergoer. To him, what's special about musicals is that they are a fusion of multiple art forms that allow each individual performer to leverage their own strengths onstage through the expressive power of words, music and gestures, which in turn helps build up their confidence.
He mentions that Liya's younger sister, also an aspiring actress, who has been learning gymnastics, once wowed an audience by doing somersaults in a musical.
"Although she's not the best singer or dancer in the cast, she still got a chance to display what she's adept at on the stage," says Ai.
Ai realizes that every single character which the children portray requires them to develop the ability to understand human behavior, which is excellent for their future development.
Liya adds that she relishes throwing herself into the character she plays.
"When tackling different roles, I am also encouraged to explore more about life's possibilities and find out more about myself," she says.
As if, well, on cue, enter stage right, Liu Lesi is another young actress setting the stage for success.
The Grade 8 student at the Canadian International School of Beijing gave an outstanding performance two months ago, and the rapturous applause after the staging of a musical-comedy at the school on November 23 was well-merited.
The 13-year-old starred in the usually male lead role of Buddy, a human who is adopted and raised by Santa's elves. The story-adapted from the hit film Elf-is about how Buddy goes on an adventure to meet his biological father while also spreading Christmas cheer in a world of cynics.
Lesi says she feels extremely proud but was quick to point out the esprit de corps of stage life and the moments of humor.
"I know that if I mess up, there's always somebody to back me up. Somebody needs to help you work through mistakes so that none of the audience would even notice," Lesi says. "I also like the little funny moments that we've shared together, such as the insider jokes we come up with during practice and rehearsal."
Ai Liya, a 12-year-old musical enthusiast, sings during a rehearsal with other young performers in Beijing.[China Daily]
Besides, she thinks that as a member of the group, especially in the main role, she has a lot of responsibilities to support her colleagues and ensure, as best she can, a high-quality performance.
CISB has a drama club called Stage Cats which regularly organizes dramatic activities for students to take part in and produces several stage shows every semester.
Li Jiayi, a Grade 7 student who joined the club last year, says that the time she and her schoolmates spent together was actually lots of fun and again stresses the team element.
"The key for a good show is to have energy!" says the 11-year-old, who adds that she and her friends memorize lines together, and they prepare set pieces, design costumes, and do transitions to set the stage for each new act. All this has helped them build good friendships and a great team spirit.
Although more and more international schools and public schools in China have begun to use theater and stage performances to help students develop a wide range of abilities and skills, musical-related education is still in its early stages.
Seven Ages Investment has been exploring approaches to cultivate musical performers via courses and immersion camps since 2017. It has by now offered musical classes to about 3,000 children, according to Fan.
Fan says the company has also helped kindergartens, primary, middle and high schools in Beijing, Shanghai, Shenzhen and other major cities in China to set up musical clubs and musical-related curricula.
He points out that China's musical education providers should figure out a well-rounded curriculum featuring solid course content. They also have to overcome barriers like lack of musical teachers and platforms to display children's talents while staging musical works.
"We hope that more Chinese parents and their children will get to know musicals and develop an emotional attachment to the art form," Fan says.
(Source: China Daily)