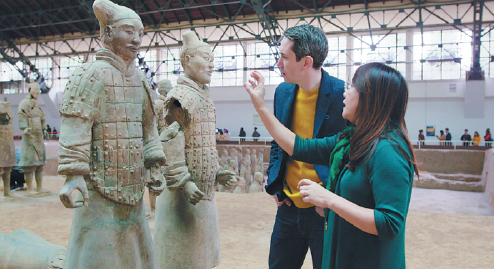 British art presenter Alastair Sooke pays a close look at the Terracotta Warriors at the Mausoleum of Qinshihuang in Xi'an, Shaanxi Province. [China Daily]
How do you learn about Chinese civilization from cultural relics you see in museums? How can you recognize the echoes of traditional culture in modern Chinese life?
Luckily for many viewers in China, they will have the chance to appreciate the links between the traditions of modern life and those from the country's ancient civilization through a documentary coproduced by Chinese and British companies.
The dual-language documentary series, China's Greatest Treasures was produced by the Center of Film, TV Drama and Documentary of the China Media Group, and jointly created by CCTV Documentary International Media Co Ltd, BBC World News and Mustang Films.
The Chinese and British teams traveled 7,000 kilometers to film at eight museums in eight cities across China, five world-class cultural heritage sites and over 20 other locations housing some of China's most precious artifacts — all within the space of a year.
By retracing the traditions conveyed by these unique cultural relics, the series makes strong connections and comparisons between modern China and the history of ancient eras.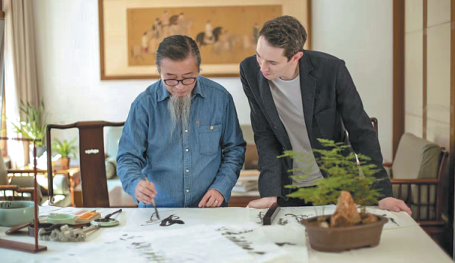 Artist Xiao Gang shows to Sooke how to create an ink-wash painting at Beijing's Rongbaozhai studio.[China Daily]
China's Greatest Treasures is a six-part series, with each 25-minute episode covering different aspects of modern Chinese life, such as family, art, manufacturing, technology and food. Alastair Sooke, a British art presenter, guides the audience on their voyage of discovery.
In this adventure, he meets Chinese people from all walks of lives, and listens to their stories. Being fascinated by Chinese history, Sooke says he is "amazed by her beauty and the depth of thousands of years of civilization. … You can't understand the country today without learning first about its past."
The presenter notes this has been the most amazing filming experience of his career. "China is never short of great artifacts. It is unusual to enjoy a production of such breadth and depth in your professional career."
China's Greatest Treasures started to air daily on CCTV-9 at 8 pm from Friday, presenting both traditional and modern China to audiences.
At its launch ceremony, Zhuang Dianjun, Head of China Media Group's Center of Film, TV Drama and Documentary said CCTV and the BBC were natural partners to work together as two of the world's leading broadcasters, and the product of their mutual cooperation had created content and programming that would appeal to audiences the world over.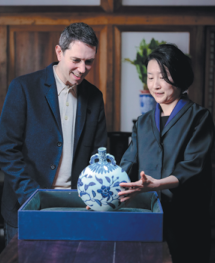 Ceramic research expert Chen Jie introduces a Jingdezhen blue-and-white porcelain jug to Sooke.[China Daily]
The collaboration between the two leading broadcasters was so promising that they intend to work together in the future. The documentary reflects the growing trend by the China Media Group's Center of Film, TV Drama and Documentary for collaborating on international projects. Since the latest rebranding of the Documentary Channel, the channel's weekly ranking entered the Top 20 among its Chinese peers in the same time slot, with a growing international exposure.
He says the center will seek more joint ventures in 2020, produce more documentaries with an international flavor, as it moves to raise its international brand awareness through producing content aimed at younger audiences.
Katy Xu, Vice-President of China and North Asia for BBC Global News, says the collaboration between BBC World News and the China Media Group's Center of Film, TV Drama and Documentary has been successful. The accessible documentary series has already generated much interest in ancient and modern China.
"We are excited to know that the English version has already been broadcast by the BBC, and we are now looking forward to the Chinese audiences' support for the Chinese version."
Alastair Sooke, British art presenter[China Daily]
China's Greatest Treasures premiered on BBC World in October, showcasing the cultural riches of China on a channel with a reach of over 465 million households across 200 countries and regions.
Ren Wanping, Deputy Director of the Palace Museum, says China's Greatest Treasures has translated the rich cultural wealth and academic resources into an extraordinary series with international impact.
And thanks to the interesting and appealing stories, the presenter managed to bring the collections of artifacts to life for audiences. To mark the 600th anniversary of the Forbidden City, and the 95th anniversary of the Palace Museum, part of the same compound, Ren says the museum aims to promote traditional Chinese culture and collaborate with all Chinese museums, and continue working with the media to create high-quality cultural works.
(Source: chinadaily.com.cn)