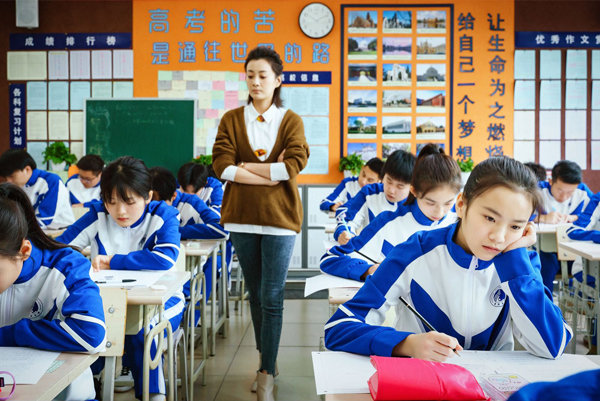 High school students lead in heated tests and studies to prepare for the first biggest test in their life, the college entrance examinations, as shown in A Little Reunion, a hit TV series. [For China Daily]
For Jiang Yueling, a sophomore literature major at Beijing Normal University, the popular TV series A Little Reunion is reminiscent of the tense period in her life spent preparing for the gaokao, or the national college entrance examinations.
One of her favorite characters is a single mother, played by actress Tao Hong, who puts every ounce of effort into providing, what is in her opinion, "the best environment and material things", to prepare her teenage daughter for the highly competitive test.
Such things include forcing her daughter to eat a raw sea cucumber for breakfast every day, as she believes that it will enhance her immune system and improve her memory.
She also intervenes in her daughter's hobbies, refusing to give the green light to the ones she deems a waste of time. For instance, she forbids her daughter, an astronomy enthusiast, to serve as a volunteer guide in the Beijing Planetarium as she thinks the venue is too far away from their home, with a commute that will take up too much time for her daughter, time that would be better spent preparing for the big test.
Despite some sequences in the series appearing somewhat over-dramatic and exaggerated, the avid viewer Jiang says that she can see a resemblance between her mother and the character, and a lot of scenes in the TV series resonated strongly with her.
For the past four decades, since China resumed the gaokao in 1977, the national examination is the lone criterion in admissions to colleges, pulling generations of youngsters into the high-stress race which can make or break their future.
No wonder A Little Reunion, a 49-episode drama centered on the gaokao, has become one of the highest-rated TV series this year, striking a chord with legions of viewers.
Recently concluding its first run on television, the drama, which is still available online, has gained 8.4 points out of 10 on review site Douban.
"Most of the plotlines are so close to real life. The gaokao is like a grueling battle in reality," says one internet user, whose comment garnered over 3,000 likes on Douban.
Its popularity has even expanded overseas. The TV series has been distributed to around 170 countries and regions, including the United States and Canada, according to the producers.
A Little Reunion is a loose sequel to the 2015 hit series, A Love for Separation, which was a panoramic look at the boom in Chinese junior middle school students traveling abroad to study. Like that previous hit series, A Little Reunion has once again focused the camera on some of the issues of most concern in China's education sector.
Aside from Tao, the TV show, which was directed by Wang Jun, also casts Huang Lei, Hai Qing, Sha Yi, Wang Yanhui and Yong Mei.
Set in Beijing, the tale chronicles the final year of preparation for the gaokao across three families — an open-minded couple with a naughty son and a highly-disciplined nephew (who comes to live with the family following the death of his mother), a divorced couple who reunite for the sake of their depressed daughter, and a government official and his wife whose rebellious son dreams of being a racing driver.
Trivial family matters and various dramas pertaining to the test preparations are also influenced by other social issues, including an unfair layoff, a midlife crisis and, in one case, having a second child.
The thought-provoking TV series has also stirred discussion about education and parenting among some experts and scholars.
"The drama has led us to reexamine the key to parenting: how to respect your children," says Wang Weiguo, a professor with the Communication University of China.
"The best way is to talk more frequently with your children, instead of making decisions for them.
"I often think that educational institutions should judge students by their overall performance, and not just on their results," adds Wang, who points out that the anxiety over the gaokao has been passed down from generation to generation, and will no doubt continue to do so.
"But I believe most families hope that something will change."
However, Li Zhun, honorary president of China Literature and Art Critics Association, has a more optimistic view.
Speaking from the point of view that the teen protagonists, who have conflicting ideas to their parents, finally gain their blessing to be allowed to pursue their dreams, Li says it reflects a "China that has changed a lot".
"A lot of high school graduates, especially those in big cities, no longer take the gaokao as the only way to secure a promising future," says Li.
For example, Li adds, many youngsters are now choosing to seek advanced education overseas, while those who cannot afford that might just study in an available college, enter the workforce to gain experience after graduation, and later grab other chances to embark on further studies.
(Source: China Daily)