An international student performs Chinese martial arts in Beijing, August 20, 2019. [Chinaculture.org]
More than 70 students from 23 countries have embarked on a cultural trip in China, as a special project, Experience China: 2019 China Cultural Center Students Award Tour, kicked off in Beijing on Tuesday. It will end on August 27.
The annual project started as a scholarship award tour in 2003, aimed at strengthening international students' understanding of China, the Chinese language and culture through field trips, as well as enhancing the friendship between Chinese people and the rest of the world.
Students for the 2019 edition are selected from Chinese cultural centers worldwide, including the Republic of Korea, Laos, Nepal, Singapore, Japan, France, Germany, Russia and New Zealand.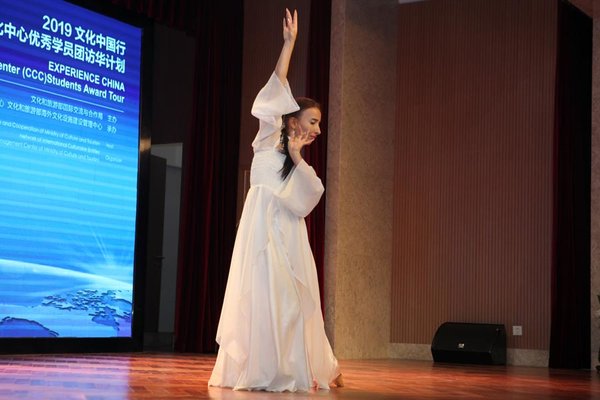 Russian student Chikova Irina performs a folk Chinese dance in Beijing, August 20, 2019. [Chinaculture.org]
During the 10-day tour, they will visit major Chinese cities and provincial areas, such as Beijing, Tianjin, Zhejiang and Hainan, which will help them fully experience China's cultural and social outlook, tourism resources and new lifestyles.
A sideline event of the project features an art exhibition at the A.C. Art Museum in Beijing, showcasing 40 calligraphy, photography and painting works created by students around the world.
China has so far set up 37 cultural centers worldwide, presenting the most authentic Chinese culture through language teaching, lectures, workshops, exhibitions and performances.
Nigerian student Nwodo Augustustine (L) sings Chinese rap song, Listening to Mother's Words, in Beijing, August 20, 2019. [For Chinaculture.org]
At Tuesday's launch event, student representatives also shared the stage with artists from the China National Opera and Dance Drama Theater to perform martial arts, dances and songs — both Chinese ones and traditional tunes from their home countries.
Nwodo Augustustine, a 23-year-old student from Nigeria who has only been learning Chinese for one year, enthralled the 100-odd audience members with Listening to Mother's Words, a hit Chinese rap song by pop star Jay Chou.
"I like hip-hop music, so I think singing a Chinese hip-hop song will be a good option for me. It took me two weeks to learn the song, because the lyrics are hard to remember," Augustustine told China Daily.
"It's my first time visiting China. Chinese people are very friendly and kind around me. I'm amazed and I'm really happy to be here," he said.
The annual event is sponsored by the Bureau of International Exchanges and Cooperation of the Chinese Ministry of Culture and Tourism, and organized by the Network of International Culturalink Entities (NICE).
Students from Laos perform a Chinese folk dance in Beijing, August 20, 2019. [Chinaculture.org]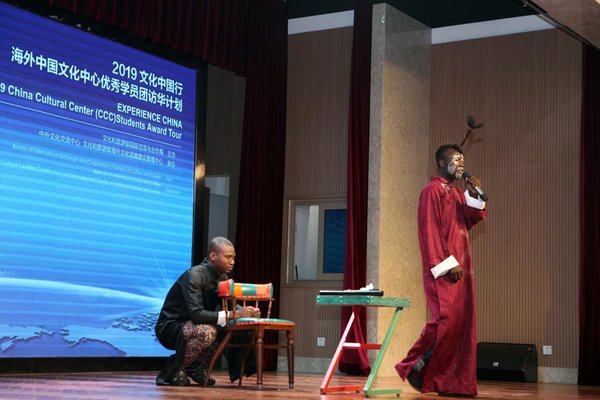 Students from Benin perform in a Chinese comic show in Beijing, August 20, 2019. [Chinaculture.org]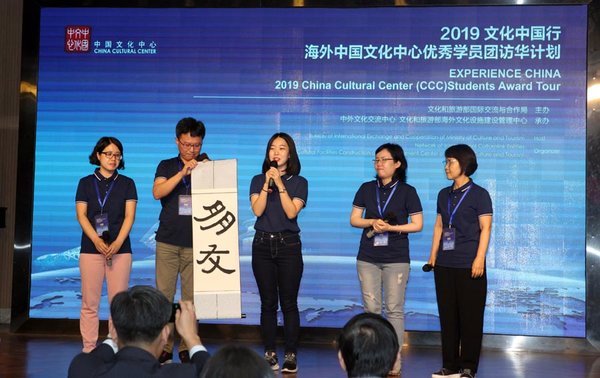 Students from the Republic of Korea show a calligraphy work of Chinese characters that spell "friends" in Beijing, August 20, 2019. [Chinaculture.org]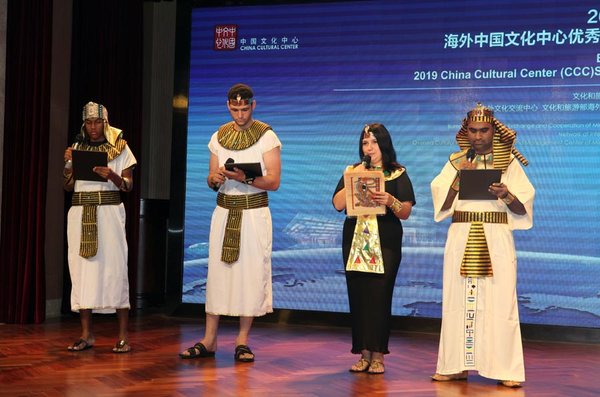 Egyptian students recite Chinese poetry in Beijing, August 20, 2019. [Chinaculture.org]
(Source: Chinaculture.org)