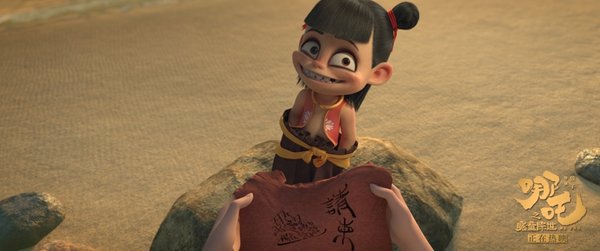 A still from the 2019 animated blockbuster features Ne Zha putting his hands into the waist of his trousers. [Mtime]
Ne Zha, the boy deity in Chinese mythological tale, was in conception for three long years before finally arriving, inflicting much pain on his mother Lady Yin.
That is just a similar case for the birth of his groundbreaking image, a mischievous and a bit ugly boy that we first frowned at and later fell in love with in this summer's eponymous smash hit.
To build this Ne Zha image, 100-plus versions of the protagonist's images were created and rejected, according to Shen Wei, one of the main designers who created the conceptual images for the film's main characters.
Actually, Ne Zha in several of the initial drafts came over as cute, but after the director saw them the immediate feedback was "they look fine, but that's also where the biggest problem is," Shen recalled.
The message the director wanted to convey through the film was having the courage to break people's biases. Therefore, after lengthy and careful deliberations among the production team, they decided to blaze a new trail in designing Ne Zha, the protagonist's image.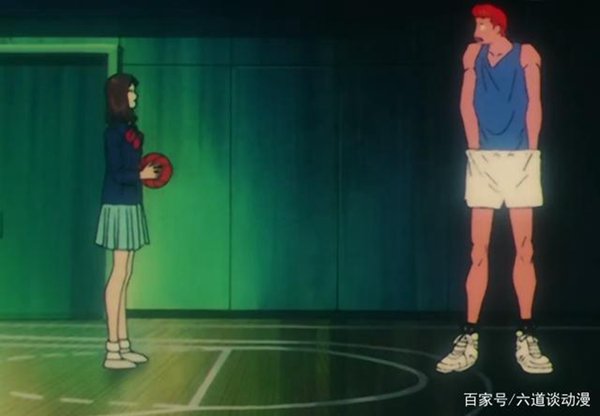 Hanamichi Sakuragi, the leading star in Japanese animation series Slam Dunk is also seen putting his hand into the waist of his trousers. [Mtime]
However, Shen and his team were worried for a long time about the risks of producing a Ne Zha that shatters the stereotypical Ne Zha image in people's minds.
"We have to break those barriers and make more audacious endeavors as long as Ne Zha's image is in accordance with the personality shown in this script. Even if it fails to appeal to viewers and bombs at the box office, we'll accept that," Yang said to Shen.
Excited by the director's directive and audacity, Shen and his team gradually worked toward their goal and finally Ne Zha, a boy with crooked teeth and dark circles around his eyes, was born.
But to avoid developing a Ne Zha image that was too far from the one familiar to generations of Chinese, the designers retained Ne Zha's clothing style and more importantly, his signature hair buns.
Besides his looks, the way Ne Zha walks by putting his hands into the waist of his trousers, has also sparked a heated discussion on social media, with many asking if that was inspired by Hanamichi Sakuragi, the leading star in Japanese animation series Slam Dunk.
The final image of Ne Zha for the 2019 Chinese animated blockbuster Ne Zha. [Mtime]
"That inspiration has little to do with Sakuragi. On the one hand, we thought this way of walking could add a touch of loveliness to the character, bringing him closer to the audience. On the other, Ne Zha's gait can strike audience as a little rascal, which is in line with the quality that comes with the 'demon bead' incarnate, Shen said.
In addition, when we created this look, we delved into the history of ancient Chinese clothing and found that trousers in ancient times were without pockets. So that's why we made Ne Zha look like that, Shen added.
"I believe many viewers would find Ne Zha a bit ugly at first sight, but as the plot unfolds, the protagonist, who is cheeky but kind and unwilling to resign to his predestined fate, can easily pull at their heartstrings," Shen said.
In this sense, watching the film can also be a process of letting go of prejudice, which is exactly what the film aims to communicate through this character, said the designer.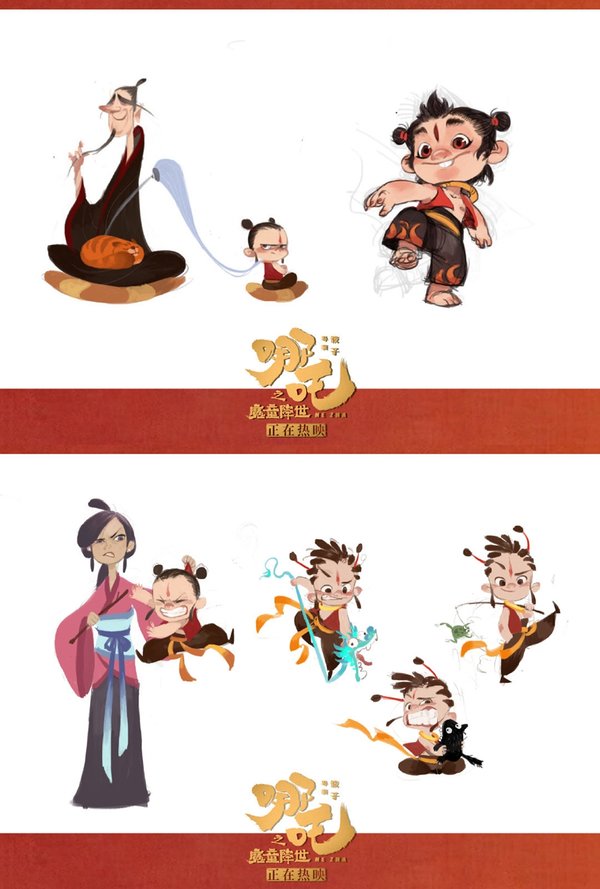 Initial images designed for Ne Zha and other characters in the 2019 Chinese animated blockbuster Ne Zha.[Mtime]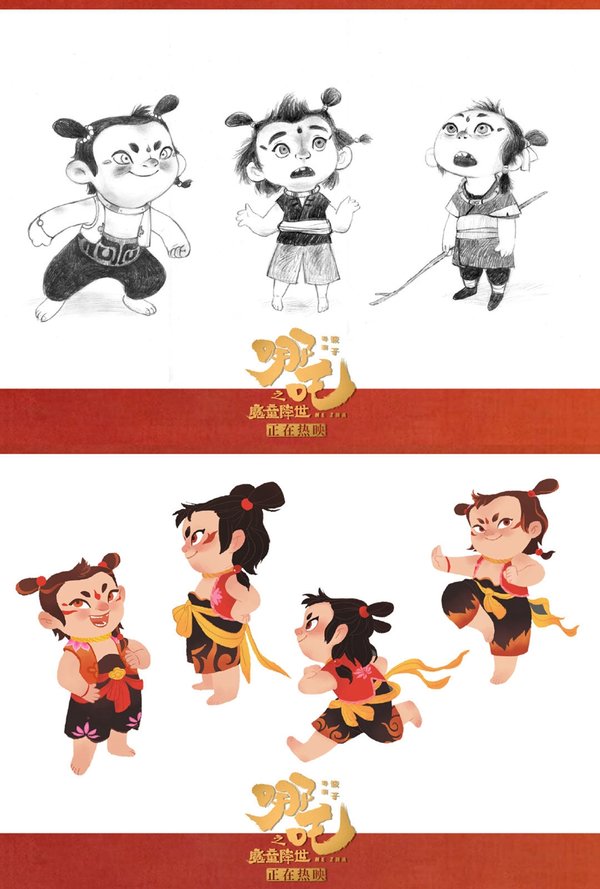 One of the initial Ne Zha images designed for the 2019 Chinese animated blockbuster Ne Zha. [Mtime]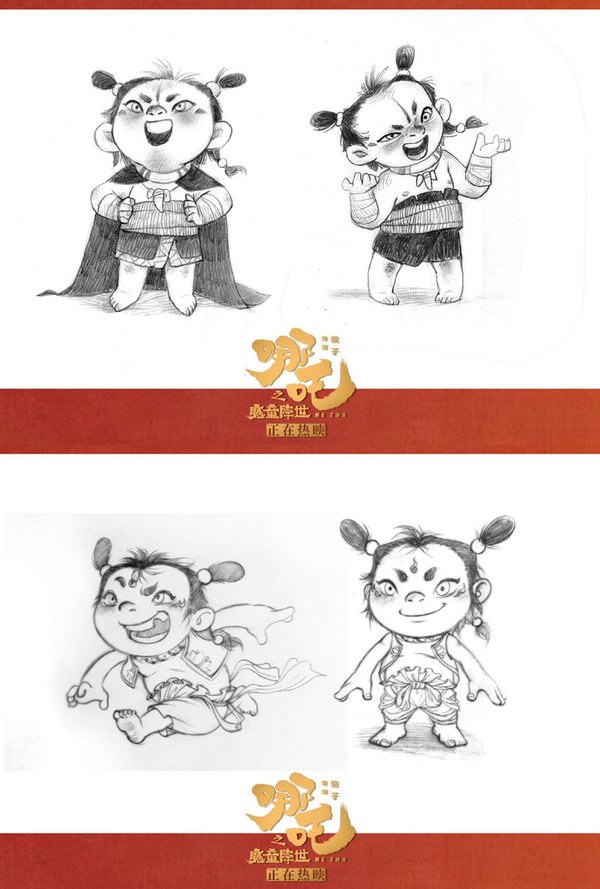 One of the initial Ne Zha images designed for the 2019 Chinese animated blockbuster Ne Zha. [Mtime]
One of the initial Ne Zha images designed for the 2019 Chinese animated blockbuster Ne Zha. [Mtime]
One of the initial Ne Zha images designed for the 2019 Chinese animated blockbuster Ne Zha. [Mtime]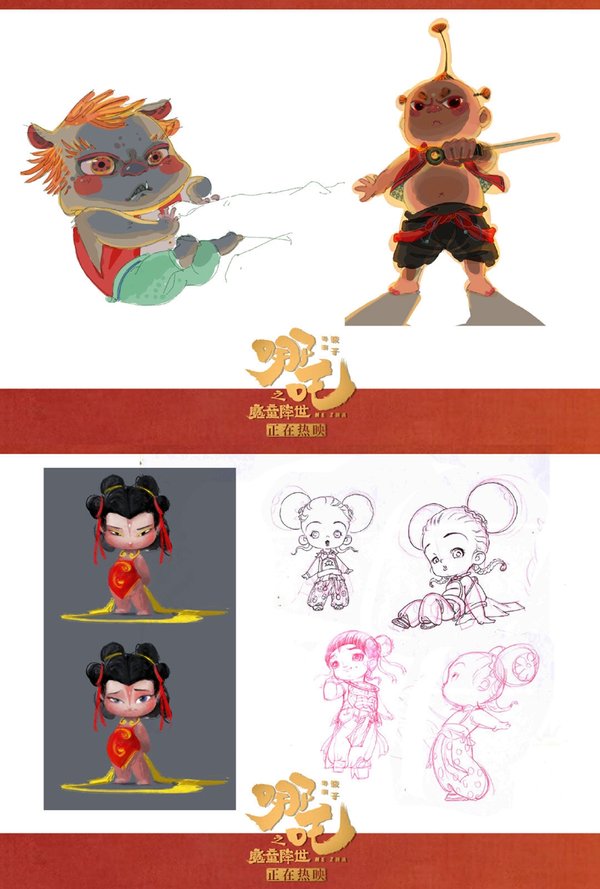 One of the initial Ne Zha images designed for the 2019 Chinese animated blockbuster Ne Zha. [Mtime]
(Source: chinadaily.com.cn)