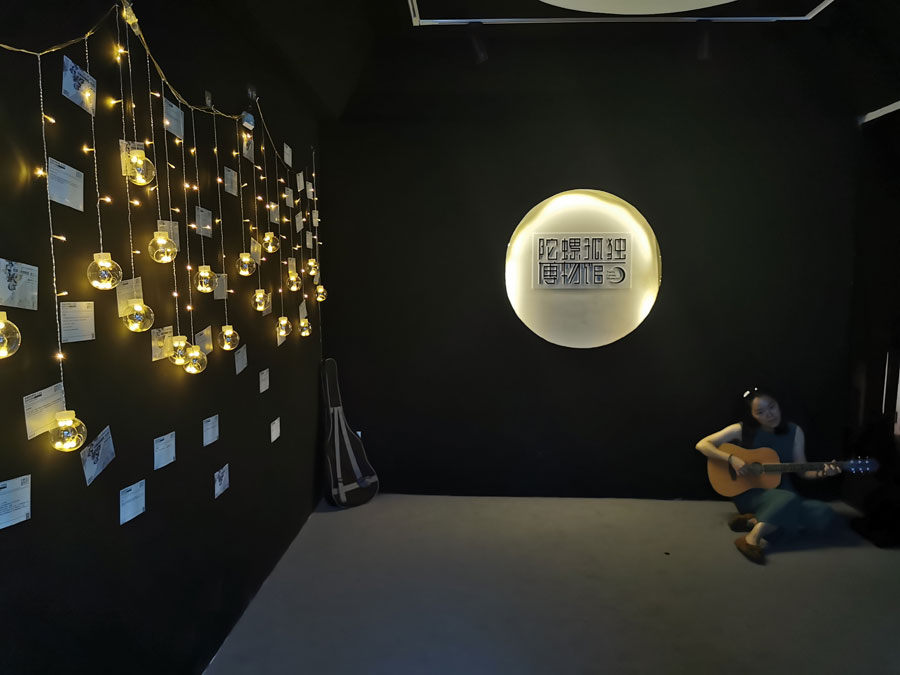 A visitor plays a guitar in one of the 13 sections at the Torro Loneliness Museum in Beijing. [Xinhua/He Xiyue]
Located in one of Beijing's most active art communities, the loneliness museum is always packed and bustling. However, everyone who visits the museum claims that they are lonely.
Liu Jiawei, a 22-year-old university student, sat quietly opposite a fluffy toy bear and ate hotpot, went to the hospital alone, and took the last subway home. Learning to deal with loneliness after ending a long term relationship was a challenge for her.
"When you are used to being together with someone, you feel uncomfortable when both parties suddenly separate," Liu said.
The Torro Loneliness Museum, which opened two weeks ago at the 798 Art Zone, has reproduced several scenes in which visitors can immerse themselves and resonate with loneliness. Divided into 13 sections including an office at night, the last subway, a hotpot restaurant and a hospital, the museum displays over 1,000 stories of loneliness, with words of encouragement and ways to deal with being alone written on the walls and the stairs.
Despite its theme, it is not always a solitary journey at the museum. In a room with three stationary bicycles, strangers can ride them together to light up the bulbs on the wall, which form a sentence - "Loneliness comes together with love."
Liu pedaled the bicycle at full speed with two other girls. When the bulbs on the walls finally lit up, they laughed together even though they had never met before.
"I am always sad these days, but I felt very relaxed and happy just now," Liu said.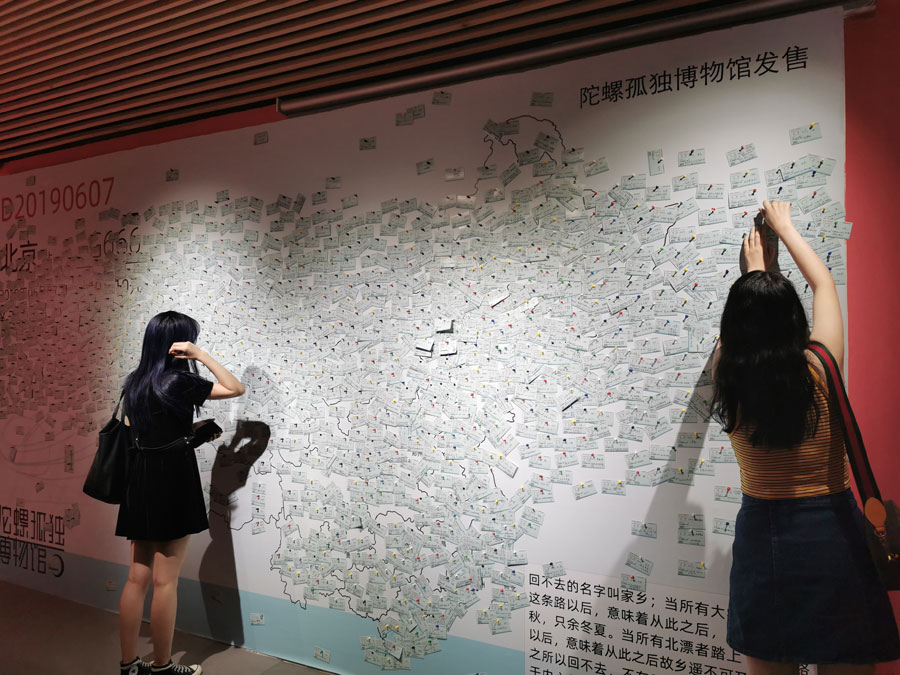 A visitor pins a card on the message wall of the museum, on which she wrote the name of the place that she would most like to visit. [Xinhua/He Xiyue]
Han Yue, one of the co-founders of Torro, the operating company of the museum, said everyone feels lonely sometimes for different reasons.
Han's grandfather passed away from cancer early last year while Han was leading a tour group in Nepal.
"When I came back to an empty home, I took out my items one by one from the suitcase with tears dropping on them," said Han, recalling the loneliest time he had ever experienced. "I couldn't face the reality that my grandpa was no longer there."
It dawned on him that a single event or trip might not be enough for people to relieve their sadness or loneliness. Previously, their team — all of whom are age 30 or younger — has organized hundreds of activities including a color run, a music festival and desert trips for urban youth to gather and forget their loneliness.
Han and the four other team members hope to create a haven for lonely people to visit and for others to empathize with them.
With over 300,000 followers on social media, Torro published a post on collecting stories about loneliness, and over 1,000 of them flooded in from all over the country. Those stories from their readers became a source of inspiration for the museum, and they were printed out and displayed among the exhibits.
Liu Shiyu, a 23-year-old graduate student in Beijing, brought her camera to the museum to pursue her new hobby.
To Liu Shiyu, this generation of young people is different from their parents'. They worry less about their livelihoods, but face more interpersonal and social pressures.
"When I'm in a bad mood, I avoid reaching out to my friends, as emotions can be contagious and everyone is under a lot of pressure," Liu Shiyu said. "I don't even tell my parents because they may not understand."
Diaries, sports and museums like Torro's have become ideal ways to improve one's mood. "You can feel empathy at the museum. When you read the stories, you feel like you can connect with someone with similar emotions," graduate student Liu Shiyu said.
According to a report titled National Mental Health Development in China, published by the Institute of Psychology at the Chinese Academy of Sciences in February, the national mental health index declines with age at the adolescent stage from ages 12 to 18, and gradually rises in adulthood from ages 18 to 55, indicating that people will experience a period of mental health downturn during their youth.
Han's team is currently negotiating to open loneliness museums at more places in other cities.
On Meituan, a Chinese online city guide like Yelp, the Torro Loneliness Museum scored a 4.8 rating based on 86 reviews. Although many people praised the design and concept of the museum, some questioned if it was just a commercial gimmick with fancy decorations and prosaic stories.
Guan Yutong, a psychological counselor in Beijing, said that when lonely people find similar lonely hearts in the museum, they may gain a sense of belonging and overcome loneliness. However, she was also worried that such an exhibition might create a lonely atmosphere and spread it to those who did not feel depressed initially.
By contrast, Fang Fang, one of the museum's curators, did not have such concerns. "People who come to work in big cities like Beijing can suddenly feel lonely and vulnerable sometimes," Fang said.
"We want to create a place for lonely people to relax, be recognized and accepted," she added. "The museum is not a pretentious setup that exaggerates people's pain. It reminds them that even though life is hard, there are thousands of people in this city just like them."
(Source: China Daily)