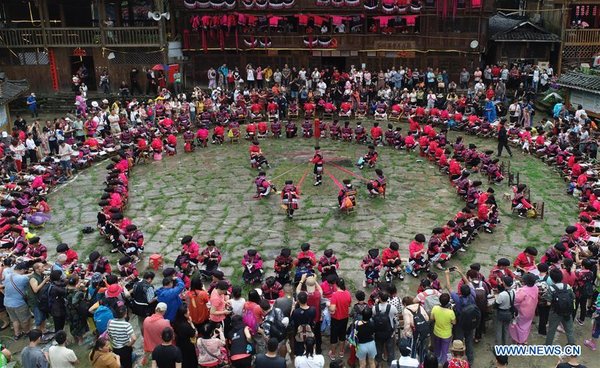 Aerial photo taken on July 8, 2018 shows women of Yao ethnic group presenting the skills of folk costume making in Longji Township of Longsheng County, south China's Guangxi Zhuang Autonomous Region. Local people of Yao ethnic group on Monday celebrated annual "drying clothes" festival, which falls on the 6th day of the 6th month of the Chinese traditional lunar calendar. [Xinhua/Su Yongzhu]
The Red Yao ethnic group in south China's Guangxi Zhuang Autonomous Region celebrates its annual "drying clothes festival" on Monday.
Living in the mountainous area in the city of Guilin, Guangxi, the ethnic group is renowned for its distinctive red clothes.
Every year on the sixth day of the sixth lunar month, usually a sunny day, the Red Yao people hang up their clothes. The balconies and corridors of families in the villages are filled with all kinds of clothes mainly in bright red, forming a spectacular scene.
During the one-day festival, the Red Yao people take part in folklore performances and hold ethnic style wedding ceremonies, attracting new couples nationwide. Dog worshipping activities are also included as they believe that the dog is their benefactor. The local clothes contain dog totems as an essential part.
The drying clothes festival is the Red Yao's second-most-important festival following the Spring Festival.
Guangxi is in south China and borders Vietnam, and has 11 ethnic minorities living in the region.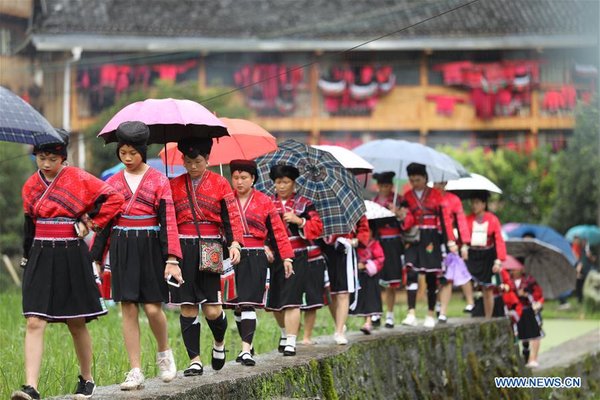 People of Yao ethnic group attend the "drying clothes" festival in Longji Township of Longsheng County, south China's Guangxi Zhuang Autonomous Region, July 8, 2018. Local people of Yao ethnic group on Monday celebrated annual "drying clothes" festival, which falls on the 6th day of the 6th month of the Chinese traditional lunar calendar. [Xinhua/Su Yongzhu]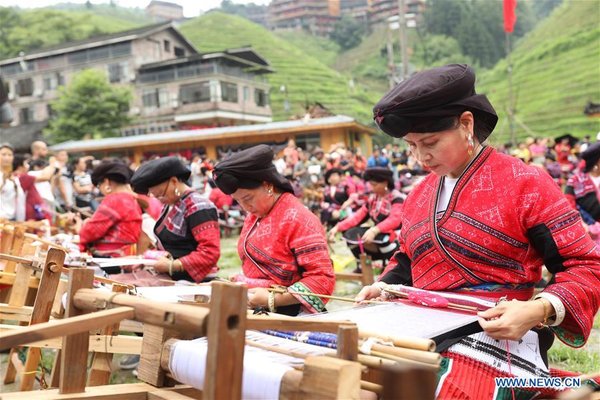 Women of Yao ethnic group present the skills of folk costume making in Longji Township of Longsheng County, south China's Guangxi Zhuang Autonomous Region, July 8, 2018. Local people of Yao ethnic group on Monday celebrated annual "drying clothes" festival, which falls on the 6th day of the 6th month of the Chinese traditional lunar calendar. [Xinhua/Su Yongzhu]
Women of Yao ethnic group present and dry folk costumes in Longji Township of Longsheng County, south China's Guangxi Zhuang Autonomous Region, July 8, 2018. Local people of Yao ethnic group on Monday celebrated annual "drying clothes" festival, which falls on the 6th day of the 6th month of the Chinese traditional lunar calendar. [Xinhua/Huang Yongdan]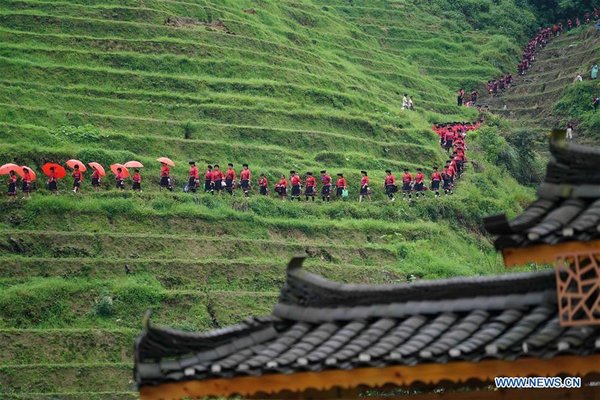 People of Yao ethnic group attend the "drying clothes" festival in Longji Township of Longsheng County, south China's Guangxi Zhuang Autonomous Region, July 8, 2018. Local people of Yao ethnic group on Monday celebrated annual "drying clothes" festival, which falls on the 6th day of the 6th month of the Chinese traditional lunar calendar. [Xinhua/Huang Yongdan]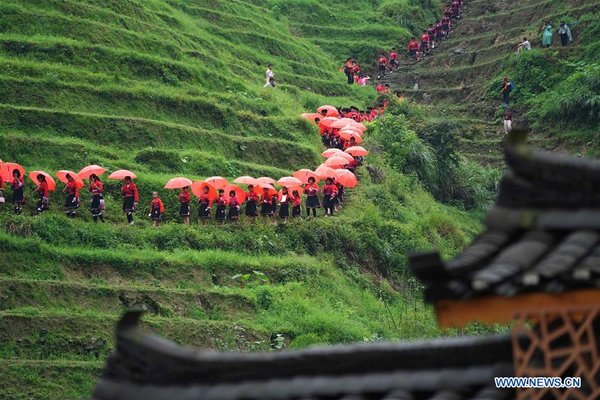 People of Yao ethnic group attend the "drying clothes" festival in Longji Township of Longsheng County, south China's Guangxi Zhuang Autonomous Region, July 8, 2018. Local people of Yao ethnic group on Monday celebrated annual "drying clothes" festival, which falls on the 6th day of the 6th month of the Chinese traditional lunar calendar. [Xinhua/Huang Yongdan]
People of Yao ethnic group walk to attend the "drying clothes" festival in Longji Township of Longsheng County, south China's Guangxi Zhuang Autonomous Region, July 8, 2018. Local people of Yao ethnic group on Monday celebrated annual "drying clothes" festival, which falls on the 6th day of the 6th month of the Chinese traditional lunar calendar. [Xinhua/Huang Yongdan]
A woman of Yao ethnic group presents the skills of folk costume making in Longji Township of Longsheng County, south China's Guangxi Zhuang Autonomous Region, July 8, 2018. Local people of Yao ethnic group on Monday celebrated annual "drying clothes" festival, which falls on the 6th day of the 6th month of the Chinese traditional lunar calendar. [Xinhua/Huang Yongdan]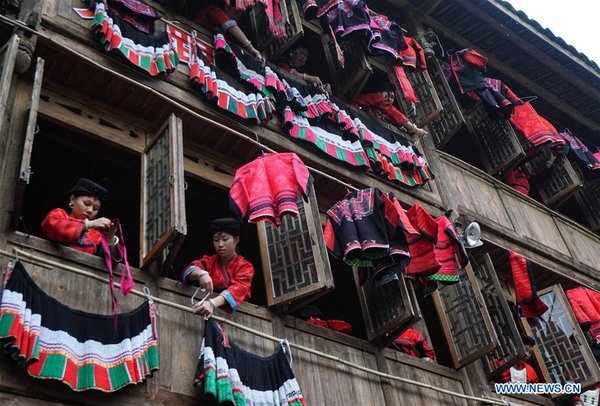 Women of Yao ethnic group present and dry folk costumes in Longji Township of Longsheng County, south China's Guangxi Zhuang Autonomous Region, July 8, 2018. Local people of Yao ethnic group on Monday celebrated annual "drying clothes" festival, which falls on the 6th day of the 6th month of the Chinese traditional lunar calendar. [Xinhua/Huang Yongdan]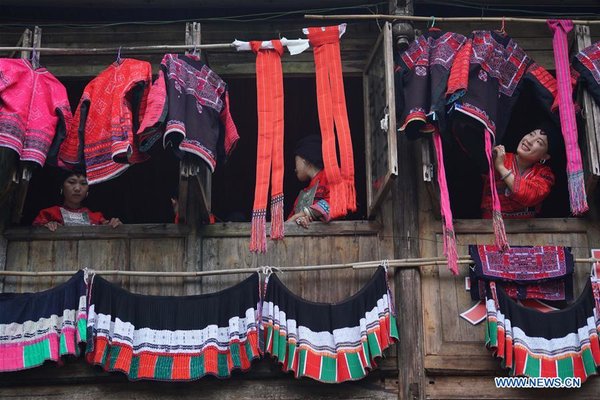 Women of Yao ethnic group present and dry folk costumes in Longji Township of Longsheng County, south China's Guangxi Zhuang Autonomous Region, July 8, 2018. Local people of Yao ethnic group on Monday celebrated annual "drying clothes" festival, which falls on the 6th day of the 6th month of the Chinese traditional lunar calendar. [Xinhua/Huang Yongdan]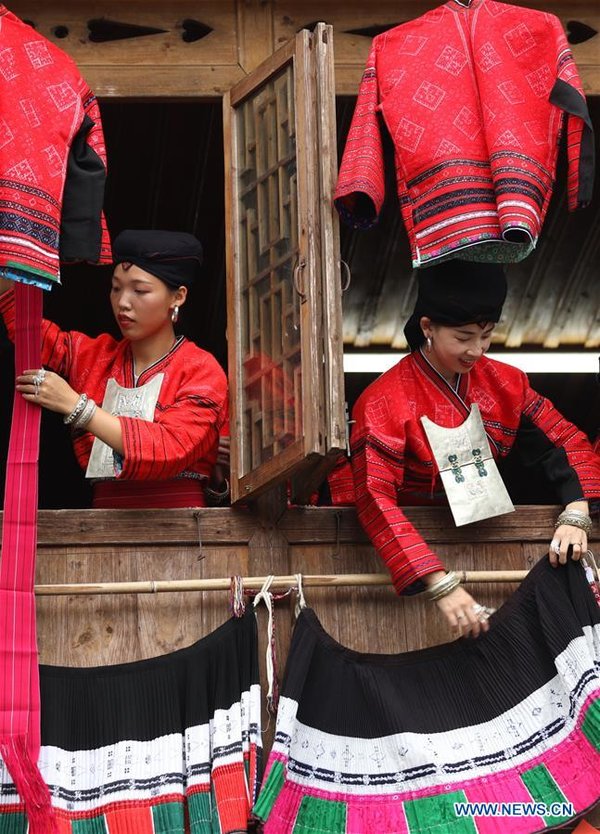 Women of Yao ethnic group present and dry folk costumes in Longji Township of Longsheng County, south China's Guangxi Zhuang Autonomous Region, July 8, 2018. Local people of Yao ethnic group on Monday celebrated annual "drying clothes" festival, which falls on the 6th day of the 6th month of the Chinese traditional lunar calendar. [Xinhua/Su Yongzhu]
(Source: Xinhua)