Local residents do yoga in the Qingyang section of Jinjiang Greenway. [China Daily]
The central district of Qingyang in Chengdu is aiming to transform itself into a beautiful and livable park in the near future, local officials said.
To achieve this goal, the district is encouraging local people to get involved with the process through promotional activities which display just how wonderful Qingyang is. One such campaign is "Finding Qingyang's Life Aesthetics" which was launched in September and mainly comprising three activities.
The latest activity will be held later this month and will invite elderly people and children to visit the International Intangible Cultural Heritage Park in Qingyang where they will stroll the scenic grounds and take part in an activity creating miniature ornamental plant displays.
At the first activity, 20 families were selected online and invited to take photos of scenic places in Qinguang district including its characteristic architecture and gardens.
The second event was held on Oct 13 at the Jinjiang Greenway, focusing on yoga, local culture and famous local people. Several scholars on culture and many residents discussed the features of Tianfu culture, its inheritance and development in Qingyang.
They also put forward suggestions about how the district uses Tianfu culture to drive regional development.
A highlight of the activity was the gathering of 50 yoga enthusiasts who taught others and took part in group exercise as an example of healthy lifestyle.
Dai Zhiyong, Party chief of Qingyang, said: "Developing (Chengdu) into a beautiful and livable park city is an important path to satisfy people's need for a good life." Qingyang will contribute to making Chengdu such a city, Dai said.
The Tianfu Greenway system acts as a skeleton for Chengdu's development, local officials said, adding it links ecological areas and parks in Chengdu. After it is completed, the city will become a huge park, the official said.
The system uses the Jinjiang River, which flows through central Chengdu, as the waterway from which the Jinjiang Greenway has sprung and developed. A 400-meter-long experimental part of the Jinjiang greenway, located in Qingyang district, opened to the public in June.
The greenway features high-tech sports facilities, public benches and smart lampposts which broadcast free Wi-Fi, as well as security cameras and buttons which can alert emergency services.
A boardwalk along the river has also been added, and officials said that water-related activities are planned in the future.
Using the International Intangible Cultural Heritage Park as an example, officials said they planned and built several intangible culture display sites. The park's greenway will highlight local cultural characteristics and develop into a distinctive intangible cultural heritage communication and display platform.
By the end of August, Qingyang district had built the greenway extending to seven kilometers, along with one park and 16 small gardens.
As planned, the district will become a beautiful and livable park area by the end of 2020, with the per capita area green land reaching 4.64 square meters.
Qingyang will highlight five values — aesthetics, ecology, culture, economy and life, as well as promoting general harmony among people, the district, the environment and work.
The district will deepen inheritance and protective development of historically important and cultural blocks and parks, strengthen the marketing of its historic and cultural brands and actively nurture cultural and creative brands, officials said.
It will also develop finance, the culture and exhibition industry and sectors related to ecology and health. Excellent travel routes will be offered, and brand competitions and international business expositions will be organized to promote the integration of culture, commerce, tourism and sports.
Qingyang also plans to carry out five actions including renewal of old urban areas, developing feature blocks and improving community services to solve problems closely related to local residents' life.
Related representatives said the district will greatly promote the quality of Chengdu's central urban area and it aims to become a model for urban beautiful and livable park areas.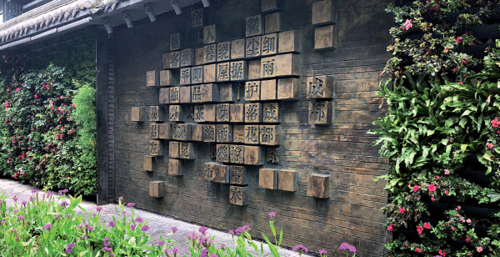 Zhijishi street in Chengdu is a popular site among visitors to the city. [China Daily]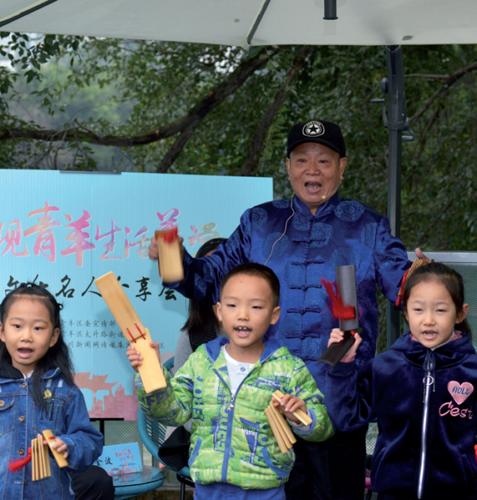 Children learn to play allegro at the second main event of the campaign "Finding Qingyang's Life Aesthetics". [China Daily]
(Source: China Daily)