Actress Maggie Cheung (L) wears cheongsam in Hong Kong director Karwai Wong's film In the Mood for Love. [Chinadaily-Mobile at WeChat]
Cheongsam, a body-hugging one-piece Chinese dress for women, also known as qipao, has carried Hong Kong women's memories through several generations.
In the 20s, in the Pearl of the Orient, the tight-fitting dress first came into style; by the 60s and 70s, women even wore the outfit when they went to buy vegetables on the streets.
Mee Wah Qipao, a famous cheongsam shop established in Hong Kong almost a century ago, is well known for its hand-made traditional designs. Its third-generation boss Kan Hong-wing has witnessed the dress' golden age in the city from the 40s to the 60s, but has to admit under the current situation there are fewer and fewer wearers.
In the shop, the number of tailors has decreased from more than 30 to just two. However, Kan has still adhered to the professionalism of traditional artisans, and been particular about using a single needle and a single thread.
Kan's dream is quite simple: he wishes more and more people in the world would know about traditional Chinese clothing.
In fact, Vivienne Tam — a Hong Kong-born, internationally-renowned fashion designer — has been working to make Kan's dream come true. She has integrated cheongsam symbols into fashion design and promoted traditional Chinese clothing through her New York fashion shows.
Tam went to the States at 24, and established an eponymous fashion brand in less than 10 years.
Tam recalled that in her childhood she was amazed at the elegance of her mother wearing cheongsam and curious at the unique design. After having her own brand, she has brought forth the new through the old and produced cheongsam that Westerners and young people both like.
Her designs combine the different preferences of Eastern and Western women towards cheongsam.
In the just past New York Fall/Winter 2017-2018 Fashion Week, Tam focused her eyes on Hong Kong, by using symbols such as the local taxi and colorful neon lighting, as well as the logo for the 20th anniversary of Hong Kong's return to China.
Carrie Lam Cheng Yuet-ngor, the new Chief Executive of the Hong Kong Special Administrative Region (HKSAR), is a die-hard fan of cheongsam. In recent years, she has worn cheongsam on every official occasion.
For example, she sported a cheongsam in the morning and another in the afternoon at the awards ceremony of the 2016 Grand Bauhinia Medal, the highest honor under the HKSAR system.
Lam is said to be a frequent visitor to a local cheongsam shop and purchases seven or eight sets of cheongsam every year.
This year, cheongsam unsurprisingly became her choice for her inauguration as the leader of the HKSAR on July 1.
Kan Hong-wing (L) tailors cheongsam for a customer. [Chinadaily-Mobile at WeChat]
Vivienne Tam's works combine the different preferences of Eastern and Western women towards cheongsam. [Chinadaily-Mobile at WeChat]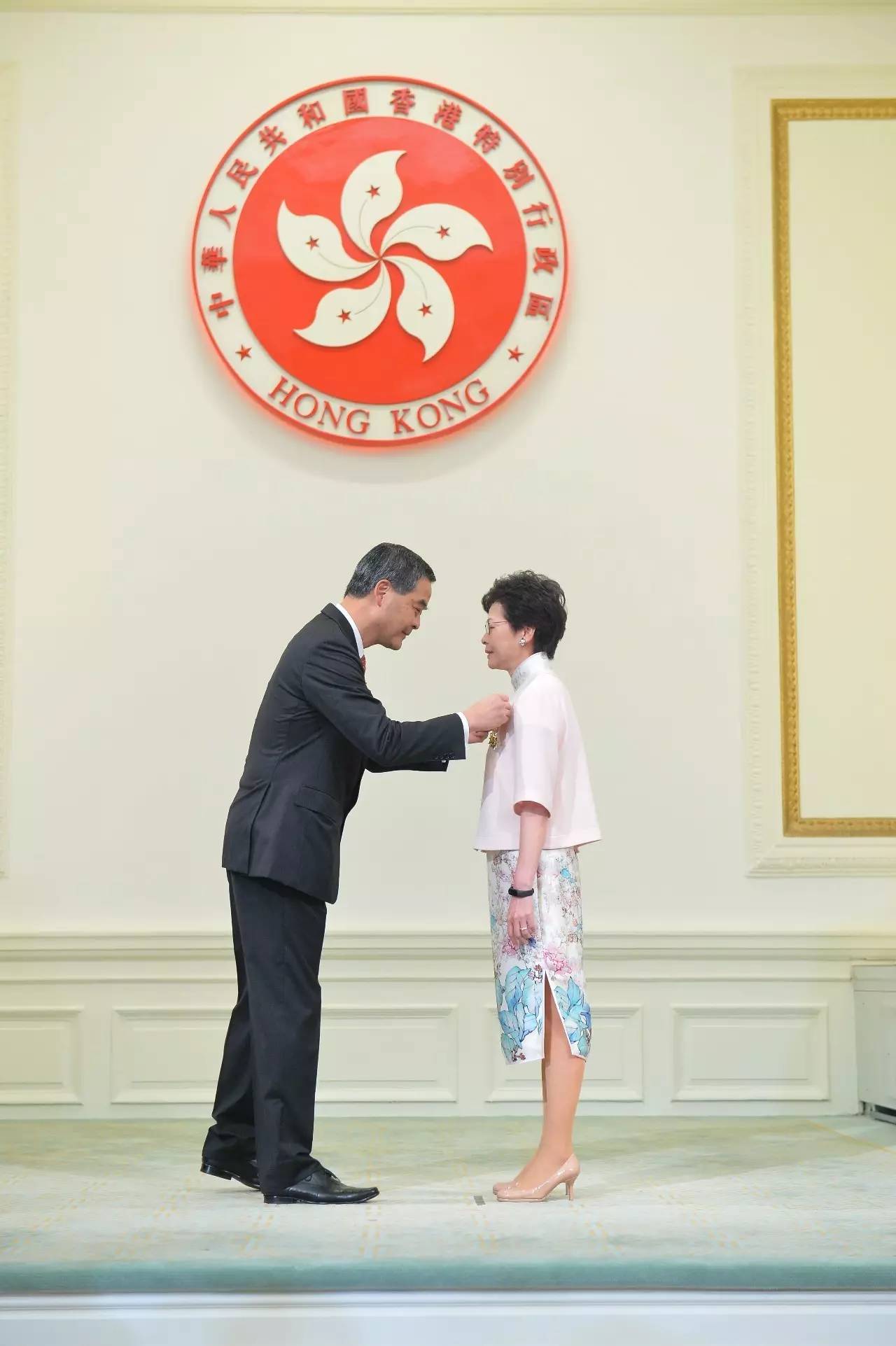 Carrie Lam Cheng Yuet-ngor (R) at the awards ceremony of the 2016 Grand Bauhinia Medal [Chinadaily-Mobile at WeChat]
Carrie Lam Cheng Yuet-ngor (L) is sworn in as the Chief Executive of the HKSAR. [CCTV]
(Source: Chinadaily-Mobile at WeChat/Translated and edited by Women of China)