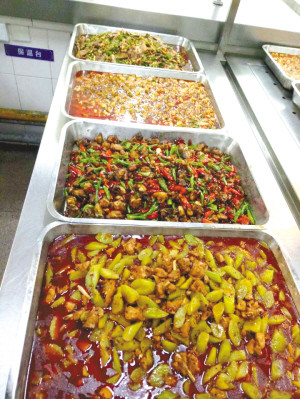 Sichuan dishes offered in huge containers in the canteen of Fudan Uni. [Chengdu Evening News]
Students at Shanghai's Fudan University recently enjoyed the taste of authentic Sichuan cuisine, thanks to a chef exchange program between colleges.
On campus, chefs Ni Xianmin and Wang Dabing from southwest China's Sichuan University have shown their over 20 years' expertise in the far-off cuisine, renowned for spiciness and liberal use of garlic and chili peppers.
During their brief residency, they mainly offered 12 courses, such as Kung Pao chicken ( a spicy stir-fry dish made with chicken, peanuts, vegetables, and chili peppers), boiled pork slices in a fiery sauce, and beef and ox tripe in chili.
At meal times, Fudan students queued up in long lines in the canteen and eagerly posted photos of the delicacies on social media Weibo and WeChat before tucking in.
Such posts even caused some jealousy among students in other Shanghai's colleges and those back in Sichuan. "When will the chefs bring Shanghai cuisine back to Sichuan?" replied one.
"Can Fudan Uni allow other students in Shanghai to eat in their canteen?" wrote another.
The two chefs seemed not to be bothered by any leftovers, because all their courses quickly sold out.
However, they still want to improve the flavors and promised to bring more authentic Sichuan spices and condiments during their next campus tour in Shanghai.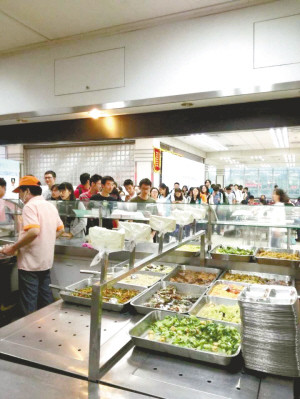 Students line up to order Sichuan dishes. [Chengdu Evening News]
(Source: Chengdu Evening News/Translated and edited by Women of China)