Annual Gate of Music was opened in Beijing on July 5. [For China Daily]
The opening of the annual Gateway to Music event, which has established itself as one of Beijing's biggest arts festivals for children during the summer vacation since 1995, took place at the Forbidden City Concert Hall on July 5.
Chinese conductor Tan Lihua led the Beijing Symphony Orchestra and opened the festival with a concert with including pieces like The Blue Danube by Austrian composer Johann Strauss II and He's a Pirate, the theme of Disney's Pirates of the Caribbean film.
During the 58-day event audiences will be able to enjoy around 70 performances.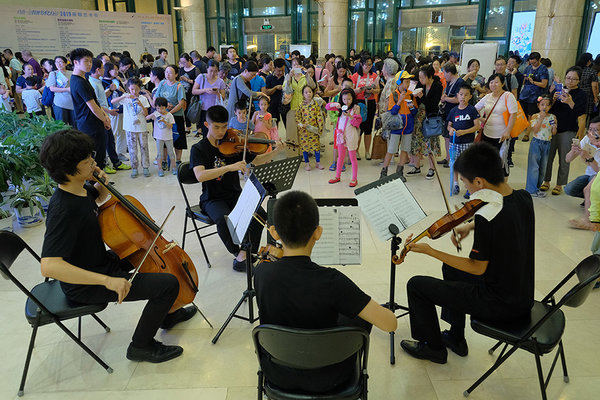 Artists perform at the annual Gate of Music was opened in Beijing on July 5. [For China Daily]
Besides live performances the festival comprises 16 summer camps teaching Western classical music, traditional Chinese opera, traditional Chinese folk dance and calligraphy.
Meanwhile, in May, the Beijing, Tianjin and Hebei symphony orchestras teamed up to form an art alliance aimed at promoting the development of the classical music scene in the Beijing-Tianjin-Hebei area, with a specific focus on children. And with the support of the Beijing Poly Theatre Management, the alliance will do programs for children in four cities: Baoding, Hengshui and Tangshan in Hebei province, and Tianjin — also as part of the Gateway festival.
Children try stitching on fans at the annual Gate of Music was opened in Beijing on July 5. [For China Daily]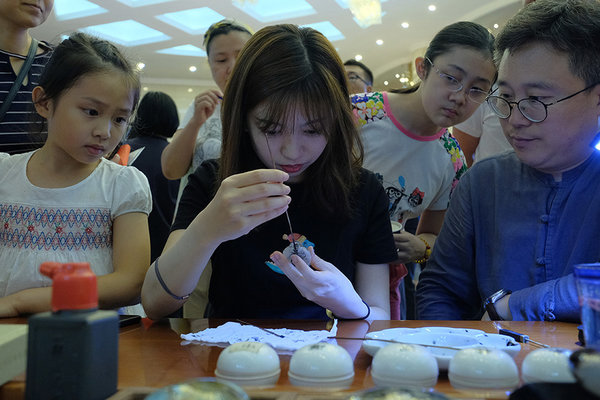 A guest tries painting at the annual Gate of Music was opened in Beijing on July 5. [For China Daily]
(Source: chinadaily.com.cn)