Blossoms of April, by Guan Naiping [For China Daily]
Guan Guangzhi was the first Chinese student to attend the Royal Academy of Arts in London. He returned home in mid-1930s introducing to Chinese artists and audience the making of watercolors and etchings.
His son Guan Naiping, an art educator and painter, has also devoted himself to artistic exchanges between China and the world.
A Dialogue between Time and Space, an exhibition now on at Beijing's Ici Labas gallery through June 16, juxtaposes works by the two painters showing an evolution in the painting style throughout decades and hailing the family's devotion to art.
A Snowy Landscape of Northern Europe, by Guan Naiping; [For China Daily]
Zhongshan Park, by Guan Guangzhi, from the collection of National Art Museum of China; [For China Daily]
A view of old Beijing, an etching by Guan Guangzhi; [For China Daily]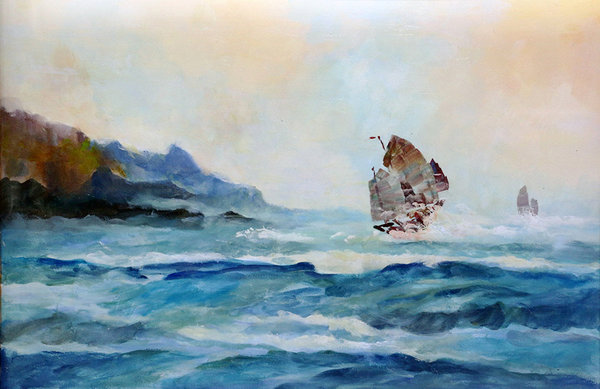 Through Wind and Waves, by Guan Naiping; [For China Daily]
Temple of Heaven, by Guan Guangzhi, from the collection of National Art Museum of China; [For China Daily]
(Source: chinadaily.com.cn)