A child draws. [China Daily]
Hanxiang Calligraphy Education, a Chinese calligraphy training school, recently hosted an exhibition of the excellent works created by its students at the Riverside Art Museum from Nov 2 to 4.
The exhibition aims to provide a platform for the students to display their works, and to showcase the achievements the school has made in calligraphy education over the past nine years since its establishment.
A total of around 1,000 students, from preschool to adults, submitted entries, and 500 participants passed the screening and entered the exhibition.
The exhibition displayed over 600 works, encompassing the varied styles of traditional Chinese calligraphy from Zhuan and Li, to Kai and Xing, and also the Chinese painting works themed on plants, animals, humans and landscape.
Wang Guozhu, member of the Chinese Calligraphers Association and academic advisor of Hanxiang, acknowledged the overall standard of the exhibited works, and said that the teaching approach of Hanxiang is recommendable.
Over the years, Hanxiang has started to offer other courses in traditional Chinese culture, including Chinese painting, guzheng (a stringed musical instrument) and Go (a traditional Chinese board game).
At the opening ceremony, Li Xiaoya, the founder and CEO of Hanxiang, announced that Hanxiang Calligraphy Education has upgraded its name to the Hanxiang Oriental College, and will carry on its mission to popularize traditional culture for the masses.
A visitor shows a child a calligraphy work. [China Daily]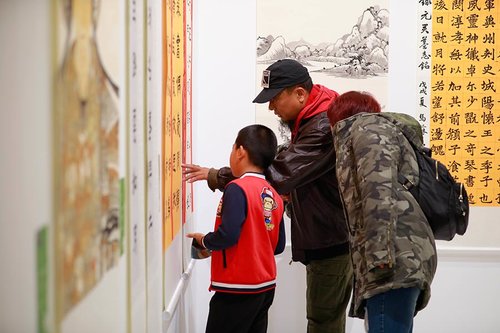 Visitors show a child a calligraphy work. [China Daily]
(Source: China Daily)