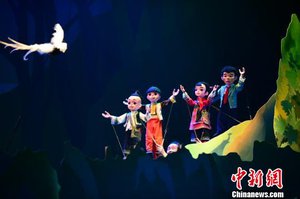 A modern puppet show titled "The Child Left Behind on the Mountain" debuts in Changsha, capital of central China's Hunan Province, on May 23. [Chinanews.com/Gu Pengbo]
A modern puppet show about a girl growing up alone debuted in Changsha, capital of central China's Hunan Province on May 23. The 70-minute play called "The Child Left Behind on the Mountain" won its performers rounds of applause from the audience.
The story follows the studies and life of a little child named Liu Jia, who lives with her younger brother in their rural hometown on a mountainside, and her unremitting efforts to overcome difficulties after their father dies and their mother goes to work in a city.
In the beginning, driven by hardship, the youngsters look forward to staying with their mother in the metropolis.
However, one day, in order to protect some silver pheasants—an endangered bird species in her country—little Liu bravely fights with hunters, and comes to understand the importance of protecting her beautiful homeland.
In the end, little Liu gives up her wish of asking her mother to bring her to the big city far away and chooses to stay in the village.
"In the show, the phrase 'left-behind' no longer represents helplessness and misfortune, but becomes a positive alternative and a way to protect the beautiful homeland and preserve traditional values," says the director He Xiaoxing.
The show avoids the usual pantomimes and folktales that audiences are used to; rather, it combines a realistic subject matter with romantic elements. The storyline displays the characteristics of a drama, whilst also evoking younger audiences' interests, added He.
Now the play has debuted, a symposium is due to be held for experts to further polish the production in preparation for its showing at this year's Hunan Arts Festival, scheduled later this year.
(Source: chinanews.com/Translated and edited by Women of China)