In the year 1920 in China, women still bound their breasts and those who wore low-cut clothing revealing even the slightest bit of skin risked being arrested by outraged authorities. But only seven years later, the Chinese government outlawed breast binding and the natural breast movement was well on its way.

The China of 1927 was seeing women embark on a journey from breast binding to bikinis.

Led by the upper class circle and the famous movie stars of the day, first Western-style bras and then Hollywood-style swimsuits swept China, bringing Chinese women into a new era of modernity and freedom.

Early Underwear Styles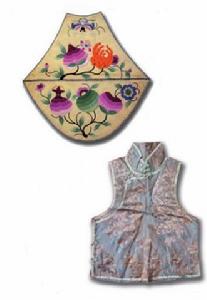 Traditional Chinese women's underwear: the bellyband (U) and the small vest (L). Chinese women typically wore these as undergarments during the early years of the Republic of China (1912-1949) [baike.baidu.com]
During the early years of the Republic of China (1912-1949), Chinese women wore a type of long vest that covered the knees when they slept. During the day, they would wear the long vest and a cape inside their cheongsam or dresses as undergarments.
The body-binding garment [baike.baidu.com]

The small vest pictured above was developed from a kind of underwear called body-binding, which was popular amongst Chinese women. They were mostly made of silk but less well-off families also used cloth. Unlike the sleeveless vest that women typically wore as an outer garment, the small vest was shorter, smaller and had a line of tight buttons that were meant to de-emphasize breasts.

Dong Zhujun, founder of the 80-year-old Shanghai Jin Jiang Hotel, one of the most prestigious five-star hotels in downtown Shanghai, wrote in her book My Century that when she was 16 years old she wore 'a gray silken fur-lined jacket, a tight cloth vest (girls at the time all had to bind their breasts), and a pair of satin pants, shoes, and white tight ankle socks made of machine-made cloth.'

A few of the more daring women would wear a light weight small vest made of tulle and pair it with a thin grenadine top, baring their arms. But conservative public figures were outraged and condemned the practice.

Shanghai senator Jiang Quesheng wrote a letter to the Jiangsu Provincial Government office in the summer of 1918, saying that 'this popular dressing style for young women is indecent and obscene. It shows at least 33 centimeters of the arm. And they wear trousers at least more than 30 centimeters higher than usual, exposing too much skin'.

Senator Jiang certainly had cause to worry as these daring styles, initially only popular amongst prostitutes, soon became widespread and common. Believing that so much exposure of female skin would incite wantonness and lead to moral decay and degradation, he demanded that the Jiangsu Province and the Shanghai County and foreign settlements ban the practice.

In 1920, the Shanghai government issued a public notice prohibiting dressing styles that revealed the arms and legs, calling it shameful. Women who wore revealing clothing would be arrested.

However, no one can stop the tides of progress and in time, Western concepts came to China. The country was bathed in the ideological trend 'The West Wind Gradually Blows to the East'. Jiang's denouncement didn't hold much water against the natural breast movement that was brewing and would eventually free women from the restrictive practice of breast binding.
Please understand that womenofchina.cn,a non-profit, information-communication website, cannot reach every writer before using articles and images. For copyright issues, please contact us by emailing: website@womenofchina.cn. The articles published and opinions expressed on this website represent the opinions of writers and are not necessarily shared by womenofchina.cn.