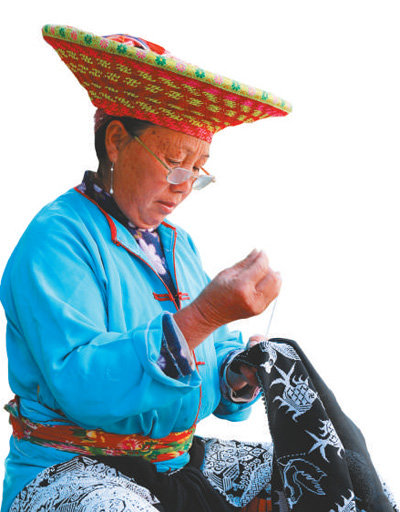 Feng Tangmei creates traditional costumes embroideries. [workercn.cn]
A woman from Yao Ethnic Township in Longhui County, central China's Hunan province, has spent the past several years promoting traditional arts and crafts as an expert inheritor.
In Feng Tangmei's community, the people are called Hua Yao, because they are renowned for their bright and colorful costumes made with unique local craft called tiaohua, a kind of cross-stitch embroidery.
The Hua Yao women's headscarves and hats, are mostly red or yellow, whilst their tops are usually white, blue and green.
They wear white tops in summer and blue in other seasons. And they wear green tops for weddings.
Their tight skirts are mainly black or blue. They wear mostly pure-color leggings, which are convenient for farm work,.
To decorate her costume, Feng adds varieties of patterns onto headscarves, the brims of hats, collars, cuffs, belts and dresses with her cross-stitch embroidery. Simple coarse cloth can become beautiful and attractive with her embellishments.
Feng has been wearing the traditional costumes for over 50 years.
But it was not easy to master the techniques of cross-stitch embroidery. Feng learned the techniques from her mother when she was 11.
The length of the needling, the tightness of the thread and the spacing of the stitches are the essential to the craft.
The most difficult part of cross-stitch embroidery is that there is no drawing to copy from, no pattern to follow, and no frames to use.
A good embroiderer needs mature composition skills and a understanding of beauty.
"The patterns are in the mind of the embroiderer. It's all in the imagination," said Feng.
Cross-stitch embroidery is time-consuming. Feng can only embroider at night during the farming season.
For a skilled embroiderer like her, it still takes about half a year to finish a piece of tiaohua embroidery on a skirt.
Feng has an old-fashioned carved lacquer case, which contains many kinds of tight skirts with various old patterns, some of which are over 100 years old.
She likes to embroider a special pattern — two birds standing on two branches sticking out of the trunk, back to back and spreading out their wings. .
"Whoever exceeds in embroidering this pattern has mastered the essential skills of our traditional embroidery," said Feng.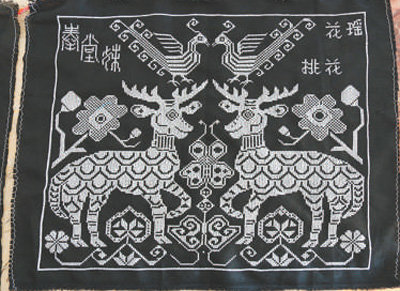 Feng Tangmei's embroidery work [workercn.cn]
Feng Tangmei's embroidery work [workercn.cn]
Feng Tangmei's embroidery work [workercn.cn]
(Source: workercn.cn/Translated and edited by Women of China)