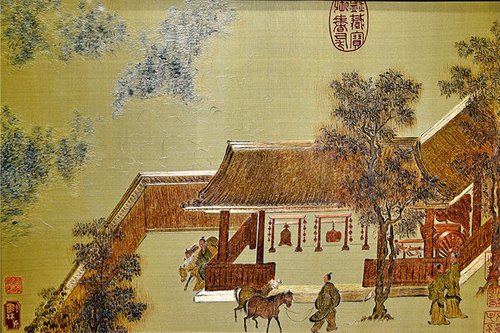 A Su embroidery work that describes the ancient daily life of Suzhou people [China Daily/Zhang Xingjian]
China boasts a five millennia history of mulberry cultivation, sericulture and silk industry. The earliest piece of silk fabric discovered in the country dates back to 3630 BC. Over the decades, China also developed a great variety of silk products, among which silk embroidery is the finest.
The earliest example of Chinese silk embroidery was unearthed in 1958 from a tomb belonging to the State of Chu, a kingdom that existed more than 2,000 years ago in eastern China. This embroidered piece of silk features the design of a pair of dragon and phoenix, both mythological creatures in Chinese culture.
The art of embroidery was already widespread across the country during the Han (206 BC-AD 220) and Qing (1644-1911) dynasties. It had developed into four major distinctive styles, namely, Xiang embroidery in central China's Hunan Province, Shu embroidery in western China's Sichuan Province, Yue embroidery in southern China's Guangdong Province and Su embroidery in east China's Jiangsu Province.
Of the four styles, Su embroidery is deemed by many scholars, specialists as well as ordinary people as the most representative of the Chinese embroidery art.
Historical records indicate that Su Embroidery began to appear in the ancient city of Suzhou and its surrounding areas during the Three Kingdoms Period (AD 220-280). Suzhou, which is located about 100 kilometers northwest of Shanghai, is known for its exquisite gardens, temples, unique styles of calligraphy, painting and music, as well as the exquisite Su embroidery.
This area has also produced many famous masters of Chinese hand silk embroidery. Shen Shou (1874-1921) was probably the most celebrated Chinese master embroiderer, who created a signature style that combined traditional embroidery techniques with Western painting styles and brought modernity to Chinese embroidery.
In 1910, her silk embroidery portrait of Italian Queen Elena, which was given as a present by the Qing government to the emperor of Italy, won the first prize at the Nanjing South Seas Exhibition, the first world fair held in China.
Five years later, her another realistic artwork, "Portrait of Christ," based on the homonymous oil painting created by the Italian Renaissance painter Guido Reni (1575-1642), won a gold medal at the Panama-Pacific International Exposition and was then sold for US$13,000. Shen had used more than 100 different shades in this masterpiece to achieve the shading and lighting effects in this lifelike embroidery.
Su embroidery features rich colors, inspiring designs, refined needlework, smooth finish and realistic presentation. It is also known for its characteristic stitching techniques and use of split silk threads.
For instance, Su embroiderers usually split a hair-thin silk thread into two to 16 thinner threads. Different thread thicknesses are used for different parts of a subject in embroidery to create subtle shades, smooth color transition and a lifelike effect.
So far, the best record for splitting silk thread was reported in 1987, when Gu Jinzhen, a master Su embroiderer split a silk thread into 96 finer threads within three minutes during a hand embroidery art show in Japan. Her performance was recognized by the Guinness Book of Records.
Another exceptional technique is the so-called "double sided embroidery," where a single image can be viewed from both sides of a piece of embroidered fabric.
Double sided embroidery involves complicated methods which are used to create an image on a piece of extremely thin and nearly transparent silk fabric. All thread ends are skillfully concealed between layers of stitch work. Usually, short stitches are used to cover the thread ends and long stitches to mask the short stitches. As a result, no knots or thread ends are visible in a double sided embroidery.
There are three types of double sided embroidery. One type shows exactly the same image on both sides of a piece of silk fabric. The second type shows the same image on both sides, but in different colors. For example, the eyes of the same cat, a favorite subject of double sided embroidery, could have different colors on one side from that of the other side. The third and most intricate type of double sided embroidery shows two different images of the same size and shape on the two sides of an embroidery piece.
To achieve such stunning artistic effects in the "needle paintings," generations of Su embroiderers have developed several dozens of different stitches used in two best known Su embroidery techniques, namely, even embroidery and random embroidery.
The even embroidery employs "neat stitch," "gradient stitch," "prodding stitch," "thickening stitch" and "layer stitch" to produce fine and neat embroidery products, usually on traditional themes such as flowers, insects, birds and other animals.
Random embroidery was introduced in the 1930s and instead of neat and parallel stitches as used in even embroidery, random embroidery often applies crossing and slanting stitches to create different effects. Su embroidery techniques usually take decades to master and the complete process of creating a piece of hand embroidery art work, which includes designing, stitching, mounting and framing, could take months or even years to finish.
(Source: Shanghai Daily)