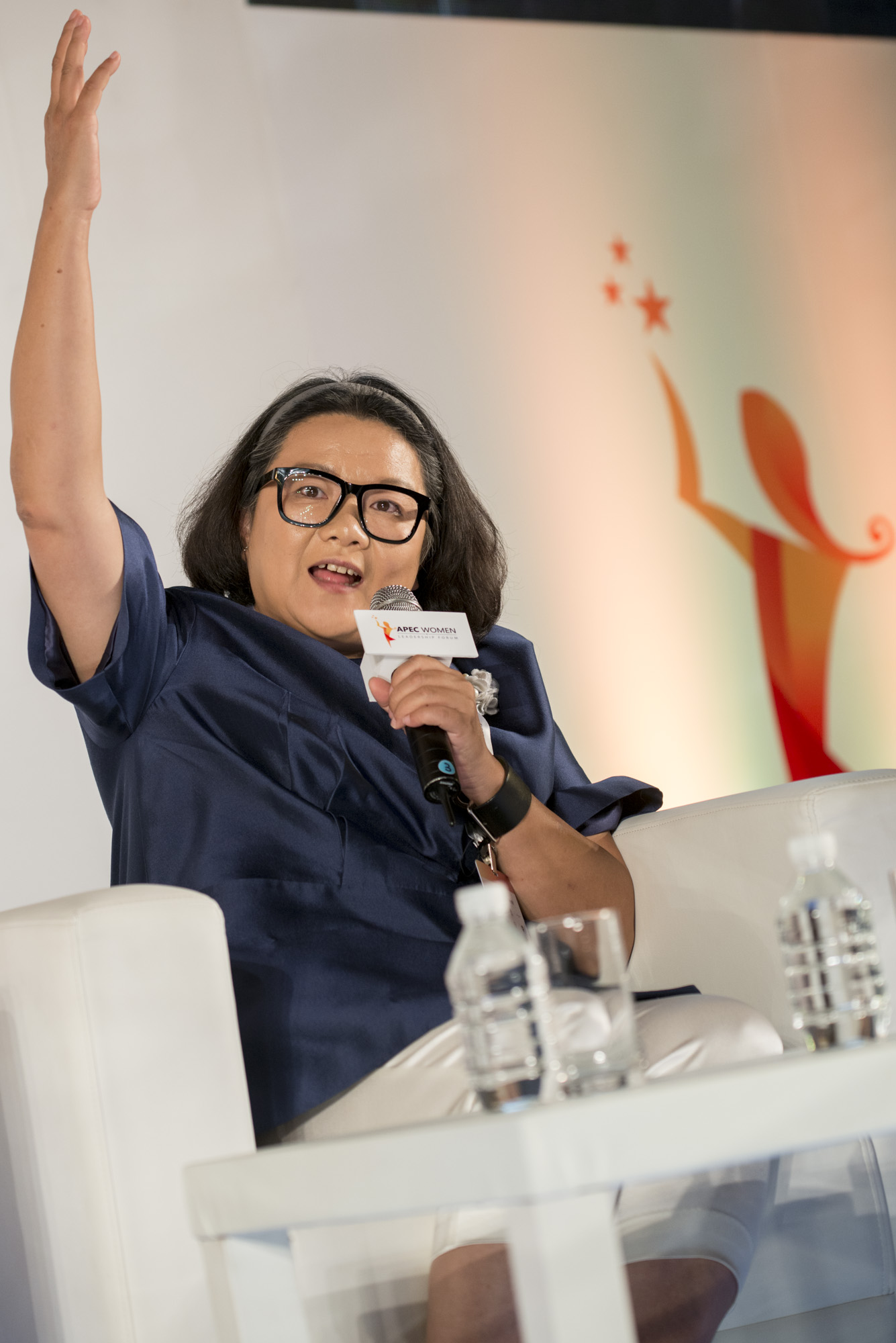 Hung Huang, the well-known author, blogger, media figure, and publisher of the fashion magazine iLook.[Provided by APEC Womenleadership Forum]
Editor's Note:
During the two-day APEC Women Leadership Forum in Beijing from August 20-22, we had the honor of speaking with Hung Huang, the well-known author, blogger, media figure, and publisher of the fashion magazine iLook. Hung shared her views with us on the hottest and most controversial debates in women's rights and empowerment in modern China. Just before my interview, Xinhua International spoke with Hung and published their article on how Chinese women should talk less and actively engage in self-awakening. With all due respect, I beg to differ. During my short yet intensive conversation with Hung Huang, Hung pointed out that besides all the hard work women should push themselves to do, it is not just women's work to achieve self-awakening. The view that Chinese women can achieve empowerment and equality by self-awakening alone is both dangerous, and also ignorant. It should be addressed as a much more important public issue.
"Leftover" Women
A century ago, Chinese feminists fighting for the emancipation of women helped spark the Xinhai Revolution that overthrew China's last imperial dynasty, the Qing Dynasty (1644-1912) in 1911. After 1949, Chairman Mao (1893-1976) famously proclaimed that 'women hold up half the sky.' Yet those gains are now rapidly being eroded in modern China. A new term has emerged in China, the so called "leftover women", single women over 27 years old have become the target of media and social attention for the wrong reasons, not for their professional achievements, but for their perceived undesirable marital status.
"The word (leftover women) should not be used, anyone who uses this word should be loathed by society, because the word is discriminatory, in a very obvious way, and should never be accepted by society," said Hung.
Yet this term, leftover women, has become extremely popular in the last couple of years, you can see it in almost every media publication and many Chinese people still use this term today, either to tease single women or perhaps to terrify or shame them into marriage. Why did such a term become popular in China? Why not other countries?
"Chinese women have very little self-consciousness, they do not demand respect. If you want to talk to me, then you should respect me, respect my life decisions."
"As a woman, you are part of society, you should make yourself heard and respected by the others. This is women's rights. Nobody has the right to label you just based on your age, your appearance or your marital status. This [Labeling] is an insult," Hung went on explaining the danger of having a concept like leftover women.
The First Task: Erase Domestic Violence
"Chinese women, especially those who are at the bottom of society, they suffer too much [domestic violence]," Hung offered her approach in dealing with women's issues in China and domestic violence, bringing up a topic that has long been debated. Despite years and years' of debates, there are no special laws addressing domestic violence except articles dealing with this issue in Marriage Law and Law on the Protection of Rights and Interests of Women.
"The first step is to acknowledge that women are discriminated against in China. The second task is to make sure all the media should be more careful and pay less attention to women's appearance," said Hung, addressing the common problem in media, that is, there is too much focus on women's appearance, and sometimes men's as well.
"Any kind of objectification of women or men is wrong," said Hung.
Backward Gender Equality
When asked about the state of gender equality in China, Hung is highly displeased with the current situation. "Gender equality is backwards in China," Hung said
"Women receive better education today, but their awareness of their rights has not improved."
Hung gives a vivid example of how the education restrains women's awakening. "School education does not inspire students to independent thinking; it is just learning by rote and repetition, mere knowledge accumulation. There is no understanding and interpretation. It stresses the unified code of conduct. When you reach a certain age you should do certain things. In terms of women, when you reach a certain age, every one points at you and says 'why are you still single and why aren't you married?' This is the product of the unified code of conduct," Hung said.
Women's Awakening: Not Just Women's Job
Hung held that the most powerful institution in China is the government; If they do not address gender equality as an issue, then the job cannot be done.
"And women's federations need to address the problem and admit that inequality exists," Hung said.
Huang believed that all of society should encourage women to be feminists, not like today, when we hear about the term 'feminist', we think these people are monsters. From her point of view, China has no feminist movement, absolutely none.
"I am a feminist and proud to be one," Hung added.