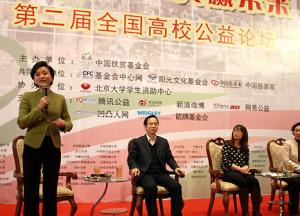 President of the Sun Culture Foundation and famous TV talk show host Yang Lan (L) shared her insights on public good causes and young people's role in them when she hosted the Second University Students Charity Forum, held at Peking University on February 21, 2014. [chinagate.cn/ Wei Bo] 
President of the Sun Culture Foundation and famous TV talk show host Yang Lan shared her insights on public good causes and young people's role in them when she hosted the Second University Students Charity Forum, held at Peking University on February 21, 2014.
   
The National University Students Charity Forum is a forum organized by the China Foundation for Poverty Alleviation for building a platform for university students across China to communicate with each other about their experience in public good causes and for promoting the development of such causes and charities in China.
   
This year's forum focused on two topics: 'youth and public good causes' and 'collaboration between enterprises and universities for the common good.' Student representatives from different associations in universities across the nation gathered together and had a passionate discussion on the two topics with guests invited to the forum.
   
As the host of the forum, Yang said she was deeply touched by the students' passion for developing public good causes and felt optimistic about the future of China's public good causes. She admitted she was in fact 'a fan of the youth who are devoted to the public good.'
   
Yang added: "Youth does not just refer to age. It can also be a positive attitude towards life. Do you still feel angry at the unfair phenomena in society? Do you still have passions to help others, to influence others and change yourself? If you answer 'yes' and you have a passion, a strong determination to make changes, and are also taking action to make changes, it indicates you are very young no matter what your age is."
   
When talking about the celebrity effect in developing public good causes, Yang shared her typical ideas: "In the past, I regarded taking part in charity activities as a chance to influence others with my celebrity. However, now I regard taking part in charity and public good causes as a right and a kind of pleasure for me. Although celebrities can really inspire and lead young people in causes through their real actions in public welfare, the youth, with their passion and innovative ideas, can also be leaders. They don't need to be just followers of celebrities."

Yang also expressed her ideas on young people's development. In her opinion, university students should feel free to share their ideas on life and certain life experiences with celebrities through various interactive platforms. She thinks young people need development opportunities but not blind worship. They can create good, innovative ideas, which is society's greatest fortune.
   
In addition, Yang also encouraged young people to develop diverse thinking models and styles and strengthen their organizational management capabilities, which Yang thought will be beneficial in developing public charity in reasonable, sustainable and mature ways.
   
Yang, a Notable Charity Figure

Yang, a TV hostess and businesswoman who has been called China's Oprah Winfrey, became famous for her charity when she donated the 300,000-yuan (US$ 44,000) she received for her autobiography to Project Hope, a charity providing education to poor children.
   
She is now an ambassador for the United Nations Children's Fund (UNICEF) and the United Nations Development Program (UNDP) in China, as well as the chairperson of the Sun Culture Foundation, co-founded by Yang and her husband Wu Zheng.
   
She is also the eighth celebrity ambassador of the web portal Sohu's Easy Go channel, a platform for celebrities to engage in charity work and the organizer of various charitable projects. She has joined forces with the website to carry out the charity activity 'For the New Migrants,' which aims to address the lack of art education for children of migrant workers.
   
"My own child is 10 years old now," Yang said in 2010. "I know how important it is for children of this age to get to know art. It is part of the shaping of their personality."
   
She staged a performance of the National Ballet of China for around 500 migrant workers' children in Beijing in March 2010, where dancers also taught the children basic ballet skills and gave them a brief introduction to the art.
   
In 2007, Yang helped 60 children to participate in a three-month training program with the National Ballet of China. The children performed in a ballet with National Ballet dancers afterwards.
   
"We will invite more top musicians, dancers, and painters to join in, providing art education for the children of migrant workers," Yang said after the program. "Their artistic talents deserve to be found and developed."
   
Yang, who also promotes the Red Cross Society of China and the Special Olympics, as well as blood donation, sees charity work as part of life.
   
On developing charity, Yang has provided many insightful ideas, including the idea that 'charities need to be professional.'
   
"Charity is not difficult, because kindness is in our nature," she said. "But we do need to be professional, otherwise the more money we put in, the more problems we may encounter."
   
"Star or not, charity is not something you do out of impulse, but continuous and systematic behavior," she said. "I would like to see more celebrities join in, making good use of their influence to help those in need. But I would suggest they focus on one or two projects, such as care for children or environmental protection, and learn to be professional."
(Source:china.com.cn/ Translated and edited by womenofchina.cn)