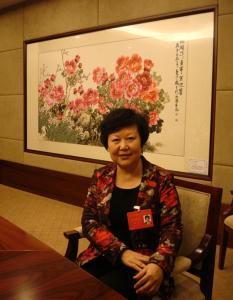 Tan Lin is the director of the Women's Studies Institute of China [sohu]

As director of the Women's Studies Institute of China, Tan Lin was recently elected as a member of the Secretariat of the All-China Women's Federation (ACWF) at the 11th National Women's Congress held in Beijing in late October this year.

Tan has focused her efforts on promoting gender equality and applying her research findings on women's issues to policy- or law-making. She believes that policy-makers in China need to pay more attention to gender equality in decision-making.

Eliminating Gender Discrimination

"Our academic achievements in women's issues provide an important reference point for creating laws and policies on eliminating gender discrimination," said Tan.

The ACWF has initiated many schemes to promote women's development, including offering small loans to boost women's entrepreneurship, providing breast and cervical cancer screenings for poor rural women, launching a program for high-level women talent development and pushing for larger political representation of women at a grass-roots level.

"The small loans program plays a big role in promoting women's employment and entrepreneurship, especially in light of the increasingly competitive employment market in recent years," Tan said.

According to Tan, women take up 46 percent of the labor force, but the proportion of women occupying top leadership positions is still very low. The ACWF launched its program for high-level women talent development in a bid to explore policies that can better promote women's leadership and remove possible barriers to the advancement of women to leadership positions.

Promoting Women's Political Participation

Since the 1980s, China has implemented a system of self-government in the hundreds of thousands of villages across the country. This reform has provided the institutional foundations for male and female villagers' participation in rural governance.

But the representation of women in local governance bodies remains low, and women villagers' political aspiration and sense of empowerment remain primitive. Therefore, the ACWF actively promotes rural women's political participation and encourages more women to stand for election as members of village councils.

"It is imperative for village councils to have female members because women now constitute a large portion of the rural population and are even the main labor force in some regions," said Tan. "Having female members in village councils makes it easier to be aware of women's problems and aspirations and find the solution as soon as possible."

In Tan's opinion, the relevant authorities should provide equal opportunities for women to learn politics and improve their abilities to handle political affairs. Rules that give men and women the same rights are the basis of realizing gender equality.

Happy Families Need Both Husbands and Wives

"Increasing women's political participation does not necessarily involve women sacrificing family happiness and stability," Tan stressed. "When it comes to family responsibilities, both husbands and wives must shoulder the burden of running their household affairs. Creating a happy family requires the collective efforts of both the husband and the wife."

Moreover, studies have shown that fathers who are closely involved in their children's upbringing can have very positive effects on the children.

Recent research has revealed that father involvement is positively correlated with children's overall social competence, social initiative, social maturity, and capacity for relatedness with others. For example, children who were looked after by both of their parents are more likely to have a sound relationship with peers and grow up to be tolerating and understanding.

Developing a Rational View of Happiness

A few years ago, a reality dating TV show created an uproar when a woman on the show said that she would "rather cry at the back of a BMW than laugh on a bicycle" to describe her material priorities when looking for a spouse. Tan says that this attitude is not in keeping with the new era where women are being given more opportunities than ever to make achievements of their own.

"Women should pursue happiness and financial stability through their own efforts," said Tan. "As modern women, we should be self-reliant, confident and have high self-esteem."

Tan pointed out that life happiness depends on persistent efforts and says that women who pursue material wealth at the cost of their self-respect, freedom and happiness end up spiritually poor.

Tan added that the media should advocate and promote rational values to improve the quality of family life in the country.

(Source: Sohu/Translated and edited by womenofchina.cn)
Please understand that womenofchina.cn,a non-profit, information-communication website, cannot reach every writer before using articles and images. For copyright issues, please contact us by emailing: website@womenofchina.cn. The articles published and opinions expressed on this website represent the opinions of writers and are not necessarily shared by womenofchina.cn.