A screen still of a Chinese TV drama titled To Elderly with Love [Yangcheng Evening News]

Media mogul Hung Huang says that while filial piety is important, adult children should draw clear boundaries when it comes to relationships with their parents.

As China's society ages, the issue of old-age support has gained more and more attention. In response to the issue, a new TV drama has debuted on Chinese screens, called To Elderly with Love. The show is about how young couples are supporting their parents.

Unexpectedly, the show has attracted criticism from medial mogul and CEO of China Interactive Media Group (CIMG) Hung Huang, who has declared that the show gives an inaccurate portrayal of filial piety. She says that while being filial and caring for one's parents are important, adult children need to draw clear boundaries when it comes to relationships with their parents.

Filial Piety from the Heart

In the show, protagonist Jiang Mulan is a mid-level manager whose expressions of filial piety include cooking for her father and washing his feet.

Hung believes that these acts are pretentious. "Love for one's parents should come from the heart. In front of the camera, one cooks soup and washes feet for parents, which is so pretentious," she says. "Everyone loves their parents but not everyone has to express their love in this way. Affection can be shown in different ways to varying degrees."

"Nowadays, young people have such a hard time sorting out their careers and making a living, but the new filial piety law requires them to visit their parents often. Such a formalized thing is meaningless," said Hung.

The newly revised Law of the People's Republic of China on Protection of the Rights and Interests of the Elderly stipulates that family members should be concerned about the spiritual needs of the elderly and should not ignore or neglect them, and those who live apart from them should visit often. It came into effect on July 1, 2013.

The revised articles are a response to China's aging population. While adding content on social security and services, they also stress the fundamental role of family support towards the aged.

Hung and her own mother had a close relationship, Hung says. Her mother was Zhang Hanzhi (1935-2008), Chairman Mao Zedong's translator and the foster daughter of Chinese politician Zhang Shizhao (1881-1973).

"My mother showed her love for me by making me my favorite dishes at home. My husband, Yang Xiaoping, liked to eat pig's feet, so she would frequently prepare the dish for him," recalled Hung.

"My mother maintained a childlike innocence. She had a fancy for both very small and very large objects. As she was born in the Chinese zodiac year of the pig, I often bought pig-shaped ornaments for her, such as a ceramic pig and a pig puppet," she added.

Hung stressed that she never did any of this deliberately. "Scenes like buying a bouquet of flowers for mothers on Mother's Day are often screened on TV dramas or movies. But if people do so in real life, it appears unnatural," she said.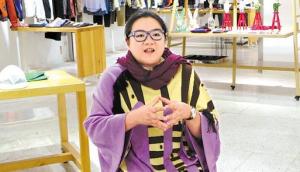 Hung Huang is the CEO of China Interactive Media Group (CIMG). [Yangcheng Evening News]
Learning to Be Independent
Many young Chinese couples are struggling to strike a balance between supporting their parents and their children while also having a life of their own.
In this regard, Hung says, "Young couples are at a challenging stage of life and need to learn how to draw clear boundaries."
"That is, by no means should your parents be allowed to intervene in your life. First, your parents should never say bad things about your spouse or partner. Second, don't ask your parents to tell you how your children's day went even though they help you take care of the kids, because it is not their responsibility to report everything to you," Hung further elaborated.
As an independent woman herself, Hung has a much clearer understanding of the issue of supporting elderly parents. She states that at any time, people should depend on themselves and be true to themselves.
Hung says she knows that her opinions may be unpopular, but she feels compelled to speak out. "Adult children should have their own lives as they are the bread-winners in the family. If they have a break down, who can their parents rely on?"
"If they don't build boundaries they will eventually cave under the pressure of not having any personal space or life of their own," added Hung. "Then they won't even be able to support their parents."
An Interesting Life
Born in 1961 in Beijing, Hung was sent to study in the United States in 1974 at the age of 12 by China's Ministry of Foreign Affairs, along with other children of high-ranking Chinese officials. This was part of the ministry's efforts to foster diplomatic talents.
After completing her studies, she returned to China and worked at China Radio International (CRI), a state-owned international radio broadcaster currently headquartered in Babaoshan, a sub-district of Beijing, from 1978 to 1980.
In 1980, she earned a full scholarship to attend Vassar College, one of the Seven Sisters colleges, to study international politics in New York.
After graduating, she worked as Chief Representative at the Beijing Representative Office of Metallgesellschaft AG (MG, Germany) until 1998, when she agreed to take over the publication of Look, a fashion magazine that is now known as i-Look. Since March 2000, she has worked as the CEO of CIMG, which publishes the magazine.
Hung has been referred to as "China's answer to Oprah Winfrey and Anna Wintour" by the Cable News Network (CNN) and listed among the 100 most influential people in the world by American news magazine Time in 2011.
After previous marriages to top Chinese film director Chen Kaige and to a senior French diplomat, she now lives with her current husband Yang Xiaoping, an artist and designer who designed and built their house on the outskirts of Beijing.
(Source: Yangcheng Evening News and wikipedia.org/Translated and edited by womenofchina.cn)