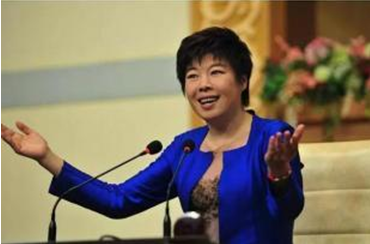 Yu Dan [wccdaily.com.cn]
Yu Dan, a female scholar who helped lead a nationwide revival of studying Chinese classics, recently gave a lecture on the importance of women's role in family life, in Chengdu, southwest China's Sichuan Province.
According to Yu, women have a characteristic "serenity and tenderness," which helps to free families from pervasive fickleness in society. Only when people are able to deliberate with calm, will they gain "the code for interacting with the world," the academic claims.
The general environment of any family is decided by its female members, and this is what Yu calls "women-brought family peace."
The overall performance of a family – for example, whether its youngsters are diligent and disciplined – is also the outcome of the mother's influence, Yu argues.
While seeking successes in society is a common standard for all citizens, being a successful woman does not necessarily bring happiness, she continued.
"How many of the so-called 'successful' women feel sorry for having not given enough care to their families, or not attending to sick family seniors confined to a bed?" questioned the intellectual.
For her, maturity in a women's inner world is of much more significance. "Being successful is to meet the superficial criteria, but inner growth releases a force of life," she said.
"When a woman feels happy, instead of panic, about changes in the world; when she embraces instead of evading upcoming challenges; and, thinks about joining a rising trend rather than rejecting it, she is developing to gain more maturity," she noted.
After becoming mature enough, women will have the power to balance their family and career, and the potential for creating miracles, Yu concluded.
(Source: wccdaily.com.cn/Translated and edited by Women of China)