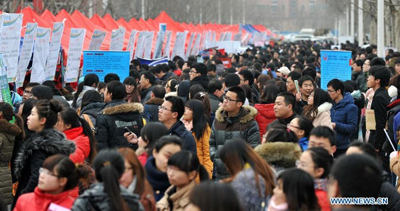 People seek job opportunities at a job fair in Shijiazhuang, capital of north China's Hebei Province. [xinhua]
Until the mid-1990s, university graduates, who were welcomed at all State-owned enterprises and institutions in China, were treated as the elites of Chinese society.

Back then, a Chinese university student received a free education, in China, and did not have to worry about job-hunting after he/she graduated, because he/she could easily find a job, often allocated by the school, with government or a State-owned enterprise.

That is why, at that time, female graduates did not complain about discrimination while job-hunting.

Education Reforms

In 1993, however, the Chinese Government adopted the Outline for Education Reform and Development, which stipulated that the government would allocate jobs to only a fraction of the nation's university graduates. The vast majority of the graduates, though, were required to find jobs by themselves.

Since then, Chinese university students have had to pay a portion of their tuition fees, and they have had to find jobs by themselves.

In 1999, with the approval of the State Council, the Chinese Government's cabinet, the Ministry of Education adopted the Action Plan for Invigorating Education towards the 21st Century (1998–2002), which encouraged universities to increase enrollment. As a result, the number of university graduates in 2001 rose to 1.15 million; in 2003, to 2.12 million; in 2005, to 3.4 million; in 2006, to 4.13 million; in 2008, to 5.59 million; and in 2009, to 6.11 million. In 2013, China had a record 6.99 million university graduates, up six times from the number in 2001.

Coincidentally, an increasing number of Chinese women — across the country — attended university. Over time, the percentage of female students was nearly equal to the number of male students. In 2011, female undergraduates accounted for 51.1 percent of the total number of undergraduates in China, and female postgraduates accounted for 48.5 percent of the total number of postgraduates in the country. The number of female graduates increased year by year, but did those women receive equal opportunities — compared with their male counterparts – in the job market?
Discrimination

In the mid-1990s, media in China began reporting about female graduates' complaints about discrimination while job-hunting.

Such complaints have mounted – to become almost commonplace – since 1999, and most especially since 2008, when the global economic recession began. I interviewed officials, responsible for students' affairs, at five universities, and each admitted that discrimination against female graduates existed in the job market. "Male graduates who majored in high-tech were recruited by high-tech companies before they graduated. Universities appealed to those companies to recruit some female graduates. In the beginning, the companies said 'no.' Later, when they realized men needed women to get married, they agreed to recruit some female graduates," said one official.

However, according to statistics issued by authorities female graduates had equal opportunities, with their male counterparts, in terms of signing contracts with employers. During a recent employment forum, one official from authorities said, based on his investigation, there was no discrimination against female graduates in the job market. The female graduates, he continued, failed to win jobs because they were not qualified for the positions for which they applied.

When I contacted a senior official who was in charge of providing job opportunities for graduates in a developed province in South China, I was told that there was no discrimination against women in the job market in that province. He added women could find jobs easier than men. When I visited that province, I found that companies offered more job opportunities to women than to men.

So, do female graduates face discrimination in China's job market?

Investigations

The Convention on the Elimination of All Forms of Discrimination against Women (CEDAW), adopted in 1979 by the UN General Assembly, defines discrimination against women as "... any distinction, exclusion or restriction made on the basis of sex, which has the effect or purpose of impairing or nullifying the recognition, enjoyment or exercise by women, irrespective of their marital status, on a basis of equality of men and women, of human rights and fundamental freedoms in the political, economic, social, cultural, civil or any other field." The Chinese Government signed CEDAW in 1980, which indicated that the government had endorsed its responsibility to eliminate all forms of discrimination against women. In the following paragraphs, I will provide an analysis of job opportunities, the job-hunting process and the job-hunting results of female graduates, in comparison with their male counterparts.

First, let's examine the employment ads. According to results of experts' investigations, job ads were clearly discriminatory prior to 2007. Such wording still exists in job ads today! Hou Zengyan, a researcher at the Institute of International Labor and Social Security, monitored five newspapers, published in either Beijing or Shenzhen, between July and December 2007. Of the employment ads in those newspapers, 13 percent contained wording that could be considered discriminatory – based on gender. Some of the ads specified that the companies preferred or would only hire a male. Some of the ads made clear that female applicants would be expected to promise not to give birth during the employment contract; otherwise, the contract would be terminated.

Now, let's focus on the job-hunting process. On January 1, 2008, China adopted the Law of the People's Republic of China on Promotion of Employment.

Despite China's efforts to eradicate sex discrimination in the job market, discrimination continued to prevent female graduates from having equal job opportunities. For example, some companies required that female applicants be good at drinking wine, singing songs and dancing during the companies' activities. Some companies' officials even asked female applicants about personal matters, such as whether they had a boyfriend, whether they planned to get married, and whether they planned to have a baby. However, companies did not ask such questions, or impose such requirements, on male applicants.

The investigations also indicated that most interviewers were more interested in male interviewees than female applicants. Some interviewers asked female applicants much tougher questions, apparently to disqualify them as legitimate candidates for positions. Generally, female graduates had to send out nine applications in order to secure one job interview, and an astounding 44 applications to secure a job, while male applicants could secure an interview or a job with less effort.

Now, let's look at the job opportunities offered to female graduates. According to the results of the investigations, jobs offered to female applicants were generally limited to clerks' positions, client services, administration assistants, secretary positions, marketing assistants and translators. Meanwhile, technical or administrative positions were offered to male applicants.

We, as a society, must face the fact that female university graduates face discrimination in the job market. We must also analyze the reasons why, and then find appropriate ways to deal with the situation. In China, for every 100,000 people, a mere 8,930 have received a higher education. That lags behind developed countries. So, we must provide higher education to more people, and then we must provide job opportunities — equally — to female and male graduates. That will help ensure gender equality in China.
(Source: Women of China English Montly)