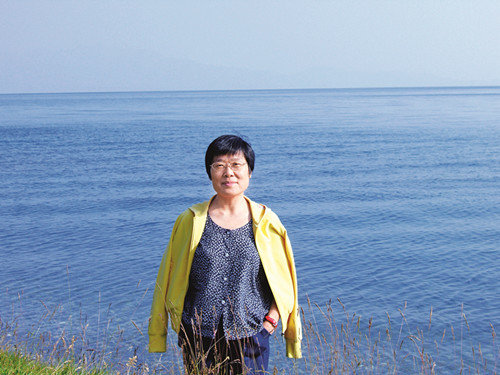 Liu Bohong, Professor at China Women's University [Women of China English Monthly]
Chinese have enjoyed numerous sports events this summer. The most exiting sports-related development, though, was Beijing's selection (on July 31) to host the 2022 Winter Olympic Games. Almaty, in the Republic of Kazakhstan, has hosted a couple of winter games, and the city has made progress in its social and economic development. It was the city's third bid to host the Winter Olympics. However, the International Olympic Committee (IOC) selected Beijing as the host city for the 2022 Games. Thus, Beijing will become the first city to host both the summer and winter Olympics. Chinese feel a sense of responsibility, and pride, that comes with being entrusted by the international community.
Good Job

As a researcher of women's studies, I feel especially proud of the women members of Beijing's 2022 bid delegation. Chinese Vice-Premier Liu Yandong (the fourth female vice-premier since the founding of the People's Republic of China), headed China's delegation. Almaty's delegation was headed by a man, Karim Massimov, Kazakhstan's Prime Minister. Clearly, Chinese women played a significant role in advancing the Olympic Movement.
Also, women made up half of the 12 members of China's bid presentation delegation. There was only one woman — Natalya Sipovich, Chairperson of the Women and Sports Committee under the Olympic Council of Asia — in Almaty's delegation. That revealed Chinese women's comparatively wide participation in the bidding to host the winter games.
Five of the women members — Liu, Zhang Haidi, Chairperson of the China Disabled Persons Federation, Yang Lan, Deputy Director of the Planning Department of Beijing 2022 Olympic Winter Games Bid Committee, Yang Yang, IOC Member and Olympic Champion Speed Skater, and Li Nina, freestyle aerial skier — of China's delegation made presentations to the IOC. They were elegant and confident, and their presentations were splendid.
Yang Yang, who was seven months pregnant, remained humorous and cheerful.
In addition, four of the five women spoke fluent English during their presentations. Yang Lan spoke French, one of the IOC's official languages. At both the beginning and end of her speech, Liu spoke fluent English. That showed the Chinese women had sufficient skills to make presentations, and to communicate, on the international stage.
I am proud of the Chinese delegation, especially its women members. I expect an increasing number of women will participate in various Chinese delegations and presidiums, and in the Standing Committee of the National People's Congress and the Political Bureau of the CPC (Communist Party of China) Central Committee. Chinese women's participation in the bidding to host the 2022 Olympics was a genuine, and meaningful, beginning to women's wide participation in all segments of society.
Youth Participation

In 1952, then-Chairman Mao Zedong wrote, "Developing sports activities, improving people's health," as an inscription at the founding ceremony of the All-China Sports Federation. He believed the objective of developing sports activities was to improve people's health.
For a long period of time, however, Chinese associated sports, especially competitive sports, with political significance. After China made the transition to a market economy, some athletes were only concerned about money, especially bonuses. Some athletes even faked their ages and/or used performance-enhancing drugs.
Coinciding with China's reform and opening up, as well as the country's social, economic and sports development, China has again attached importance to improving people's health through sports. Chinese have widely participated in numerous sports activities. Schools have also conducted various sports activities. People's participation, especially the youth, in sports activities is necessary for a nation to make outstanding achievements in competitive sports. For example, table tennis, in China, football, in Brazil, and basketball, in the United States, are popular sports.
I was pleased to see that 85 percent of the Chinese athletes who competed during the 2015 Summer Universiade, held in Gwangju, in the Republic of Korea, were university students. Ten years ago, only a few Chinese university students participated in the 2005 Izmir Universiade, in Turkey. Hu Kai, then a senior student at Tsinghua University, won the men's 100-meter race. This year, the Chinese delegation won 72 medals, including 34 gold medals, to rank third in medals won. Many of the students are as capable as international athletes.
More importantly, China aims to cultivate all-round athletes, rather than simply require how many medals the athletes should win. During the recent universiades, China's sports authority did not require how many medals the athletes should win. Instead, they paid attention to the popularity of physical education, and to the full development of the university students. At present, more than 80 tournaments are held for university students every year, and more than 100,000 students from 80 percent of China's universities participate in those events. Physical education has become a significant part of campus culture.
In addition, physical education in China's primary and middle schools has taken a new look. In July, Hainan Qiongzhong Girls' Football Team beat several strong competitors to win the championship in the Girls 12 category during the Gothia Cup, the world's biggest youth football tournament, which is held annually in Gothenburg, Sweden.
It was a miracle that a middle school football team represented China in that event. Moreover, the team's members were rural girls, from the Li and Miao minority groups, who lived in the impoverished mountainous areas in South China's Hainan Province. The team was established in 2006. Its coach, Xiao Shan, is a former football player. The girls received support and care from both locals and provincial leaders. The girls have great passion for football, and they train hard.
"The girls start training at 5 a.m. every day, no matter whether it is raining or sunny. They never stop training," Xiao says. In his eyes, the girls may not be the best players on the football pitch, but they are definitely the most tenacious players. Their 12-minute, solo-burst race results are as good as male players in the Chinese Football Association Super League. In the final few minutes at the Gothia Cup, many spectators thought the Chinese girls would lose the game. However, it was their faith, perseverance and fighting spirit that helped them win the championship.
The girls have strong faith and healthy bodies. They also have good personalities and solid academic records. Each girl is a top-level athlete in China. Most of the team's members have been admitted to universities. Xiao hopes the girls will help establish girls' football teams in each county of Hainan, and that China's women's football team will have greater success in the international sports arena.
Women's Participation

During the presentation to IOC, China's delegation said if the 2022 Olympic Winter Games were held in China, more than 300 million Chinese would be encouraged to engage in winter sports. I agree, and I believe it will be a great move that benefits the public. Half of the 300 million Chinese will probably be women and girls.
Women around the world made consistent efforts, for many years, to win the right to participate in modern competitive sports. In ancient times, women were not allowed to compete in, or even to watch, the Olympic Games, as it was believed that allowing women to do so would be offensive to God. Violators were executed. During the 1900 Paris Olympics, 11 French women broke the ban and competed in the Games. IOC members were not pleased, but they could not do anything because France was the host country.
After years of debate, the IOC approved — during its 22nd meeting in 1924 — of women competing in the Olympics. China sent its first group of female athletes to compete the 1936 Berlin Olympics. That was considered an enlightened decision at that time. Nevertheless, a few countries, known for gender inequality, still prohibit women from participating in the Olympics.
Chinese youth today get to witness women athletes' achievements in competitive sports. However, they don't know about the great efforts women made to win the right to participate in sports. Instead, the youth pay too much attention to their appearance, and they do little physical exercise to maintain good health.
Women are often referred to female images as young, beautiful, sexy and skinny in modern commercial culture. Numerous companies — especially in the clothing, cosmetics, beauty, weight-loss, pharmaceutical and food industries — benefit from that commercial culture. Women generally prefer buying skin-care products to having regular checkups. Some female university students tend to lose weight and/or have plastic surgery to look prettier, so they can find a better husband. Women go to gyms to lose weight rather than maintain good health. Affected by the standard of being "white, rich and beautiful," women generally avoid outdoor sports activities, as they think they will get a tan and/or build muscles.
Therefore, gender equality helps boost the development of women in sports, and it helps improve women's mental and physical health. Women should not be affected by modern commercial culture; instead, they should be free, confident and independent, and they should be the masters of their own bodies, hearts, health and destinies.
(Source: Women of China English Monthly September 2015 Issue)