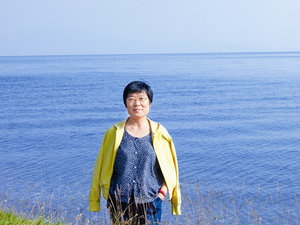 Liu Bohong, Professor at China Women's University [Women of China English Monthly]
A few days ago, I attended the launch of the Spring Bud Blossoms, a project by Sichuan Women's Federation to encourage entrepreneurship among female university graduates. During the ceremony, I met Zhao Hailing, from Qingchuan County, in Southwest China's Sichuan Province. I was impressed by her arduous efforts to run her own business, selling local products, over the past six years. I hope more people will hear about her story, and that they will respect and learn from her.
Her Story
In 2009, one year after the Wenchuan earthquake, the then-22-year-old Zhao graduated from Sichuan International Studies University (SISU). She gave up her opportunity to work in a big city, so she could return to her hometown, Qiaozhuang, in Qingchuan County, to start her own business. In September that year, Zhao opened an online shop, Hailing Mountain Treasures, on Taobao.com, one of China's leading online shopping websites. She bought products, including agaric, honey and medicinal materials, from residents of mountainous areas of Qingchuan, and then she sold the products online. The sales volume in the first year exceeded 1 million yuan (US $161,034).
In October 2010, Zhao established Hailing Mountain Treasures Commerce and Trade Company. She was the company's president, and she employed a group of university graduates. She helped boost local production, sold the products of the local farmers and helped the locals increase their incomes. Zhao now enjoys a great reputation among the locals; in fact, she is referred to as shandaiwang (king of the mountain). In 2012, more than 3,000 farmers sold more than 60 tons of products through her company, and the total sales volume surpassed 5.5 million yuan (US $886,050).
In 2013, the Communist Youth League of China and China's Ministry of Agriculture honored Zhao as one of the nation's role models for rural youth entrepreneurs. She was also named one of the post-earthquake role models, one of the Top 10 Brilliant Women in Sichuan, one of the Alibaba Top 10 Global e-business Champions of 2010, and one of the role models for university graduates who start businesses in their hometowns.
Meaning
I am impressed by Zhao's story because it has great significance in our modern society.
First, as a young rural woman, Zhao's ambition is to do her part to eliminate the poverty and backwardness in her hometown. When asked what attending university means to a rural child, people will generally answer that "it means no more poverty," "it means rural children can leave their hometowns to live in big cities," or "it means more opportunities for rural students."
Nowadays, university graduates from rural areas tend to stay in the cities, university graduates from small towns choose to stay in big cities, and university graduates from big cities probably go abroad. But, who will contribute to the development of their hometowns?
Zhao received a phone call from her mother five days after the Wenchuan earthquake (on May 12, 2008). After that call, Zhao felt more mature than she had before. There is an old Chinese saying, "a child never dislikes his/her mother, no matter how ugly she is, and a child never dislikes his/her home, no matter how poor it is." That year, Zhao made up her mind to return to her hometown, after her graduation from SISU, to work with the locals to rebuild it. Poverty is not scary, what is scary is that a person might turn his/her back on his/her responsibility. A nation that overcomes poverty and backwardness, through its efforts and wisdom, and never gives in to disasters and difficulties, is unconquerable, and it has a bright future.
Second, Zhao is self-reliant, and she continually improves herself. A survey conducted in May by Zhaopin.com, a recruitment website, indicates that 6.3 percent of university graduates choose to start their own businesses, compared with 3.2 percent in 2014. The proportion in the US is about 20 percent. Some 71.2 percent of Chinese university graduates chose to find employment, compared with 76.3 percent the previous year. Obviously, Chinese university graduates prefer to find employment instead of starting a business.
Due to the lack of gender-based statistics, we don't know the proportion of women among the 6.3 percent of university graduates who chose to start a business. However, I'd like to offer an example here: One year, a research institute of a province found that all of the 60 university graduates in the province, who had applied for funding to start a business, were men. It is clear that women accounted for a very small proportion of the 6.3 percent of university graduates.
Compared with university graduates in developed countries, why don't Chinese university graduates want to start their own businesses? It has been said that it is because they lack proper conditions to start a business, and that they also lack the capabilities, independent personalities, innovative spirit, entrepreneurial skills and ability to properly handle setbacks. As for women, entrepreneurial spirit and skills are even more limited, as the women have long been affected by traditional sayings, such as "girls play with dolls and boys play with toy guns," "raising girls in a rich way and raising boys in a poor way," and "a good husband is better than a good job."
Therefore, Zhao's entrepreneurial spirit and actions pose a challenge to such traditional sayings, and they are significant to university graduates, especially female university graduates.
Third, Zhao's success reflects her innovativeness and her eagerness to learn. In terms of post-quake reconstruction, Zhao decided to sell the local products to the outside world. That decision showed that she could identify target markets and business opportunities. She learned e-commerce skills as soon as she graduated from SISU, and she adopted an online sales approach, which proved to be a highly efficient and low-cost business model.
She initially bought products from farmers by going door to door, but she later established production bases and changed small workshops into a company. That showed Zhao had a development vision, and that she had the ability to expand her business. Even though Zhao's major had been English, she had been able to achieve success in sales and marketing. That demonstrated that entrepreneurs must innovate, keep learning, dare to try and explore potential to make businesses bigger and better.
Fourth, Zhao has her own understanding of happiness, and she creates happiness by using her wisdom and through her hard work. Female university graduates tend to have a different understanding of happiness. Some compare happiness to love. As far as Zhao is concerned, happiness has different meanings.
She is happy that customers like the products from her hometown, and that people learn about the beauty of her hometown. When she did not have access to the Internet, because the earthquake had destroyed her house, she managed to find happiness when she used a computer at a nearby school to manage her online store. When she had to visit residents of the mountain areas, by going door to door, to buy their products, she found happiness by visiting the mountain communities.
To make the products more appealing to online customers, she selected agaric and wiped the walnuts clean one by one, and she enjoyed the process because she regarded the products as works of art. She had to carry the products and take the first coach of the day to Chengdu, capital of Sichuan, where she could contact the express delivery company to ship the products to her customers. Now, she is happy, in part, because her company has its own logistics system.
She says her dream is to become Qingchuan's biggest retailer of local products, including agaric, bees and tea. She adds that Qingchuan has a high index of happiness, and the locals are like pieces of white paper, with happiness written on them. She loves her life in Qingchuan, and the farmers who live in the mountains. Her understanding of happiness is work, innovate and change, and to love her hometown, the locals and the harmonious society.
Setting an Example
China's economy is now in the "new normal" phase, as it is growing in a manageable and relatively balanced manner. This year, China had 7.49 million university graduates. Regardless if China lowers the economic growth rate, adjusts the nation's economic and industrial structure, or achieves sustainable development through technological innovation, it will be impossible for all of the 7.49 million university graduates to find jobs. Therefore, the State Council, the central government's cabinet, is encouraging popular entrepreneurship and mass innovation in all segments of society, including university graduates.
More and more university graduates are responding to the State Council's call, and they are starting their own businesses. The Chinese Government has implemented a series of supportive and preferential policies to encourage and ensure entrepreneurship among university graduates. Now is the best time ever for university graduates to start a business in China. Female university graduates, who account for more than half of all university graduates, should follow Zhao's example and grasp the opportunity to outdo themselves and achieve success by starting a business.
A better environment for popular entrepreneurship and mass innovation cannot be created overnight. However, if women only rely on the State, their companies, their parents, their husbands and/or other people, it will be impossible for them to achieve real liberation and development.
The author is Liu Bohong, a professor at China Women's University.
(Executive Editor: WANG SHASHA, Women of China English Monthly August 2015 Issue)