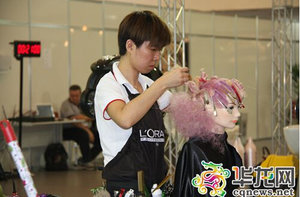 Nie Feng, a female student from Chongqing Wuyi Vocational School, wins the first prize in the hairdressing event at the WorldSkills São Paulo 2015 competition. [cqnews.net]
At the recent WorldSkills São Paulo 2015 competition, which tests skills across a series of professional vocations, Chinese contestants achieved the outstanding medal haul of four golds, three silvers and 12 awards for excellence.
The result is something of a breakthrough since the country has previously never won any gold medals at the event.
Nie Feng, a female student from Chongqing Wuyi Vocational School, won the first prize in the hairdressing event, defeating tough competition from France and the Republic of Korea.
Alarming Problems behind Extraordinary Achievements
While the Chinese team and the public cheered for the exciting achievements, Liu Bohong, a researcher from the Women's Studies Institute of China (WSIC) points out some problems still face the country's current crop of skilled laborers.
Despite their remarkable performance, women have been given an undervalued role at the event, Liu says. China first participated in 2011 and sent a team of six men and no women. In 2013, a team of 26 went, with only two females. In this year's competition, women accounted for a mere 12.5 percent. Given the millions of female students in vocational education and the rising proportion of women in the work force, the situation may need improving.
Moreover, segregation by occupation still remains. While China's male contestants compete in various fields ranging from brick laying, landscape gardening to aircraft maintenance, information network cabling and mobile robotics, women are mostly confined to traditional sectors such as cooking, hairdressing and fashion design. Actually, quite a few women have won prizes in male-dominated fields during the event, according to Liu.
Gender-oriented Expectations, Education, Labor Market to Be Blamed
Liu says the phenomenon of such imbalances is down to gender-oriented expectations, education and the labor market that the Chinese people have been sticking to, intentionally or otherwise.
Chinese parents and families usually have different expectations towards their daughters and sons. While boys are encouraged to strive forward in facing difficulties, sometimes set by their parents, the girls are often brought up with more material comforts and expected to be graceful and docile. Such practices tend to produce adults according to the stereotype that men are strong and go to work to support the family, whereas women are tender and stay at home attending to chores.
Also, girls are less likely to major in science or engineering, as a result of their schooling and family education that often pushes liberal arts subjects as being more suitable.
Having grown up and been educated in such way, Chinese women are bound to face gender-based occupation segregation. Some positions, especially those in technology, are labeled as "Men Only" or "Men First." It is even widely believed that a woman should marry a rich husband instead of struggling for self-achievements in her career. Under these circumstances, women technicians are rarely-seen in China, let alone senior ones.
In addition to the problems about imbalances between men and women in the technical field, Liu is also concerned by the overall shortage of technicians in the country. According to the statistics issued by the Ministry of Human Resources and Social Security, the nation's technicians total 150 million, accounting for 19 percent of its labor force, while senior technicians make up about 38 million, taking merely 5 percent.
"I hope that the younger generations can discard the gender stereotypes and strive for comprehensive development of themselves, so as to do their part in making China a country with numerous competent technicians," wrote Liu.
What she yearns for even more is deepened reform in China's education system and labor market, which she takes as the key to nurturing skilled people in all fields, including senior technicians.
(Source: China Women's News/Translated and edited by Women of China)