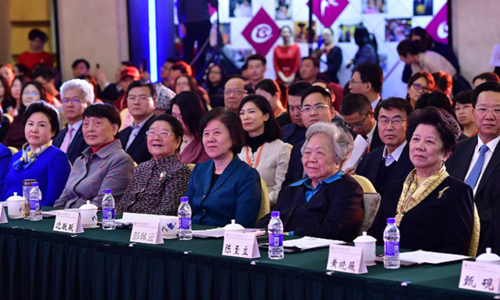 Shen Yueyue (R3), president of the ACWF, Peng Peiyun (R2), Gu Xiulian (L3) and Chen Zhili (R1), all former vice-chairpersons of the Standing Committee of the National People's Congress and former presidents of the ACWF, Zhang Meiying (L2), former vice-chairperson of CPPCC, and Meng Xiaosi (L1), president of the CWDF, attend the gathering.
China Women's Development Foundation (CWDF) organized a special gathering to mark its 30th anniversary and launch the organization's latest charity project on December 27 in Beijing.
Shen Yueyue, president of the All-China Women's Federation (ACWF), attended the event and delivered a speech.
Other attendees included Peng Peiyun, Gu Xiulian and Chen Zhili, all former vice-chairpersons of the Standing Committee of the National People's Congress and former presidents of the ACWF; Zhang Meiying, former vice-chairperson of the National Committee of the Chinese People's Political Consultative Conference (CPPCC); and, Huang Xiaowei, vice-president and first member of the Secretariat of the ACWF.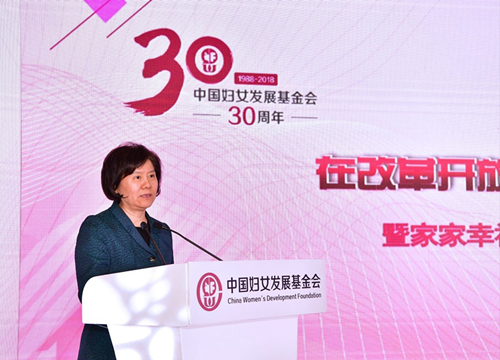 ACWF President Shen Yueyue speaks at the gathering.
In her speech, Shen said that the Party and the government has attached great importance to public welfare undertaking, and especially since the 18th National Congress of the Communist Party of China (CPC) held in 2012, the CPC Central Committee with Comrade Xi Jinping as its core has put forward explicit requirements on encouraging and supporting the development of charities and making full use of their active roles in alleviating poverty.
In 2016, the Charity Law of the People's Republic of China was promulgated, which legally ensures the development of charities and charity culture, she added.
Shen spoke highly of CWDF's work. During the past 30 years, the foundation has played a unique part in improving the environment for women's survival and development, enhancing impoverished women's sense of fulfillment and security and promoting gender equality. It has also made contributions to the promotion of charity culture, modern charitable causes and the building of a harmonious society, Shen continued.
According to Shen, President Xi stated in the report to the 19th CPC National Congress that the country will improve the systems for social assistance, social welfare, charity, and benefits and services for entitled groups. It will also improve the system for supporting and caring for so-called "left behind" children, women, and elderly people in rural areas.
During his meeting with the new leadership of the ACWF in November 2018, Xi explained that close attention must be paid to vulnerable women including those living in poverty-stricken areas and those who are physically-impaired, and practical efforts must be made to resolve their difficulties. All these remarks have clarified the direction of CWDF's work and the development of women's charity in the new era.
Shen urged CWDF to adhere to the Party's leadership and use Xi Jinping Thought on Socialism with Chinese Characteristics for a New Era to guide its work. She said the foundation should also focus on serving the country's overall development, serving women and families to promote the progress of women's charity in the new era.
CWDF should also promote charity culture and philosophy for better observance of the core socialist values and improve its organization for greater progress of women's charity, Shen commented.
During the event, CWDF President Meng Xiaosi gave a keynote speech. On behalf of the organizers, she presented certificates of appreciation to extend gratitude to representatives of enterprises, individuals, institutions and women's federations that have made remarkable contribution to the foundation's development.
CWDF has raised a total of 4.6 billion yuan in funds and materials and spent 1 billion yuan in central lottery funding to implement its various projects including Water Cellar for Mothers, Health Express for Mothers and Postal Parcel for Mothers.
The Water Cellar for Mothers project has helped offer safe drinking water to 2.7 million people and 450,000 schools in drought-and poverty-stricken areas in central and western China.
The Health Express for Mothers project has provided 2,651 medical service vehicles and distributed 346 million yuan worth of medicines, protecting the health and wellbeing of some 72 million women and children in impoverished regions.
CWDF has been rated as a national "5As" (top level) foundation and an outstanding social organization, and it has placed first in the China charity index rankings for consecutive years. Six of its projects have won prestigious China Charity Awards.
Participants launch the new program that serve families.
As part of the event, CWDF launched a program which aims to encourage eco-friendly and healthy families, and to serve families in need. The program will provide support to families in terms of environmental protection, hygiene and health and modern family services. It will also give assistance to poverty-stricken families with children affected by cleft lip and palate, autism and hemophilia.
The program plans to raise and spend 100 million yuan in three years to help out 50,000 families, according to a spokesperson.
Some 300 further people including Zhao Wen, member of the Secretariat of the ACWF; Zhen Yan and Wang Yinxiang, vice-presidents of CWDF; and, representatives of CWDF's donors, attended the gathering.
(Source: women.org.cn / Translated and edited by Women of China)